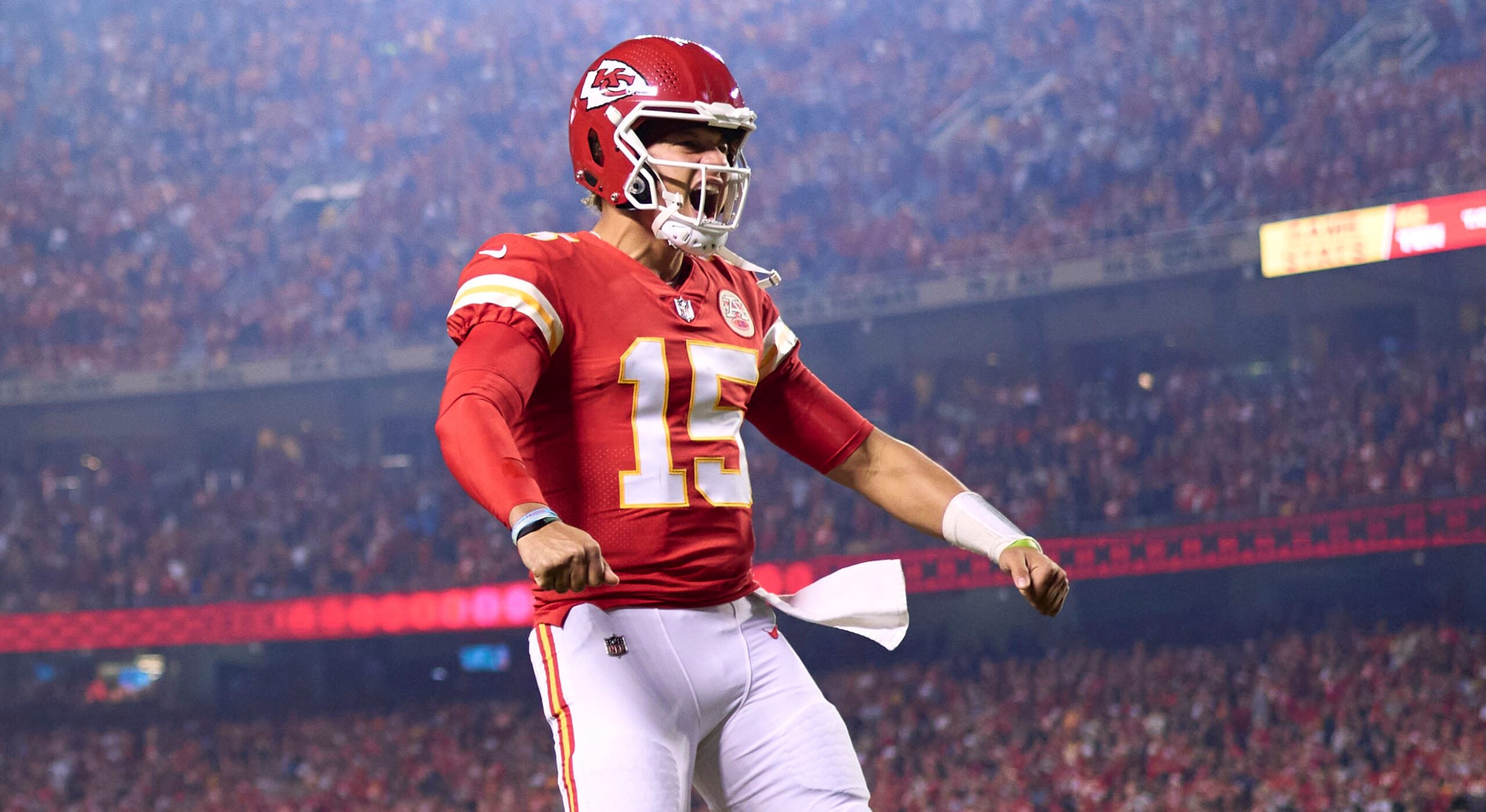 We're now in week 10 of the NFL season, which means we're getting closer and closer to the fantasy football playoffs. These next couple of weeks will be important for everyone as many try to make one good push for the playoffs. Every decision matters that much more. 
Standout quarterbacks Lamar Jackson and Joe Burrow have bye weeks
QB
Start
Josh Allen v MIN
QB1 against a not-so-good Vikings defense at home. He'll definitely want to bounce back after not throwing a touchdown against the Jets last week.
Tua Tagovailoa v CLE
Threw for three touchdowns in each of his last two games, no reason not to start him against the Browns.
Patrick Mahomes v JAX
Mahomes threw for a season-high 446 passing yards last week. This week he's up against the Jaguars; definitely, a chance for him to light it up again.
Justin Fields v DET
Had a big game against Miami last week and is going against one of the worst defenses this week. Start him.
Jalen Hurts v WSH
Hurts has been balling out this year, playing consistently well. Division game on a Monday should provide you with great production.
Sit
Kyler Murray v LAR
Listed as questionable, but even if he does play, I'm not trusting him to give me the production needed to win this week.
Justin Herbert v SF
With a good bit of his WR core out due to injury, I don't think it's ideal to play Herbert this week against a tough 49ers defense.
Kirk Cousins v BUF
Buffalo has one of the best defenses in the league, and they're going to give Captain Kirk troubles all afternoon.
Dak Prescott v GB
The bye week may have helped Dak a tad, but there still needs to be some proof that he's ready to start in fantasy football.
Aaron Rodgers v DAL
Rodgers has been an underwhelming performer in fantasy football this season, and he doesn't have the WR core we're used to seeing him have.
RB
Start
Nick Chubb v MIA
He's the best thing going for the Browns at the moment. He scored two touchdowns in his last game against the Bengals. It's one of the safest moves to make this week.
Saquan Barkley v HOU
Barkley has been a star this year, and he'll continue to play at a high level against one of the worst rushing defenses in the league.
Christian McCaffrey v LAC
Getting more acquainted with his new squad, look for McCaffrey to have a good game against the Chargers.
Josh Jacobs v IND
Jacobs has been solid all season. You can look to him to get you some solid production this week.
Travis Etienne v KC
Erienne has been playing pretty well the past couple of weeks. He's had a touchdown in each of his last three games. Starting him would be a good decision.
Sit
Dameon Pierce v NYG
Giants' defense has been some of the best in the league against the run. If Pierce isn't your RB1, then I suggest you sit him this week.
Aaron Jones v DAL
Dallas' rush defense has been some of the best in the league this season. They will make things hard for Jones.
Najee Harris v NO
Najee's production has taken a dip from what it was last season. With him not being as involved in the offense as before, it's safer to sit him.
WR
Start
Justin Jefferson v BUF
Buffalo's defense is pretty tough, but I believe Jefferson will be seeing a great bit of targets this week.
Stefon Diggs v MIN
Josh Allen's number one option should have quite the day against the Vikings' defense.
Davante Adams v IND
Adams should be receiving more targets this week, with multiple Raiders receivers out due to injury.
A.J. Brown v WAS
With five touchdowns in his last three games, A.J. Brown has been killing it this season and will continue to do so for another week.
Amari Cooper v MIA
Amari is another big part of Cleveland's offense and should provide solid production for your squad this week.
Deandre Hopkins v LAR
With Kyler being questionable, I still believe Hopkins would be receiving a good amount of targets against the Rams.
Sit
JuJu Smith-Schuster v JAX
JuJu has had a roller coaster of a season, unable to show some consistency until recently.
Adam Thielen v BUF
Buffalo's defense is pretty solid, and I don't think we see much production from Thielen this week.
Rondale Moore v LAR
Another week to sit Moore, especially with the uncertainty of Kyler's status.
TE
Start
TJ Hockenson vs BUF
The Vikings might look to him some more this week as he gets familiar with his new team.
Zach Ertz v LA
Ertz has been the number-one target for the Cardinals this season. They will look for him to produce no matter who's under center.
Dallas Goedert v WAS
Goedert has been good all season for Philly. Expect him to provide a nice contribution for your squad.
Robert Tonyan v DAL
One of the better targets Aaron Rodgers has had this year. He'll definitely be looking to go to him a good bit this game.
Sit
Pat Freiermuth vs NO
The Steelers haven't really looked toward him for much production this year, and I don't think that'll change this week.
Tyler Higbee v ARI
Higbee was only targeted once last week. Only had three receptions in his last three games. No need to start him this week.
D/ST
Start
DAL v GB
Dallas' defense will be giving Aaron Rodgers troubles all game.
Phi v WAS
Philly's defense is pretty good. They will continue to be a big part of their success this season.
ARI v LA
Arizona's defense is going to have to step up their play this week, and they know that.
BUF v MIN
Arguably the best defense in the league against an average QB.
Sit
LAR v ARI
Ertz and Hopkins both should have good games this week.
MIN v BUF
Buffalo has a pretty nice offense that I'm not sure the Vikings will be able to slow down.
WAS v PHI
Philadelphia has one of the better receiving cores in the league. Jalen Hurts has been on fire lately. Don't think they will slow down anytime soon.
An avid sports fan and journalist who's main focus is the lovely game of basketball. If I'm not covering the game, I'm either playing ball or watching it.