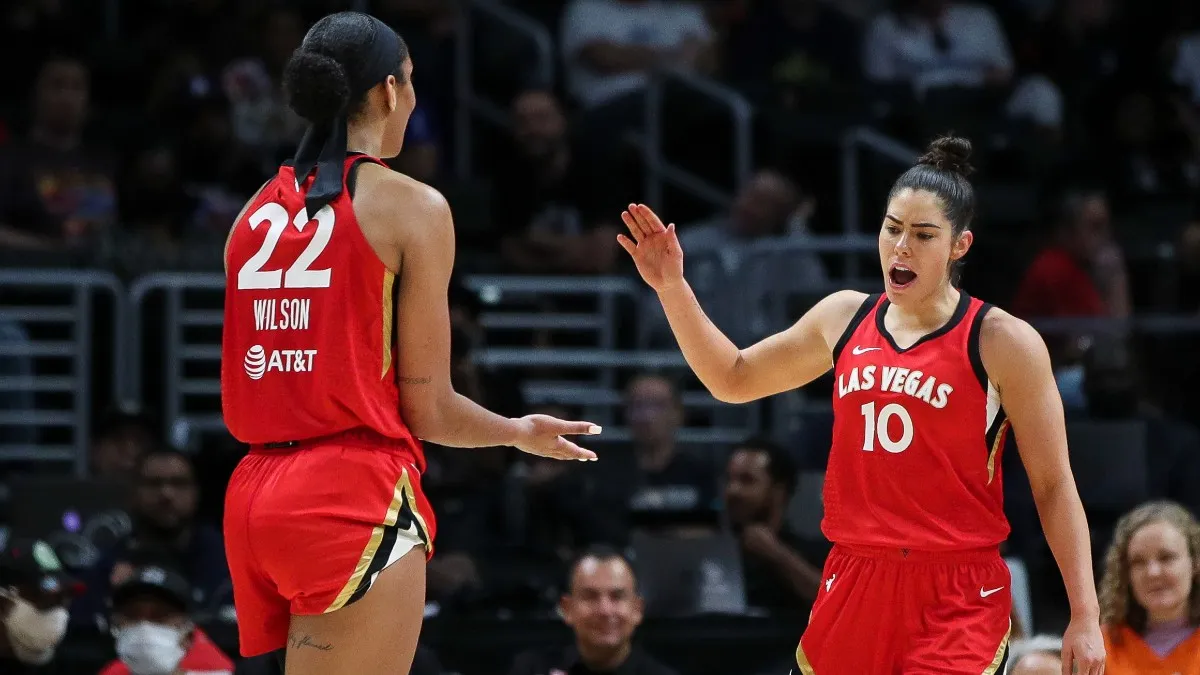 It's the time we've all been waiting for; the 2022 WNBA playoffs are here. After a long fought regular season, there are eight teams in the hunt for the 2022 WNBA Championship.
With a new playoff format, every team plays in the first round. The first-round matchups are best out of three series, and the semifinals and finals will be best out of five.
There are five teams with a real shot at winning the WNBA championship, but a few teams are looking to play spoiler. Also, every game will be on ESPN networks, so be sure to tune in. 
#1 Las Vegas Aces v #8 Phoenix Mercury
The Las Vegas Aces have asserted their dominance in the league this season. With new head coach Becky Hammon coming in, we all knew the team would look different. Hammon gave the Aces some offensive freedom this season, letting their MVP front runner A'ja Wilson become the best version of herself. Kelsey Plum and Jackie Young saw big jumps in their game as well. Both became All-Stars for the first time in their careers. The Aces beat the Chicago Sky in the Commissioner's Cup this season and finished with a 26-10 record overall.
Going into this season, many believed that the Phoenix Mercury would come back better than they were before. They're coming fresh off a finals appearance, and they acquired Tina Charles and Diamond DeShields in the offseason. They also let go of longtime head coach Sandy Brondello and hired former Aces assistant Vanessa Nygaard.
Things were looking up for Phoenix before we got the terrible news about Britney Griner. The Mercury spent a good bit of this season finding their identity as a team, but once they chose to go small ball, they began to give teams problems. Skylar Diggins-Smith was an All-Star once again, and the emergence of Sophie Cunningham helped them big time. Cunningham, Shey Peddy, and DeShields' performances down the stretch were essential in securing a playoff spot for the Mercury this season.
Matchup:
The Mercury will be without Skylar Diggins-Smith, who has been out due to personal reasons, as well as Diana Taurasi, who is dealing with an injury. They will need their role players to step up big time against the league's top team. The Aces will be without Dearica Hamby, who's out with a knee injury. That now forces Hammon to turn to her bench a little more. The Aces swept the Mercury in the season series. 
Bryce: The two teams match up well, but with the Mercury being without Diggins-Smith and Taurasi, the Aces have the upper hand by a significant margin. Looking forward to seeing how Hammon utilizes the bench with Hamby out. Kiah Stokes has been solid in her absence. My prediction is that the Aces put on an absolute clinic. They've looked great on both sides of the ball lately, and I don't see them slowing down any time soon.
Aces in two
Tariq: I think this had the potential to be an entertaining series again if both teams were healthy. Phoenix playing without their best two players will be just too much to overcome against such a talented team like the Aces. With that being said, I have enjoyed watching Diamond, Shey, and Sophie do their the last two weeks. They won't go down without a fight. 
Aces in two