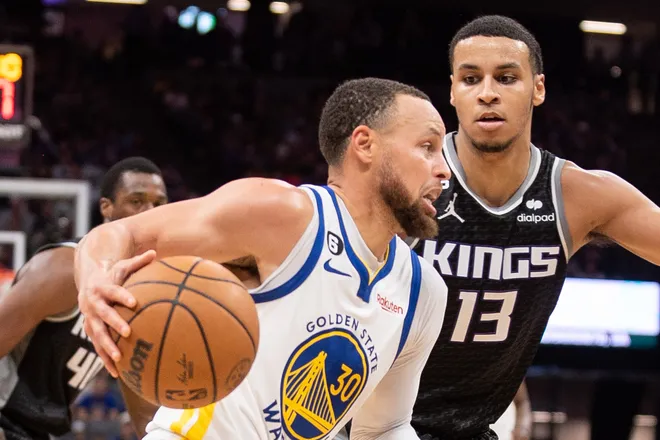 2023 NBA WESTERN CONFERENCE PLAYOFFS PREDICTIONS
1 Denver Nuggets vs 8 Minnesota Timberwolves (Tariq McDowell)
The Nuggets didn't finish the regular season on the best note, but none of that matters if they can get hot over the next 2-3 months. Nikola Jokic could win his 3rd MVP award, but the narrative around him has quickly shifted. With Jamal Murray and Michael Porter Jr back healthy for the playoff series in a few seasons, Denver has a real chance to make a deep run. The Thunder are a young, exhilarating team looking to wreak havoc. They are unorthodox, but filled with both talent and confidence, which is dangerous. Led by an almost definite All-NBA member Shai Gilgeous-Alexander, who averaged over 30 points this season. With the always-improving Josh Giddey, multi-faceted Jalen Williams, and the defensive expertise and energy from Lu Dort, they can make Denver work to get rid of them. It won't be a long series, but it could still end up being a fun series. The Wolves have talent, led by their duo of Anthony Edwards and Karl-Anthony Towns. Do they have the chemistry, trust, experience, and confidence in each other to pull off an upset? Ant would have to play out of his mind, and KAT must stay out of foul trouble. Will Rudy Gobert have an impact? This could be seen as an opportunity for the Nuggets to get their mojo and offensive flow back, especially without Jaden McDaniels. Denver has bigger and better things to look forward to, so they should attack this matchup head-on and end it early. 
Series Prediction: Nuggets in 5
X-Factor: Michael Porter Jr 
2 Memphis Grizzlies vs 7 Los Angeles Lakers (Maxwell Millington)
This is a tough call for me. Memphis is undermanned and the Lakers are very flawed. I think the Lakers have to start fast in this series and AD has to be special. Memphis needs to keep mental mistakes and fouling (I'm talking to Jaren Jackson Jr.) to a minimum. I don't always love this method to make predictions but I'm leaning towards LA because Lebron and Anthony Davis are a tier better than Ja and Memphis' second-best player whether you believe that's Desmond Bane or JJJ. 
Prediction: Lakers in 6, X-Factor: Austin Reeves
2 Memphis Grizzlies vs 7 Los Angeles Lakers (Shawn Coleman)
Multiple factors will determine this series. Which duo between LeBron and AD and Ja and Jaren performs better is a major factor. Beyond those pairings, who are the 5th, 6th, 7th best players in the series? Plus, who does better in specific areas on offense: the Lakers through free throws and offensive boards, the Grizzlies threes and passing? In the end, I think the Grizzlies figure it out through their shooting, especially if Jackson Jr. And Dillon Brooks stay on the court to anchor our defense.
Series Prediction: Grizz in 6
X-Factor: Jaren Jackson, Jr. 
3 Sacramento Kings vs 6 Golden State Warriors (Greg Waddell)
"You come at the King, you best not miss" – someone from The Wire, which is a show that I have never seen. Speaking of Kings and things someone has never seen, the Sacramento Kings have never seen the NBA Finals. In 1951, the franchise now known as the Rochester Royals made the NBA Finals but last time I checked Sacramento is not in Rochester. 
That's a fun little important anecdote because if I kidnapped you and locked you in a room and put your head in a box with no social media and no streaming services other than clips that I hand-selected for you to see showing the way the Sacramento Kings franchise is treating THE DEFENDING NBA CHAMPIONS, you would think the Kings are the team with four championships and six Finals appearances in the last nine years, instead of the cute little underdogs they are. They want all the smoke, which is fun, but likely foolish. 
The real King in this series is Wardell Stephen Curry and his band of misfit champions. Grab a seltzer ladies and gentlemen, we're about to see some Champs dismantle an entire city that gets excited over a beam of light (in five games instead of four because they'll get complacent once).
Editor's Note: Greg would love Omar from The Wire. Gotta get him caught up on the series: https://youtu.be/WP-lrftLQaQ 
Series Prediction: Warriors in 5 
X-Factor: Steph Curry
4 Phoenix Suns vs. 5 Los Angeles Clippers  (Bryce Warner)
The Phoenix Suns were already considered contenders but after receiving Kevin Durant via trade, they are considered one of the favorites to win it all. Receiving Durant improved their team instantly. Even though the trio of Durant, Devin Booker, and Chris Paul have only played less than 10 games together, the lack of time together shouldn't be an issue this round. Durant is back healthy and is a walking mismatch, Booker can light it up at any time, and CP3 is still one of the craftiest guards in the league. They're up against a Los Angeles Clippers Team without Paul George. Without George, it makes the matchups against the Suns more difficult to defend. Kawhi is still a great player, but he won't be able to do it all on his own against this team. It'll be interesting to see how Russell Westbrook performs in this series. The offensive firepower the Suns have will be too much for the Clippers to handle. This series won't take long to conclude. 
Series Prediction: Suns in 5
X-Factor: Devin Booker
4 Phoenix Suns vs. 5 Los Angeles Clippers  (Jacob Karabatsos)
This is probably the most interesting of the First-Round matchups in the West. A Clippers team with a resurgent Russell Westbrook and a banged-up Paul George (IF he can go) against a Suns team who has only played eight games with Kevin Durant in the lineup. The Clippers have been good down the stretch, finishing 11-5 in their last 16, but with Shams Charania of The Athletic reporting that Paul George most likely won't be available for the beginning of the series, I don't like their chances. The questions about the Suns' ability to gel at the right time certainly hold weight, but Kevin Durant is well… Kevin Durant. In a series filled with uncertainty and two teams who haven't played a whole lot of basketball together, I'll take the team with the best player, who is averaging 29, 7, and 5. Give me the Suns in six games.
Series Prediction: Suns in 6