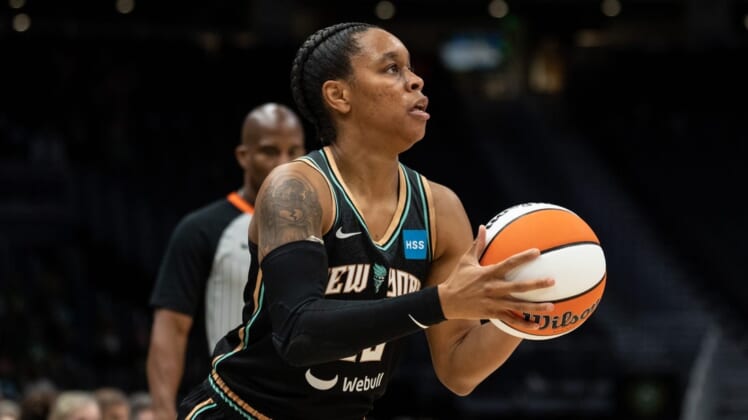 The New York Liberty were busy Wednesday afternoon as they were making moves regarding their roster. The first move they made was a trade with the Atlanta Dream. The Liberty sent Asia Durr in exchange for Megan Walker and the rights to Raquell Carrera. Walker would go on to be waived by New York.
For the Dream, they add another guard to their squad that they think can help them in the long run. Coach Tanisha Wright expressed to ESPN that she was excited to add Durr to the team.
This season was Durr's first season back in the league after missing the last two seasons due to a long recovery from contracting COVID-19. They're looking for a fresh start with the Atlanta Dream.
Welcome Back to New York, @MarineJ5 ! Following the trade, the Liberty signed guard Marine Johannès to a rest-of-season contract. Johannès, last appeared with New York in 2019.
For more information, visit https://t.co/0wk4D1OluJ  🗽 pic.twitter.com/txJUdyRG2S

— New York Liberty (@nyliberty) June 8, 2022
Following the trade with Atlanta, the Liberty signed Marnie Johannes to a rest-of-season contract. Johannes last played for the Liberty in 2019. That year she averaged 7.2 points, 2.4 assists, and 1.8 rebounds.
The Liberty also re-signed Crystal Dangerfield to a second hardship contract. Since being waived by the Minnesota Lynx at the beginning of the season, Dangerfield played a few games for the Indiana Fever before coming to the New York Liberty.
While it might be too early to say who won the trade, it'll be interesting to see how it plays out for both teams throughout the season. Some of the players involved could provide a valuable contribution to their new teams. Only time will tell.
An avid sports fan and journalist who's main focus is the lovely game of basketball. If I'm not covering the game, I'm either playing ball or watching it.