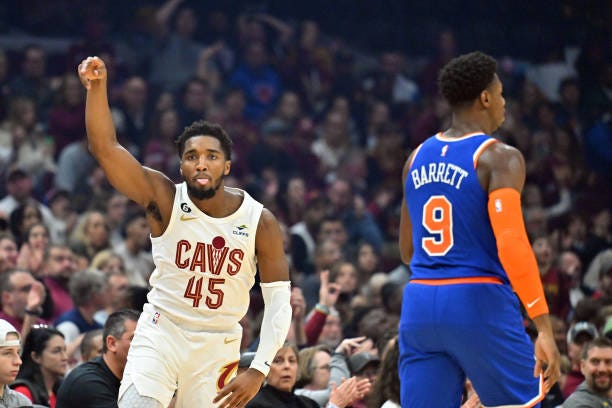 2023 NBA EASTERN CONFERENCE PLAYOFFS PREDICTIONS
1 Milwaukee Bucks vs 8 Miami Heat (Tariq McDowell)
This matchup has been pretty even over the last three to four years, however, Milwaukee has had the upper hand more recently. The Bucks are the favorite to win the NBA Finals, while the Heat have struggled to find consistency all season. The Heat's defense has given them problems in the past, but since the addition of Jrue Holiday, things have flipped in Milwaukee's favor. The Heat's offensive incompetence has been the key to their struggles. They were the best three-point shooting team in the league, percentage-wise, last season; this season they ranked 27th. They also ranked 17th in three-pointers made per game. On the flip side of that, the Bucks are top 10 in three-point shooting percentage, and fourth in threes made per game. Both teams are in the top 10 in defensive rating, so this series will be won on the offensive end. It may not feel like a blowout series, but the series will look that way by the end of it. The Heat would need to play the basketball that got them to a Finals, and a shot away from another. They haven't all season, so it's nearly impossible to trust them in this situation. Giannis Antetokounmpo is wrapping up an MVP-caliber season and is on a mission. Brook Lopez might win the Defensive Player of the Year award, and Jrue Holiday is in the middle of his best NBA season. Khris Middleton is also coming along at the right time. Can Bam and Tyler step up when needed most? Will the Bucks steamroll through in 4 games? Will Giannis have another dominant playoff run starting with the Miami Heat? 
Series Prediction Bucks in 5 
X-Factor: Tyler Herro
1 Milwaukee Bucks vs 8 Miami Heat (Shawn Coleman)
The Heat and Bucks series could get interesting if you dive deep, but it is just hard to see the heat outdoing the Bucks in any one key area to win multiple games, let alone 4. I think the Bucks defense will be the difference, and their three point shooting can create an advantage as well. The Heat need a "Max Strus from the play-in tourney vs. the Bulls" performance in every game, and it's hard to see it happening.
Series Prediction: Bucks in 5
X-Factor: Giannis (First Name Only)
2 Boston Celtics vs 7 Atlanta Hawks (Greg Waddell)
So I have this working theory right now that it's very easy to tell who will win an NBA playoff series based on the answer to a simple question – who has the best player? Now you may be reading this and thinking to yourself, "oh that's easy! The Celtics have Jayson Tatum!" 
*Lee Corso voice*
Not so fast, my friends. 
Trae Young is the most under-appreciated superstar in this league. He thrives when people don't see him coming. Last I checked, nobody thinks the Hawks have a chance to win this series. Sounds like a perfect formula to me. Side note – I recently arrived home from Houston where I was at the college basketball Final Four. San Diego State, a fine team, maybe even a good team, but most certainly not a GREAT one, made the national championship game, where they were eviscerated by a great team – UConn.  Years from now we will look back on this San Diego State team and think to ourselves, "damn, how did that team make the title game?", rather than this being some turning point for the program where they make repeated runs in March. 
That's how we're going to feel about the Celtics' NBA Finals run in ten years too.
Series Prediction: Hawks in 6
X-Factor: Trae Young
2 Boston Celtics vs 7 Atlanta Hawks  (Jacob Karabatsos)
The Celtics have been nothing short of dominant against the Hawks this year. Boston swept the season series against Atlanta and in the three games, the Hawks allowed 126 points per 100 possessions (bottom 10 in the league). To make matters even worse for the Hawks, Clint Capela posted a net rating of -33.6 and Dejounte Murray posted a net rating of -22. When your second-best player (Murray) is a complete non-factor in a matchup, it doesn't bode well for postseason success. On the Boston side of things, they are shooting 46 percent from deep against Atlanta this season, so some negative regression is probably going to occur. The switchability of Smart, Brogdon, and White to constantly irritate Trae Young isn't great for the Hawks either. This matchup screams nightmare for the Hawks, I'll give them the benefit of the doubt and say they win one awesome Trae game, but give me the Celtics in 5, handily.
Series Prediction: Celtics in 5
X-Factor: Not Trae Young
3 Philadelphia 76ers vs 6 Brooklyn Nets (Bryce Warner)
The Philadelphia 76ers have consistently been one of the best teams in the league throughout the years. Joel Embiid is up for MVP once again and James Harden has been playing consistently well, becoming more of a facilitator for the Sixers. This team has what it takes to make it out of the Eastern Conference. But first, they have to get past a young, new Brooklyn Nets team. Many thought the season was over for the Nets after trading their stars Kevin Durant and Kyrie Irving. Instead, Brooklyn solidified their spot in the playoffs as a six seed, which is an improvement from last season. Since coming to Brooklyn, Mikal Bridges has emerged as their new primary scoring option, dropping 40 multiple times this season. This will be the first playoff series for the new look Nets. They have a nice young squad that can make a run in the future if they build around their pieces correctly. They might even be able to steal a game or two. But it won't be enough to get past the star power the Sixers have. Embiid's primary matchup will be against Nic Claxton who has improved greatly on both ends of the floor this season. It will be interesting to see how well Claxton defends him in this series. With a good bit of the attention being on Embiid, look for Harden and Tyrese Maxey to provide a little more offensive production. 
Series Prediction: Philadelphia 76ers in 6
X-Factor: James Harden
4 Cleveland Cavaliers vs. 5 New York Knicks (Maxwell Millington)
This will probably be one of the most competitive series in the playoffs, especially if both teams are at full strength. A healthy Julius Randle would love to erase the stench of his poor playoff performance two years ago against Atlanta. On the opposite side, Donovan Mitchell wants to beat his hometown team and prove he can be the #1 guy on a contender. 
Prediction: Cavs in 7, X-Factor: Evan Mobley
4 Cleveland Cavaliers vs. 5 New York Knicks (Michael Lofton)
Jalen Brunson has been one of the ten most impactful players in the league when it comes to changing the fortunes of his team from last year to this year. However, Donovan Mitchell has been equal to the task in an incredible All-NBA season and solidified himself as one of the 3 best shooting guards in the world. Darius and Donovan make one of the most exciting and potent scoring backcourts in the Association and they will be poised to get Cleveland out of the first round without LeBron since AOL was invented. The Knicks won the regular season series 3-1 and Coach Thibbs has been through the wars. The addition of Josh Hart means this is going 7 games, but I'm going to trust Cleveland's defense to step up and close this series out at home. #KnicksTape goes another year without playing the GO NY GO song: https://youtu.be/PSCdq1s5ekI 
Series Prediction: Cavs in 7
X-Factor: Donovan Mitchell