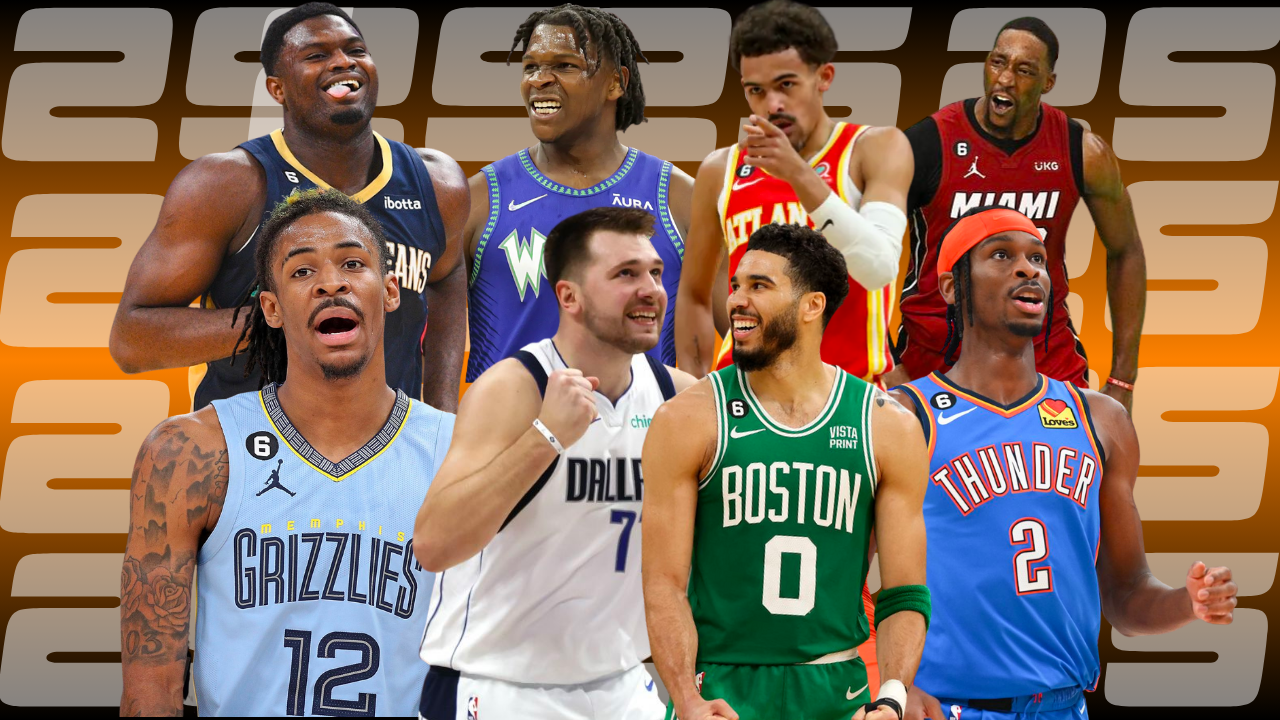 With players from past eras retiring and the amount of great talent entering the league every year in the NBA draft, the league's best continue to get younger and younger. Some would say we're even entering a new era of generational talent. Based on their careers thus far and the great amount of potential they all possess, we present to you the Top 25 NBA players, 25 and under (Excluding rookies, since they are unproven to this point). Each of these players has had a great impact on their team's success and some have already surpassed players that came before them.
(25-14)
25. Devin Vassell, San Antonio Spurs
Highest rank- 25
Lowest rank- HM
Devin Vassell is a mid-range assassin, with an offensive game that expands every season. As more talent surrounds him, his true value will be shown. His efficiency and assist numbers have increased each season. If he can continue to grow as an offensive player and prove himself to be an efficient second option he could be a borderline all-star.
24. Alperen Sengun, Houston Rockets
Highest rank- 24
Lowest rank- HM
Sengun has the talent to be the hub for the Rockets, but the team and organization have to realize that he's the guy to build their offense around. He's got fascinating footwork, tremendous touch at the rim, and sneaky athleticism. Sengun's passing skills are phenomenal, he might be the second-best big-man passer in the league. He needs to be more of a plus on the defensive end, but that could come with time and better personnel around him. 
23. Desmond Bane, Memphis Grizzlies
Highest rank- 23
Lowest rank- 23
Bane has raised his stock every year of his career and this may truly be his breakout season. A knockdown shooter, who is showing their ability to put the ball on the floor to create plays for himself and others. That could be exactly what the Grizzlies need..  Bane is a career 42% shooter from the three point line, and his points per game average has jumped all three seasons of his career. With Ja out for the first 25 games, he's got the chance to show what he can do as the go-to creator
22. Jordan Poole, Washington Wizards
Highest rank- 21
Lowest rank- 25
There are two sides of Jordan Poole, the one that helped the Warriors win a championship in 2022, and the one playing for the Wizards currently. Poole is an ultra-talented scorer, but there are things he really has to improve on if he wants to reach his full potential. He has to realize that he isn't the only player on the court, and his teammates are just as important to his success. He's got all of the ability in the world on the offensive end, but his effort on the other end and his awareness have to be better.
21. Josh Giddey, Oklahoma City Thunder
Highest rank- 19
Lowest rank- 21
Giddey is an electric, entertaining offensive player. His flashy passes and mesmerizing dribbling moves make him an elite, ideal sidekick to Shai. His IQ for a player at his age is impressive. He also has to work on his jumper, because frankly, that's the major thing holding him back from being an all-star-level player.
20. Scottie Barnes, Toronto Raptors
Highest rank- 19
Lowest rank- 20
Barnes can do just about everything on the court. He has the physical tools to be elite defensively, has the ability to be a primary playmaker, and is ferocious in his attacking of the rim. His jump shot has to improve, and if that happens, the sky's the limit. Barnes has the tenacity to be one of the best two-way players in the league in the future
19. Franz Wagner, F Orlando Magic
Highest Ranking: 15
Lowest Ranking: 22
Franz Wagner is one of the most slept-on young players in the league, probably because he plays in a market that isn't heavily watched and isn't a flashy highlight play guy. But, he just does everything right on the basketball court. At 6'8, he is an incredible playmaker, he can score on all three levels, he's always in the right spots, and he's the perfect complementary piece to his teammate who is also on this list. The Magic are in great hands. Could you tell I have a BUNCH of Franz stock and was the guy who rated him at 15?
18. Tyler Herro, G Miami Heat
Highest Ranking: 15
Lowest Ranking: 21
Tyler Herro was having an outstanding 2022-23 season before missing almost the entire playoffs with an injury. We already know what he is capable of as a scorer, that has never been the question. But this season will tell us a lot about Herro, with the Heat losing almost all of their guard depth he'll have to become a better defender and playmaker. If he does this, he can easily ascend into the top 10-12 of this list.
17. Evan Mobley, F/C Cleveland Cavaliers
Highest Ranking: 15
Lowest Ranking: 18
The second Cleveland Cavalier on the list, the opinions on Mobley seem to be mixed. Some don't think he's lived up to the hype, others trust that he'll only get better in year three. I agree with the latter. Jarrett Allen has limited Mobley's growth by not allowing him to play as the primary big, and this year has proven that. Allen has yet to play this season and Mobley has benefited greatly from that, averaging career-highs in points, rebounds, and blocks.
16. Tyrese Maxey, G Philadelphia 76ers
Highest Ranking: 15
Lowest Ranking: 17
I'll be the first to admit, I was wrong about Maxey's potential as a 2nd option and primary ball-handler. The 76ers weren't very versatile in their sets last year, it was mostly just P&R with Harden and Embiid, but Harden's departure and Nick Nurse's new scheme have unlocked his full potential. He is proving that he can lead Philly to a top-3 seed in the East, his change of pace is second to none and he's doing it very efficiently. His ceiling is a lot higher than I ever imagined.
15. Darius Garland, G Cleveland Cavaliers
Highest Ranking: 12
Lowest Ranking: 16
Garland has only played in one game this season, but we saw enough last year to justify having him in the top 15. He plays with a pace and fluidity that is so appealing to the eye. His ability to play off of Donovan Mitchell as the primary ball-handler/facilitator while also scoring 21 a game on excellent perimeter efficiency makes the Cavs a surefire top-5 seed in the East.
14. Cade Cunningham, G Detroit Pistons
Highest Ranking: 12
Lowest Ranking: 16
Cade missed all of last season due to injury, but through the small sample size of the 2023-24 season, he's proving why he belongs high up on this list. Truthfully, he'd be higher without the absence, but if he maintains this increase in scoring efficiency and elite level of playmaking, he'll be moving his name up and leading the Pistons into the playoffs. The Cade and Duren pick and roll is a SERIOUS problem for the league.