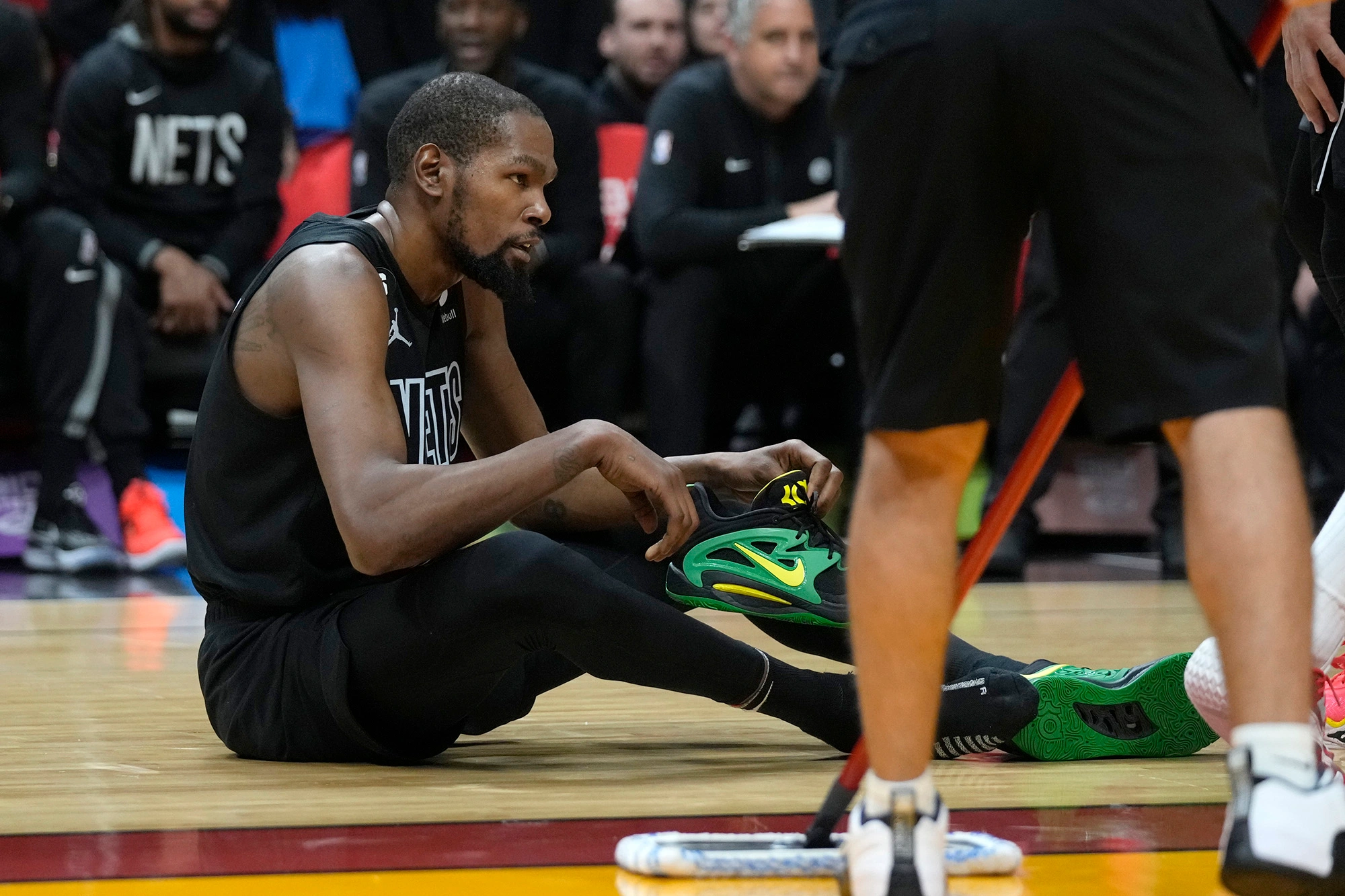 Once again, Brooklyn Nets Forward Kevin Durant is out with a leg injury. The injury came in the second half against the Miami Heat Sunday night after Jimmy Butler fell on Durant's leg. The All-Star suffered a sprained MCL in his right leg, the same injury he suffered last season around this time.
Last season, Durant was out six weeks before returning to action. The Nets went from first to 10th in the Eastern Conference standings. They lost 11 straight games, and James Harden was traded to the Philadelphia 76ers. But with how the Nets have looked this year and their schedule, it's unlikely we'll see the Nets suffer the same fate.
There have been many changes to the team from a year ago. Jacque Vaughn is their head coach, Kyrie Irving is available, and their team is better than the previous year.
With Durant being out for the next month, we will see how this team looks this year without him on the floor. KD has missed his fair share of time since he joined the Nets in 2019, but each time has been much different than the time before.
He missed the 2019-20 season due to his Achilles injury. That was a year where Kyrie Irving was the main option and building chemistry with the core. Then he played less than half of the shortened 2020-21 season, missing time with various leg injuries. That was the first season we saw the trio of Durant, Irving, and James Harden together, but they barely saw time together as a trio for various reasons.
And as previously mentioned, Durant missed time last season with an MCL sprain in his left leg. This was probably the toughest time for the Nets during his tenure as Kyrie was out because of his vaccination status, Harden wanted out of Brooklyn, and the Nets lost 11 straight.
This time around will be different. The Nets will still be able to compete with their improved roster, but it will be challenging without their primary option on the floor. We've seen times throughout the season how difficult it could be to get things going on offense without KD on the floor. That will be something they will have to work on for the next month.
Kyrie will be relied upon more to score. He's currently averaging 26 points on 19 shot attempts per game. With Durant out, we'll definitely see those numbers increase because he'll have the ball in his hands more. His leadership will likely be magnified during this time. It will be reminiscent of his first year with Brooklyn.
The supporting cast around him is much better than the team he had that first year. Joe Harris, Seth Curry, and Yuta Watanabe have been great shooters for Brooklyn this season. Nic Claxton has shown much improvement in his game this season, gaining Defensive Player of the Year consideration. TJ Warren has been a great addition to the team as well. It will be a time for the squad as a whole to step up in Durant's absence.
While many eyes will be on Kyrie during this time, many will also be looking to see how Ben Simmons performs as well. So far this season, Simmons has been inconsistent. In some games, he'd flirt with getting a triple-double. But in most games, he'll barely look to score and make poor decisions on both sides of the ball.
In this stretch, the Nets will need Simmons to be aggressive on both ends of the floor to make up for Durant not being out there. Averaging 15 ppg for his career, Simmons is averaging half that this year. He's only scored more than 20 points twice this year and is averaging career lows across the board. He's not the player he once was, but he should be able to make strides toward that with Durant out for an extended period of time.
This will also be a test for new head coach Jacque Vaughn. So far, Vaughn has helped the Nets make major improvements as a team since being named head coach. Under Vaughn, the Nets have become one of the best teams in the league on both sides of the ball. Currently, the Nets are in the top 10 in both offensive and defensive ratings. They have a record of 25-8 since Vaughn took over and are now two games behind the Boston Celtics in the Eastern Conference standings. But this will be Vaughn's first time without his primary option. It will be interesting to see what their offense looks like without Durant.
Recently, the Nets have won 14 out of their last 16 games, including a 12-game win streak. With KD out, they will be missing a good bit of their production. But they will still be competitive. Their first test will be against the Celtics Thursday night. In the next ten games, the Nets will have to face the OKC Thunder, Golden State Warriors, Philadelphia 76ers, New York Knicks, and the Los Angeles Lakers.
Most of these teams are playoff teams at the moment, with some key players returning as well. Stephen Curry returned against the Phoenix Suns Tuesday Night, and Anthony Davis may be returning in time for the game against the Nets on Jan 30. The Nets should play well during this stretch, but it will be challenging without their leading scorer.
An avid sports fan and journalist who's main focus is the lovely game of basketball. If I'm not covering the game, I'm either playing ball or watching it.