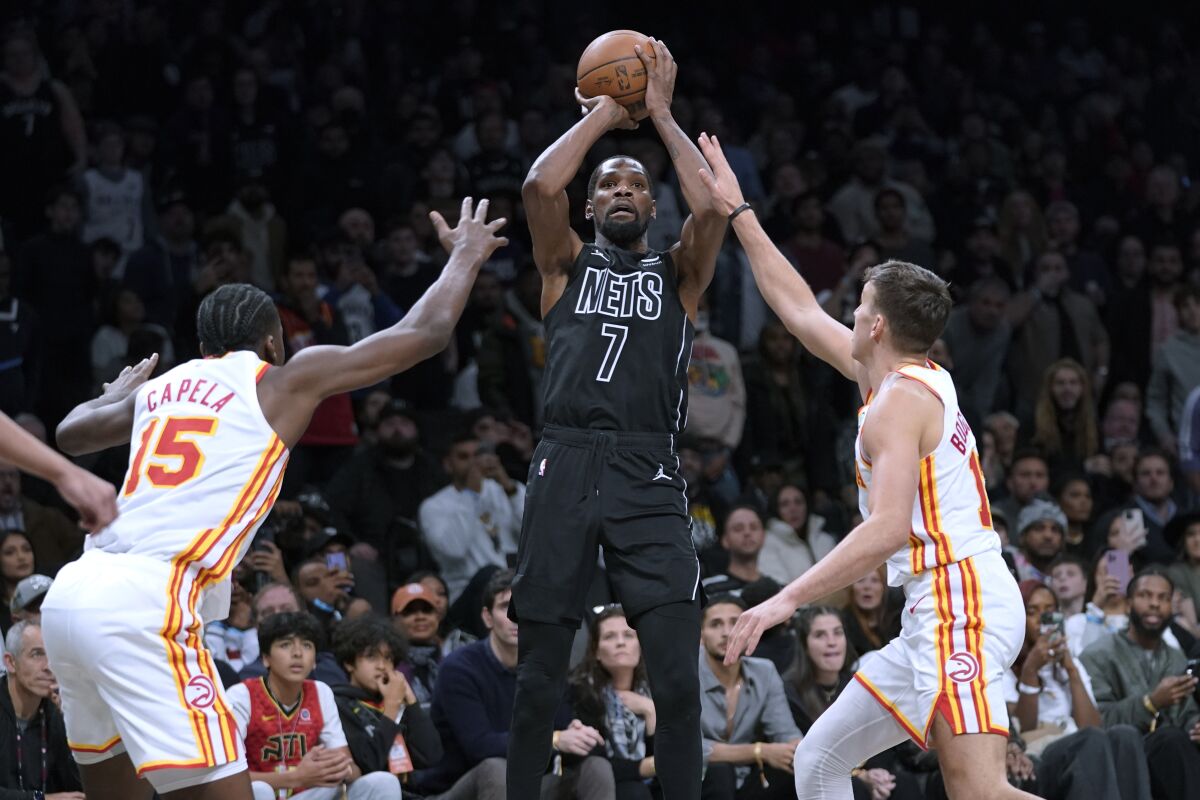 After a disaster of an offseason and a shaky start to the regular season, the Brooklyn Nets are back on track to becoming a contender. The Nets are now 21-12 and are fourth in Eastern Conference standings. They are looking like one of the beasts of the east but a lot had to happen for them to get to this point.
It started with the Nets parting ways with their head coach Steve Nash after a 2-5 to start the season. There were rumors that suspended Boston Celtics head coach Ime Udoka would fill in the position. But the Nets made the decision to promote assistant coach Jacque Vaughn after serving as the interim head coach for a few games. Since Vaughn became the coach of the Nets, they saw immediate improvements defensively and are currently 19-7 with him as head coach. You can tell there is a different attitude about the team overall and Vaughn is running the team the way it should've been before.
Many say that the best ability is availability and that has been the story of the Brooklyn Nets for some time now. Teams in the past have been built for success. But whether if it was Kyrie Irving missing time for whatever reason or Kevin Durant's injury last season, Ben Simmons being out as well, the lack of availability from some of their key players has hurt their chances to achieve anything.
This season has been slightly different. Ben Simmons made his return to the court this season. He had some struggles early on but has since worked his way back to making an impact for his team. Joe Harris and Seth Curry have made their returns to action this year. TJ Warren, who the Nets picked up in the offseason, made his debut a couple weeks ago. Kyrie Irving was suspended for eight games earlier this season but has not missed time outside of resting last week against the Pacers. The Nets have been relatively healthy this season meaning they have been able to play their best players together. 
Recently we've seen what this team has looked like almost all together. Ben Simmons missed a couple of games as well as Yuta Watanabe. The Nets had a seven game homestand in where they went 6-1, their only loss coming from the Boston Celtics. In that stretch, Brooklyn played some impressive basketball. In the game against the Toronto Raptors, the Nets scored 72 points in the first half. That was the second highest amount of points the Nets scored in a half this season. They would go on to score 91 points in the first half against the Warriors this past week. This squad has shown that they can be a problem for teams if things are clicking.
There has been some ridiculous performances from Kevin Durant over the past 10 games. In the game against the Orlando Magic, Durant had one of the most efficient games of the season. He scored 45 points shooting 79.2% from the field. A couple nights later, he scored 39 points on the Washington Wizards with a field goal percentage of 65%. In his last 10 games, Durant is averaging 29.8 points, 6.5 rebounds, 5.1 assists and shooting 59.7% from the field. This stretch of games from Durant have been impressive and has definitely inserted his name into MVP conversations.
Kyrie Irving has been playing well since his return to action. Since his suspension he's averaging 26 points, 5.4 rebounds and 4.9 assists The duo of 7/11 has reemerged as one of the better duos in the league. They can still combine for 60 on any given night. The team around them is solid and could be what they need to advance further than they have before.
As Durant mentioned on his podcast, expectations were high on the team because of their stars but many of the players haven't been in a role like the ones they're being asked to play. This is also the first time many of these players are playing together. Many things have gone right for this team since Vaughn took over as head coach. It's still a little early into the 2022-23 season but this is the time where teams start to find their identity for the rest of the year. It looks like the team is starting to gel together and it couldn't have come at a better time. They have held their own against some of the league's best as they establish themselves in that same category. If the Nets keep it up and remain healthy with no unnecessary absences, there is no reason for them not to be contenders this year.
An avid sports fan and journalist who's main focus is the lovely game of basketball. If I'm not covering the game, I'm either playing ball or watching it.