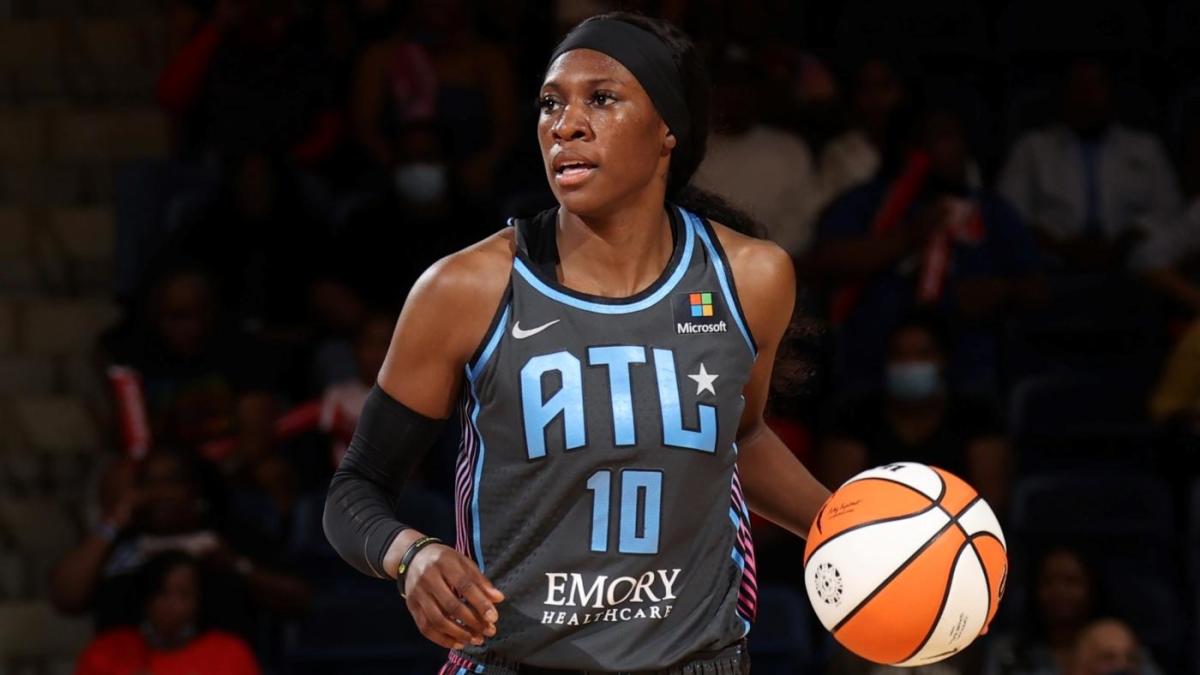 The 2022 WNBA regular season has concluded, and it's time to hand out some hardware. Many players are deserving of each award, but there are a few who stand out just a bit more than others. The players who have been phenomenal all season finally get their recognition, praise, and acknowledgment. 
Rookie of the Year
Tariq: Rhyne Howard. She started her first week as a pro, averaging 25 points per game and winning WNBA Eastern Conference Player of the Week. She didn't let up and quickly became the franchise player for the Atlanta Dream.
She made an All-Star game, participated in the Skills Challenge, and has done things very few rookies ever have. She finished just behind tenth in the league in scoring, fifth in three-pointers made per game, and tied for fifth in steals. 
Bryce: Rhyne Howard has been by far the best player in this stacked rookie class. She separated herself from the pack as soon as the season started. In my opinion, she's been the best incoming rookie since A'ja Wilson.
Her performance had a strong impact on the Dream's success this season. Howard was named Rookie of the month every month this season, named player of the week in her first week as a pro, and was selected to be an All-Star. Her case has made her the clearest option for the award. 
Most Improved Player 
Tariq: Sabrina Ionescu. Her first few seasons were hampered by injury, which caused some to give up on her. Some believed the hype on her from college was too much. This season she silenced those doubters. She's set and tied records, and in just her third season, she's only going to keep improving. Her scoring increased by six points, and both rebounds and assists increased while having a career-low in turnovers and career-high in steals.  
Bryce: Sabrina Ionescu. There were a couple of players I wanted to choose for this award for different reasons. But I asked myself, "who's improved play impacted their team's success the most?" And that player is Sabrina Ionescu.
In a year, when All-Star Betnijah Laney was out for most of the season, Ionescu stepped up and put the team on her back. We really got to see the kind of player Ionescu could become this season. She played with more confidence and improved her averages in all statistical categories. Even messed around and got a couple of triple-doubles. That being said, Ionescu has the best case for the award this season. 
Sixth Player of the Year
Tariq: Brionna Jones. While this is relatively an easy choice, I would be remiss if I didn't give some love to Azurá Stevens of the Chicago Sky. Jones was an All-Star last season and handled the move to the bench like an absolute professional. She made another All-Star game and has dominated on both sides of the floor when she's been on the court. 
Bryce: Brionna Jones. Bri Jones' role changed this season as she came off the bench. She handled the role change well, becoming an All-Star for the second straight season. Jones had the best season out of anyone playing that role, and it's no doubt that she'll be given the award.  
Coach of the Year
Tariq: Tanisha Wright. I know they ended up missing the playoffs, but I think she meant more to her team and its culture than any other coach this season. The Dream were the most chaotic and negatively talked about team in the league last year. Wright turned the roster into one of the best defensive teams in the league and a team that played together and gave it their all every single night.
I know coaches like Becky Hammon and James Wade have the better records, but in all honesty, those teams would be terrific with 8 or 9 of the 12 coaches in the league. That's not to discredit them because they make the right calls and plays and manage their personalities and talent really well. Many people thought it would take a few years to turn it around; she did it one season. 
Bryce: Becky Hammon. It came as no surprise when the Las Vegas Aces hired former San Antonio Stars guard Becky Hammon to become their new head coach. We all know that a talented team is nothing without the proper guidance, and Hammon has been just that. She had the team playing at a much faster pace than in previous seasons and let players have the freedom to explore their game. She allowed A'ja Wilson to shoot from deep, and it benefited them. She was able to coach them through tough matchups and ended the season with the best record in the league, going 26-10.
Defensive Player of the Year
Tariq: A'ja Wilson. She moved to the center spot after Cambage's departure and didn't miss a beat on either side of the ball. Her versatility and ability to erase shot attempts at the rim (she led the league in blocks) give her the edge for me. Rebounding is key to defense as well; she led the league with 17 double-doubles as well. Not to mention she's the only real post player on the court more times than not and has to make up for a few players who struggle defensively. 
Bryce: A'ja Wilson. The Las Vegas Aces had quite the year this year. They have one of the best offenses in the league but had some weaknesses defensively. A'ja Wilson has been the defensive anchor for Las Vegas. She led the league in blocks and averaged 7.6 defensive rebounds. In the Commissioner's Cup Championship game, Wilson had a stat line of 17 points, 17 rebounds, and a career-high six blocks. Her play defensively was pretty impressive and stood out amongst the competition in the last month of the season. 
All-WNBA Teams
Tariq & Bryce: First Team– A'ja Wilson, Breanna Stewart, Candace Parker, Kelsey Plum, Skylar Diggins-Smith
Second Team– Sabrina Ionescu, Courtney Vandersloot, Jonquel Jones, Alyssa Thomas, Nneka Ogwumike
All-Rookie Team
Tariq: Rhyne Howard, NaLyssa Smith, Shakira Austin, Rebekah Gardner, Naz Hillmon
Bryce: Rhyne Howard, Shakira Austin, NaLyssa Smith, Rebekah Gardner, Queen Egbo
All-Defensive Team
Tariq & Bryce: A'ja Wilson, Breanna Stewart, Alyssa Thomas, Natasha Cloud, Brittany Sykes
MVP
Tariq: A'ja Wilson. In a very close race, I lean towards Wilson. She shot 50 percent from the floor, and 37 percent from three, in her first season, shooting more than two threes per game. She was incredible on both sides of the floor, as I mentioned earlier.
She is such a calming presence and such a joy to her team and fans. Her teammates' shining says so much about her as a team player that she sacrifices for the better of the team and is still seen as the best player in the league. The only thing she is missing is a WNBA championship. Will she fill that void?
Bryce: A'ja Wilson. Many say the MVP race was close, but I don't think it ever was. From game one to game 36, A'ja Wilson has been the most valuable and had the biggest impact on her team's success this season. Wilson averaged career-highs in blocks and rebounds this year. She even added the deep ball to her game, shooting 37.3 percent from the three-point line.
In the big games against other contenders is where Wilson showed up the most. Even though the Commissioner's Cup Championship game doesn't count toward anything statistically, that was the game where she really showed that she was the MVP. She scored 17 points, grabbed 17 rebounds, and had a career-high six blocks against a loaded Chicago Sky squad. She proved that she could lead a team to greatness, and it's time to award her with her second MVP