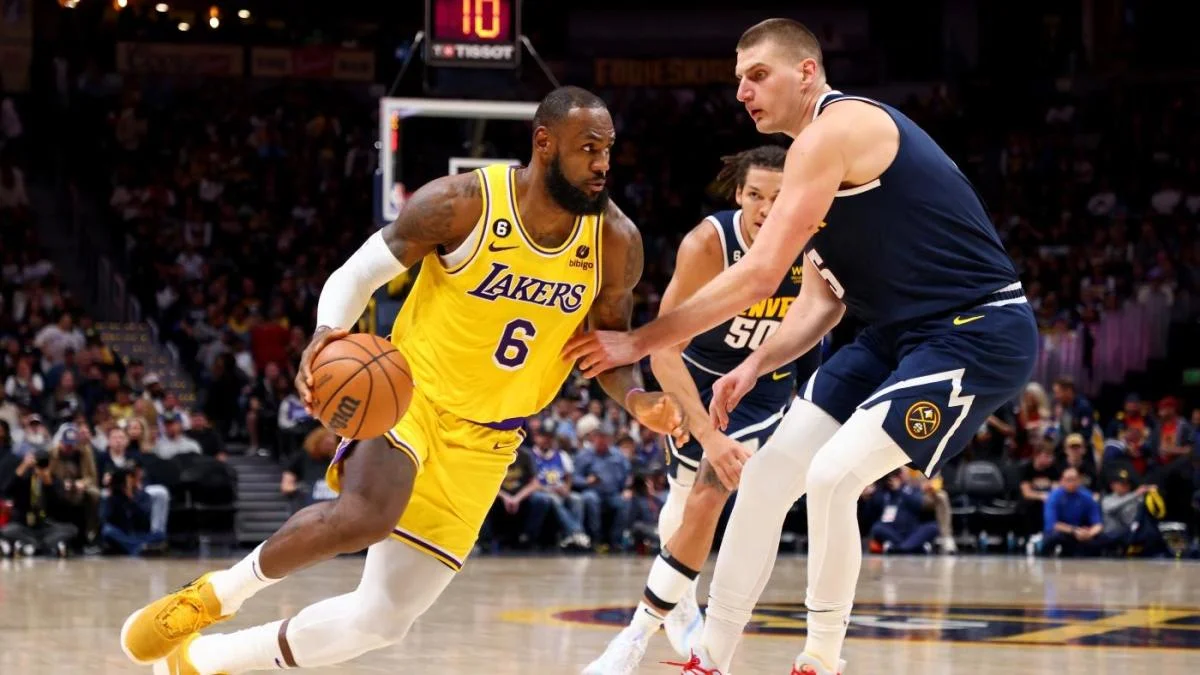 2023 NBA WESTERN CONFERENCE FINALS PREDICTIONS
1 Denver Nuggets vs 7 Los Angeles Lakers (Tariq McDowell)
Can the Denver Nuggets finally get over the hump? They've been on the verge for quite some time. Injuries have held them back from reaching their potential ceiling. With Jamal Murray and Michael Porter Jr returning from injuries, they helped their squad get to the number one seed. Will the Lakers defense and experience lead them to another finals appearance? Since the trade deadline, LA has had the best defense in the league. They have a playoff-leading 106.5 defensive rating, while the Nuggets have a playoff-leading 118.7 offensive rating. They are the top two teams in points in the paint and fast break points. Denver looks like the most complete team in the league. But LA has found ways to win big games with players not named Lebron James or Anthony Davis having great games. Which coach makes the series-changing adjustments? How will the Nuggets decide to guard AD? They played a lot of smaller lineups against the Suns, will they be able to do that in this series? Who gets the matchup of guarding Lebron? I would assume Aaron Gordon, who did a pretty good job on Kevin Durant. They do have depth at the wing spot and players willing to give it all on the defensive end, which will likely end up being the most important aspect of this series. Can MPJ take that next step in this series? Can he be a real game-changer? His defensive effort has picked up, he will have to be disciplined, as it is likely he is a guy they'd like to hunt out. Jamal Murray is going to need an even better series than he had against the Utah Jazz in the bubble. At the very least he has to be consistent. Will the Lakers role players continue to have the impact they have to this point? D'Angelo Russell, Austin Reaves, Lonnie Walker, Rui Hachimura, and Jarred Vanderbilt have been crucial in more than a few of the Lakers' playoff wins. Denver's role players, like Jeff Green, Kentavious Caldwell-Pope, Bruce Brown, and Christian Braun, are pretty similar, they have played a pivotal role in their wins. The season series was tied 2-2, but none of those games came after the trade deadline. 
X-Factor: Jamal Murray and MPJ
Prediction: Nuggets in 6
1 Denver Nuggets vs 7 Los Angeles Lakers (Greg Waddell)
Going back all the way to 1996, The last 27 NBA Finals matchups have included at least one of the following seven players:
LeBron James
Stephen Curry
Giannis Antetokounmpo
Kobe Bryant
Shaquille O'Neal
Tim Duncan
Michael Jordan
No players from this list remain active in the Eastern Conference Finals.
One player from this list remains active in the Western Conference Finals.
This is the Denver Nuggets roster:
The remaining player in this exercise is not on the Denver Nuggets roster.
X-Factor: LeBron James
Lakers in 6