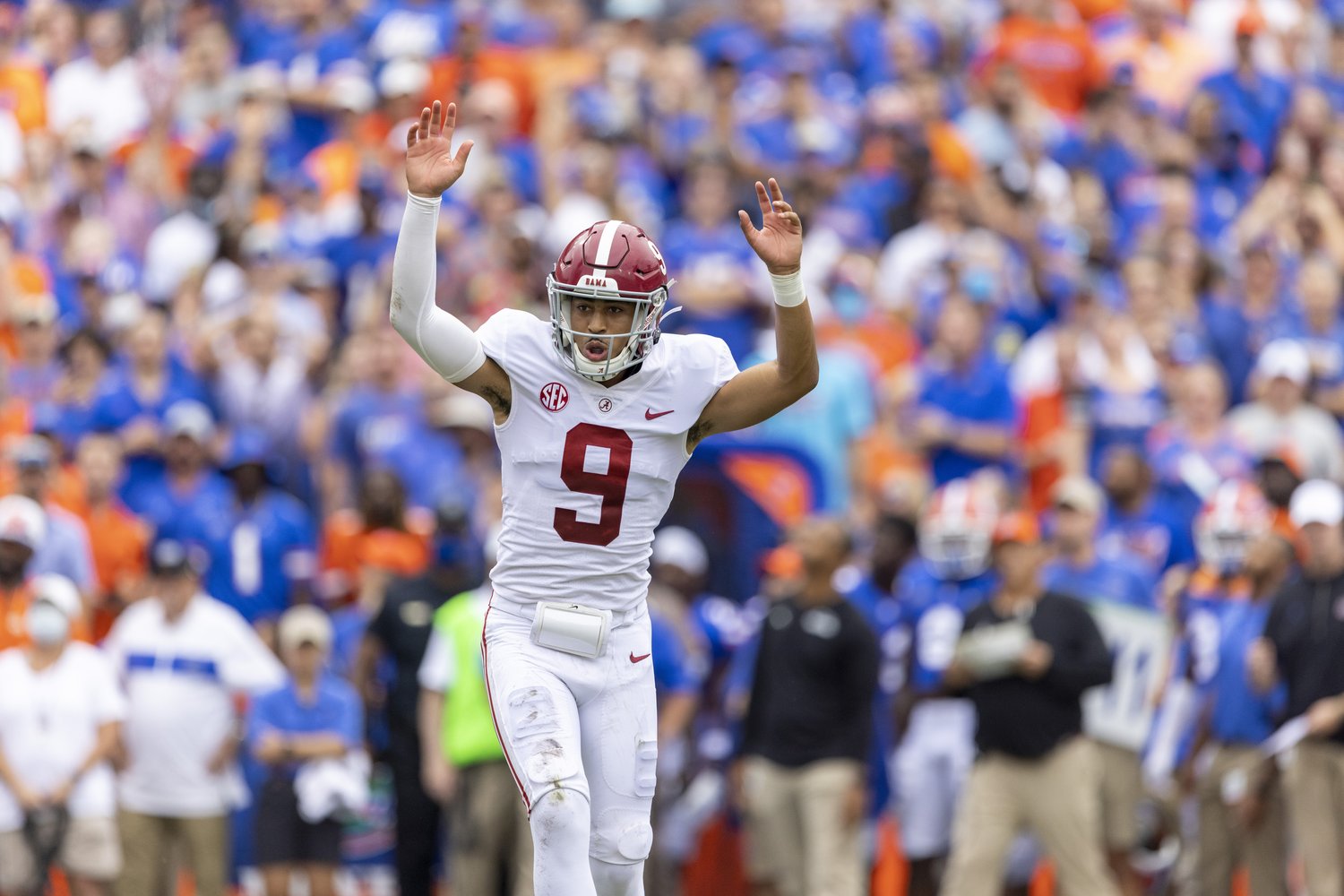 Georgia vs. Alabama, Jan 10. 2022, 8pm. ESPN
The End of the Road: 2021-2022
By: Andrew Whitney
Am I allowed to say it?
Are these words sacrilege to the faith I so heartily follow? Am I a traitor true, a rapscallion, a degenerate, no good fool?
Perhaps. And yet the words will not be quelled.
Who cares?
---
When Alabama and Georgia meet in the 2022 National Championship game, it will fulfill the expectation and endeavor of the nascent college football playoffs. The two best teams are meeting (hmm, sounds like a system we used to use…) Their semi-final victories were more than decisive, but we have become accustomed to this. And the playoff system resulting in these types of semi-final beatdowns, which we instituted in the hope of bringing variance and dynamism to the final matchups of the season, is now very much a staid custom. Woe; this is surely to the detriment of the sport.
Under no circumstance would I suggest that Alabama and Georgia are not worthy champions. They are clearly the best two teams in the country, and it's possible the only metric separating them is the day on which they compete. And yet, in a game that should inspire tremendous excitement and titillation, we once again watch the top tier of college football remind us that the playoff mantra isn't "Who's in?"
It's "Who's out?"
But here we are, and the teams within are certainly deserving of their place. Their matchup in the SEC Championship game cannot definitively be called fluke, folly, or fact until we have seen the result of this game. Alabama won in dominant fashion against a Georgia team that was edging into historical greatness in many ways, with advanced metrics suggesting a generational defense. Bryce Young had his way with the Georgia defense, and while many observed that the Georgia secondary may be vulnerable, I believe it more likely that a perfectly executed modern pass offense is impossible to defend against, and 'Bama's QB Bryce Young embodied this. Even then, we cannot be certain how accurate a metric the last result was in assessing who is superior.
Absent pressure from a powerful Georgia defensive line, 'Bama has shown that when focused, its aerial assault is unstoppable. Despite poor showings earlier in the year that saw 'Bama muck about with inferior competition, postseason Saban is still very much a 'thing'. And that 'thing' declares that an elite defense is still subject to the whims of an elite offense in this 'ere our sport.
It is essential that Georgia limit Alabama's possessions. Bulldogs QB Stetson Bennet looked fabulous against Michigan but benefited from passing as a luxury. When forced by necessity to throw – as he was against Alabama for the first time this season – his detractors were eager to remind that he was originally a walk-on. And the pick-six he threw against 'Bama was nearly a walk off; it was a backbreaking mistake, as any turnover in this game will be. Alabama proved entirely content to bypass any attempt at running the football beyond token treachery. Georgia should accept that their vaunted rush defense will do them little good here, and must adapt their defense to apply pressure, even if it results in a few gap breakdowns in rush defense. In fact, Georgia may just be better off baiting 'Bama into running for 120 yards than they are tempting Young to throw another 20 passes.
In some ways, it almost feels as if we know less should we rely on the SEC championship game for data. We cannot assume a replicated performance from either team, despite their familiarity, because Georgia's coaching staff displayed elite preparation leading into their game with Michigan, and Saban has long established such prowess.
---
Do we care yet?
If only for the mystery, and for the virulent confusion that envelopes any prediction of this contest, yes, we care. Disappointing as it may be for the masses to once again watch College Football's aristocracy bask in their liminal snacking of a semi-final, at least we may avoid a smacking in the final. For a season so shrouded in the vexing and vague, I find it ironic – almost condescending – that it should end in such rote fashion. What a delightful year full of upsets and underdogs and whimsy and waves.
And on Monday?
We will have reached the final Tide.
Score Prediction: Alabama 36, Georgia 29
—-
But don't just take my word for it. We have Multiplicity Media's A-Team with further analysis and picks.
Experts: Maxwell (Maxweezy) Millington, Alexa (Lexi) Wester, Greg Waddell.
Maxweezy: At halftime of the 2018 National Championship, Nick Saban made a then-revolutionary decision to bench Jalen Hurts in favor of freshman backup QB Tua Tagovailoa. Alabama went on to win the game in overtime over the same opponent they're facing this year, Georgia. The halftime decision amplified what makes Saban legendary: his willingness to adjust.
Despite their SEC Championship performance, I expect this Georgia defense to show up in Indy. But if it doesn't and Stetson Bennett is playing like…well…Stetson Bennett, will Kirby Smart make a change to avoid losing the Nation Championship and going 0-5 against The G.O.A.T?
Score Prediction: Alabama 30, Georgia 27.
Lexi: Normally, I'd say that I am not looking forward to an all-SEC championship game, but this year feels different. I admit, I was not impressed with Georgia in the conference championship game. The same song played in my head, 'Kirby Smart can't win against Nick Saban,' 'He can't beat his rival.' As always, Saban showed the world how to get the job done and advance to the College Football playoffs by having Georgia beat in the second quarter.
We know how difficult it is to beat a team twice in one season, let alone a rival team. It wasn't until the first playoff game, where I watched Georgia slowly dismantle Michigan play-by-play, piece-by-piece, that I finally bought into their hype. The Bulldogs defense shut down one of the best offensive lines in college football. Their offense ran circles around Michigan's top 15 defense. Once I watched the first half of that game, I knew Georgia had the ability to take down Alabama. Kirby Smart is going to have his hands full with Saban's star roster, but I believe he and his players will be much more prepared for this game. There's a lot more on the line between these teams this time around. Alabama was fighting for a playoff spot in the conference championship and now Georgia will be seeking their revenge on Monday night in Indianapolis.
And they will succeed.
Score Prediction: Georgia 41, Alabama 34
Greg: I have heard the Kirby Smart jokes. I laughed. I have also seen Kirby Smart (and staff) formulate a game plan so decisively spectacular it neutered Michigan's best-in-class defensive line, and rendered them meaningless. I have heard the Stetson Bennett jokes. I laughed. I have also seen Stetson Bennett throw for 313 yards and 3 TDs in a playoff game and if not for the proverbial "call off the dogs" at halftime, he wasn't stopping there.
I have heard the Nick Saban praise. I have witnessed his greatness. I have also seen this Alabama team struggle in one possession games late in the 4th quarter this season against a 9-4 Arkansas team, a 6-7 Auburn team, a 6-7 LSU team, a 6-7 Florida team, and an 8-4 Texas A&M team (they lost this one).
Georgia is the best team in the country this season. We have known it all along, and if not for a loss in the SEC Championship (a game in which Georgia knew they didn't need to win to make the playoff, and Alabama knew they absolutely did need to win to make the playoff), they would be massive favorites against Alabama in this game. A one-score Georgia victory feels right.
Score Prediction: Georgia 34, Alabama 28
Follow us on Twitter @MultiplicityMG and check out the latest episode of College Football Weekly!