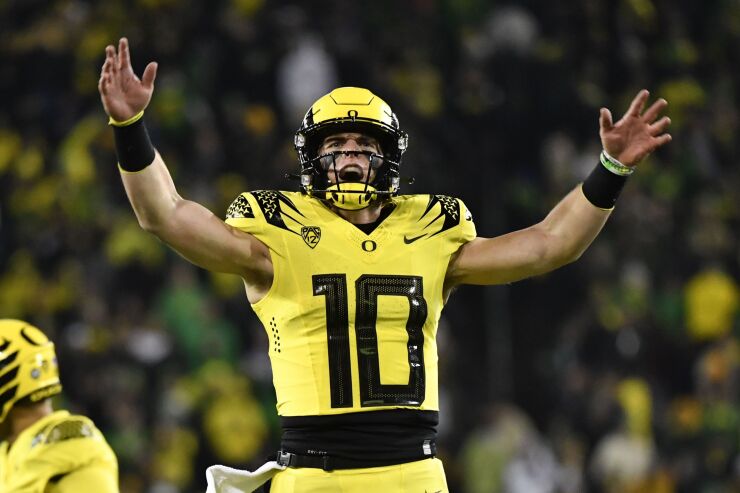 Two Heisman Trophy Candidates. Two PAC-12 teams in the top 10. Both of whom will be in the B1G next year. None of them are named USC or have the reigning Heisman Trophy winner: Caleb Williams willing their team to a possible national championship. Thank you to the COVID year as Bo Nix and the Oregon Ducks visit Michael Penix, Jr. and the Washington Huskies in Seattle. Dan Lemming and Kalen DeBoer are a combined 28-5 since they've taken over their programs. Wow!
A fun stat according to the worldwide leader, this game has a combined 97.6 ppg average between the two schools and is the highest for a match of 5-0 or better teams since 2008. Check the weather to see if it will be dry and no wind in Seattle from 12:30-4 pm PDT and Bet the Over! Both teams have a lot of DUDES who will pay on Sunday. One team will have an advantage for scoring in the air and the other relies on the run and an efficient short passing game. The teams are opposites in approach, but the numbers in explosiveness and efficiency are incredibly close.
Without a doubt, this is the biggest game of the year. According to the FPI, there is a 70% chance of a PAC-12 team being in the CFP. Whoever wins has the inside track to represent this dying conference in the last Playoff that will have four teams.
Quick Hits:
Marcus Freeman needs a win at home. Notre Dame will have a new president and a new AD come July 1, 2024. Marcus needs to go at minimum 9-3 this season and must get creative and get to double-digit wins next season to be back as HC of Notre Dame for the 2025 season.
The Iowa/Wisconsin game has been under the projected total in each of the last three games. I expect that to continue between those two rivals. No need to climb the ladder as long as Ferentz continues his extremely talented ways of displaying mediocrity. Yes; I know it's fake… However, that was definitely Brian who asked someone to make this.
Mario Cristobal. I wanna see your assistants' bank account and your text messages. Congratulations, the U has been eliminated from the CFP because of you and your staff.
Jayden Daniels is the most fun player in college football. The problem as I've stated before is the Coach he plays for is one of the most unlikable people in the sport. Is Brian Kelly an outstanding offensive coach? He's literally one of the best. However, his defense is absolutely garbage this year. At the very least, watch LSU because of how many points they will score and Mr. Daniels deserves all the love he's getting this year on a winning and unlikable squad.
Game of the Week PICK (4-2)
Oregon at Washington -3
The Pick: Oregon 34 Washington 37 (Buy Oregon up to 3.5 if you can and enjoy the over 67 points if the weather is good.)
College Football Bets (3-2)
ML's noon Combo (Shot+Beer) Parlay: +196
Alabama
Eastern Michigan
James Madison
Rutgers
ML's Afternoon Tea's Me Alternate Line: +690
Utah -6.5
Oregon +9
South Carolina +4.5
Oklahoma State +8
BYU +10.5
Tennessee +3
ML's All Day Bar Hop Parlay: Marathon means Seltzers, Cocktails, Beers, and Shots (Black Cherry+Blackberry, Vodka Red Bulls, Coronas, and Bombs All-Around +4961
Alabama
Florida State
Eastern Michigan
James Madison
Utah
Maryland
Miami (OH)
Wisconsin
LSU
Air Force
UNC
UTSA
NC State +9
Pitt +13.5
Notre Dame +4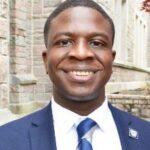 As a co-founder of Multiplicity Media, it's an honor to be able to showcase some of the best talent creating sports and entertainment content. I am the host of Chaos and Conversation, Kicking' It With The Brothas, and Mike of All Trades.