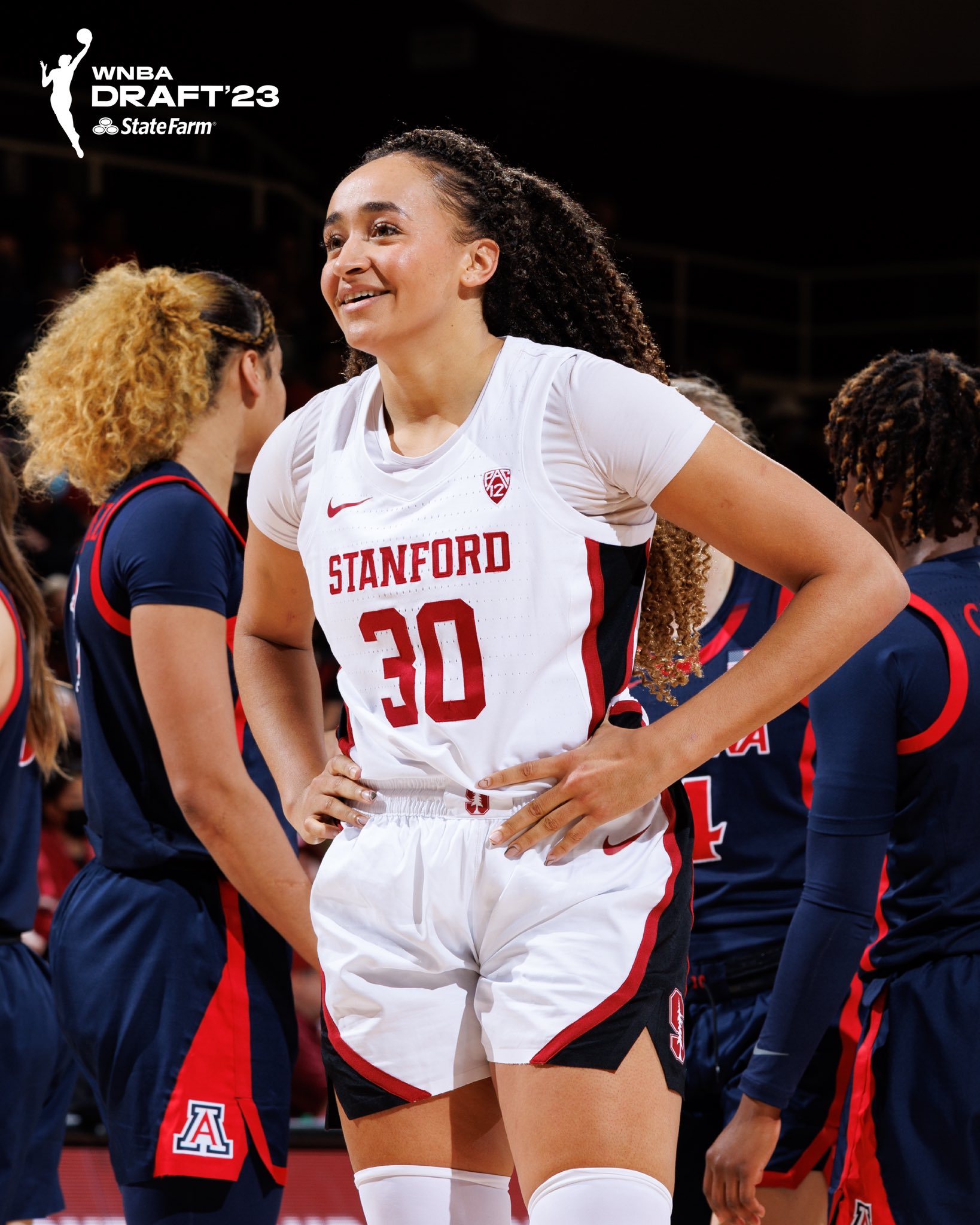 Coming into this season, it was almost a consensus that Aliyah Boston would be the number one pick in the draft, with Haley Jones as the second pick. But with the WNBA Draft less than 48 hours away, multiple mock drafts have Haley Jones outside of the top three. Many have found it highly disrespectful, and I don't see how you can put her at the number six pick in the draft.
I understand the importance of shooting, but a prospect doesn't need to be perfect before they play their first WNBA game. If you have her lower than three, you are discrediting her work ethic in wanting to improve her weaknesses. Five teams are not passing up the opportunity to add her to their roster. 
The one weakness the draft "experts" continuously point to is her lack of perimeter shooting. While her efficiency has gone down in the last two seasons, she has had to take on a completely different role. Last year she had to play a lot of point guard, and in the last two seasons, she has been their go-to playmaker.
When you put that much energy and are learning to excel at a new position against other great players, something has to take a backseat. In her sophomore season, she shot 33% from the three-point line, so it can be done. According to Her Hoop Stats, Jones shoots 45% on two-point shots, with a usage rate of 25.2% and a PER of 23.2.
An ABSOLUTE DIME from Haley Jones‼️ pic.twitter.com/LtbiDQ1HCH

— espnW (@espnW) November 20, 2022
Haley Jones is one of the most versatile and talented players in the draft; her rebound and assist numbers have increased every season. Very few players can average 13 points, nine rebounds, and four assists in a single season. It shows a level of unselfishness and a willingness to do whatever your team needs on a night-to-night basis.
The WNBA is perfect for her play style. Versatile players flourish in the league, and while yes, she needs to add the jump shot to her game, she doesn't have to set the table for every player on the floor every game. She will be playing with teammates who understand the game the way she does and who knows what they excel at. 
Freedom and confidence on the court are two huge keys to success for players on the court. Her 2021 NCAA Tournament run, after tearing her ACL the year prior, is the version of Haley Jones that WNBA teams will get. There was an experienced point guard in Anna Wilson, a go-to scorer in Kiana Williams, and the Hull sisters with Cameron Brink down low.
She will make big plays when it matters most. In the final four, she scored 24 points and hit the game-winning jumper to beat South Carolina. Days later, in the championship game, she had an incredible and-1 layup off a spin move that put her team ahead by 4 with two minutes left, ultimately being the shot that led to their win.
Jones can play multiple positions; she is a talented passer, an elite decision-maker, crafty inside the paint with her patented spin move, constantly looking for open players and advantages, and a willing defender. 
Haley Jones takes it coast-to-coast 🔥 pic.twitter.com/9pXOCk5BXd

— ESPN (@espn) March 18, 2023
When a player can run your offense, understand the game at a high level, score in the post, grab a rebound, and run the fastbreak, you don't pass up on that kind of talent. Whichever team selects, Haley Jones is getting a future All-Star in the league