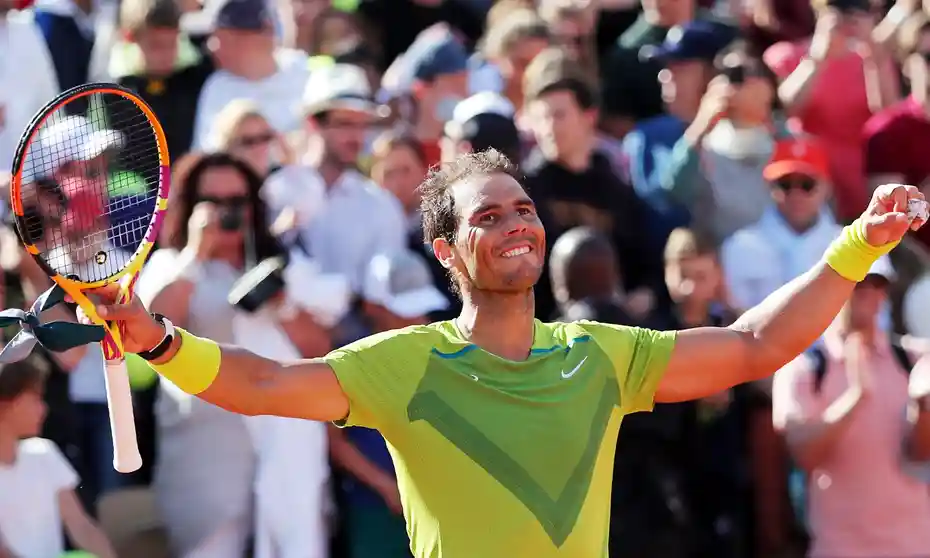 Rafael Nadal plays every point like it's his last and his never give up attitude is what has endeared him to tennis fans. It's also what has led to his body taking such a crushing toll. Nadal is the most entertaining player in the sport's history, and he has an excellent case for the greatest tennis player ever.
Rafa's fly-around-the-court style and eye-popping forehand ensure fans never take their eyes off the court. No player can jolt a crowd with their movement and shots the way Nadal can. The accolades match his style. Unlike most athletes that are seen as spectacular or flashy, leave it all on the floor players. He has an intensity once the ball gets tossed that very few have been able to match.
A Point in Time: Remembering @RafaelNadal's vintage forehand against Kukushkin – https://t.co/8zRI1EghnG#Wimbledon pic.twitter.com/E9cGEMSMxz

— Wimbledon (@Wimbledon) August 2, 2016
Nadal has dealt with a litany of injuries throughout his career. So much so that experts and pundits questioned whether his style of play could handle a long career. From 2003 to 2015, he suffered at least one injury every year and had to miss tournaments. From the shoulder, back, wrist, and knee to a chronic foot injury that once left him practicing in a wheelchair and still hinders him today. He has missed seven Grand Slam tournaments due to injury. His never give up attitude is why he is still playing and winning today.
PSA for those who don't know much about tennis. Grand Slams are the four big and most important tournaments of the tennis season. The Australian Open, the French Open, Wimbledon, and the US Open. The Australian and US Open are played on hard courts, French Open on clay, and Wimbledon on grass. They are also frequently called majors. The men play a best-of-five-set match, while the women play a best-of-three. They are equivalent to the Super Bowl, World Series, or NBA Finals for tennis.
Rafa has the most Grand Slam singles titles in men's history with 21. Most of those coming from a record 13 French Open titles. He has two Australian Open titles, two at Wimbledon and four at the US Open. Famously, the other two of the big three, Novak Djokovic and Roger Federer, sit at 20 titles. Only 12 players outside of the big three have won a major since 2003.
We can't believe it either, @Charlymoya 😲@RafaelNadal works a stunning around the post forehand for the @cpaaustralia Shot of the Day.#AusOpen pic.twitter.com/U7n8V3Oo8Z

— #AusOpen (@AustralianOpen) January 24, 2019
When Daniil Medvedev became the world number one in February of this year, it was the first time that none of the big four (including Andy Murray) were ranked number one since February 2004, which is 921 weeks! The big three and Andy Murray, at times, absolutely dominated the sport.
Nadal is 29-30 against Djokovic and is 24-16 against Federer. Nadal and Federer have what is widely considered the greatest tennis match of all-time in the Final at Wimbledon in 2008. The match lasted 4 hours and 48 minutes, and Nadal won in an intense, classic five-set match.
Rafael Nadal plays the game with a different ferocity, intensity, and grit. The choice of who is the greatest of all-time is honestly just preference. You can't for sure say one is better than the other. The accolades are damn near equal, and at least Nadal and Djokovic are still going strong.
I feel Nadal is the greatest of all-time because if you take away the injuries, how many more does he have? I am biased, but it's hard for me to watch Nadal give it his absolute all every time he steps on the court, grass, or clay and say someone is better.
The best entertainer, and at this moment, the best winner in the history of the sport. He is on the verge of winning his 22nd Grand Slam title and 14th French Open title.