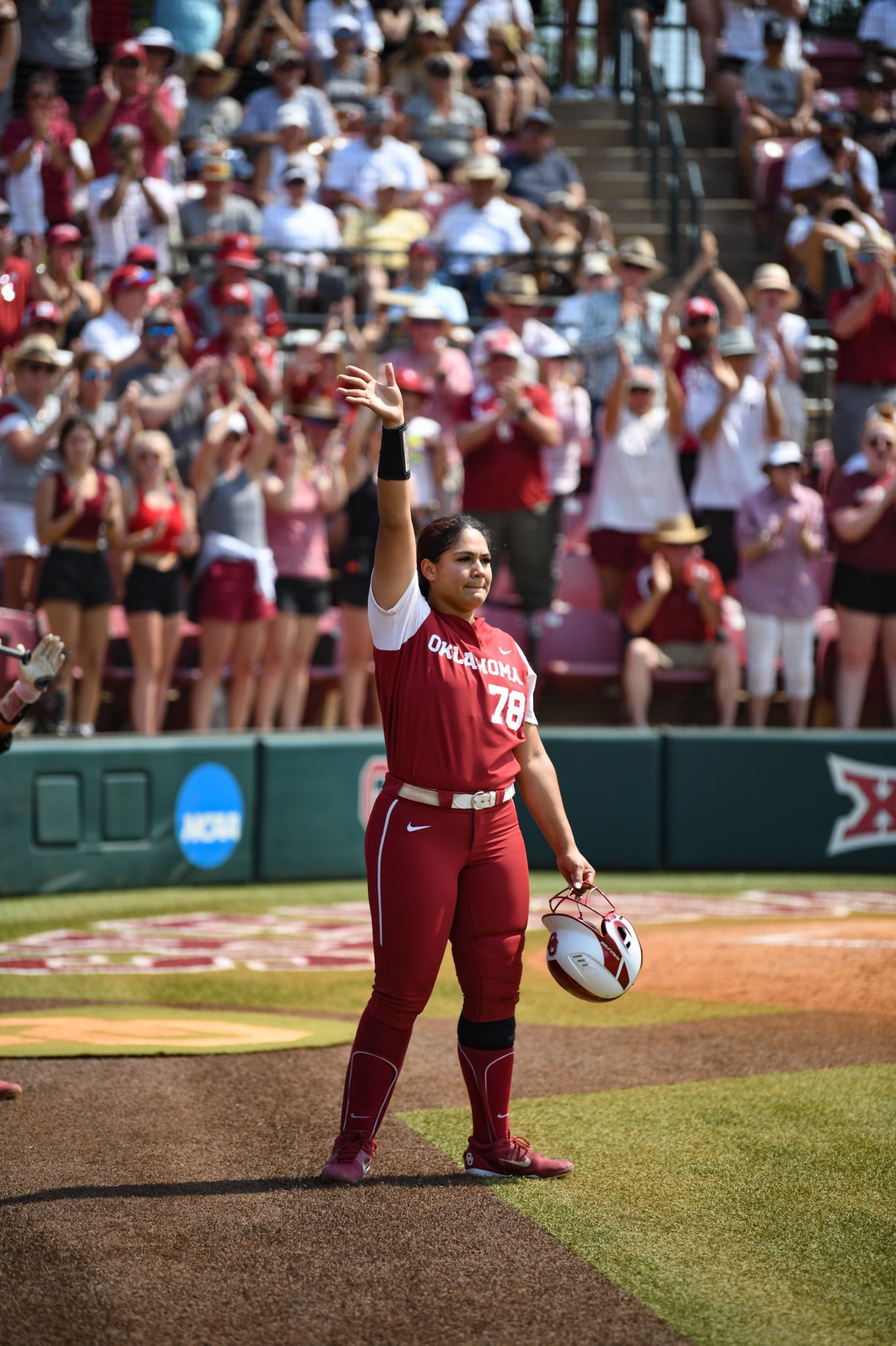 I've seen some dominant NCAA teams, but I don't know if I've seen a run as dominant as the Oklahoma Sooners softball team has been in the last two years. They've broken records, run-ruled, and steamrolled through the Women's College World Series and look to be on their way to do it again. 
Their 2021 season as a whole was incredible. The Sooners had a 56-4 regular-season record, and their margin of wins was insane. Here are just a few of their scores from last season: 29-0, 21-2, 33-4, 17-0, 22-2, 20-0, 19-0, and 24-7. The latter two were in the NCAA Tournament. They did lose two games in the Women's College World Series. 
They lost to James Madison 3-4 in the first game of the double-elimination style bracket. They responded by beating Georgia 8-0, UCLA 10-3, and then James Madison twice 6-3 and 7-1. That set up a National Championship best-of-three matchup with Florida State. They lost the first game of the series 4-8 but again responded with two wins, 6-2 and 5-1, to win the National Championship. 
They were led by power-hitting Jocelyn Alo. She hit 34 home runs, which was second all-time, and broke Lauren Chamberlain's single-season record of 30. She won every postseason award you can imagine. As talented and as feared a hitter as Alo is, the rest of the team was just as amazing.
𝐈𝐧𝐬𝐩𝐢𝐫𝐚𝐭𝐢𝐨𝐧𝐚𝐥 🤙

From the ones that know her best.@78jocelyn_alo | #ChampionshipMindset pic.twitter.com/X2EG2drPmp

— Oklahoma Softball (@OU_Softball) June 1, 2022
They broke the record for single-season home runs with 161. They broke nearly 50 records as a team, including team batting average, runs scored, on-base percentage, and total bases. They also broke WCWS records, with 15 home runs, 49 runs scored, and 67 hits. In her freshman season, Tiare Jennings broke single-season records with 25 doubles, 92 RBIs, and 52 extra-base hits. 
2021 seemed like an anomaly, no way a team can be that dominant and then do it again. Oklahoma proved that to be untrue rather quickly. They started the 2022 season, winning their first 38 games before losing 4-2 to Texas.
They won their next 11 before losing 4-3 to Oklahoma State in the Big 12 Tournament. They have ravaged through the NCAA Regionals and Super Regionals and are 2-0 in the Women's College World Series after beating Northwestern and Texas. They are in the National Semifinals, waiting for the rest to play out.
The team is so well-rounded that if you walk Alo, Jennings is coming up and is a great contact and power hitter. It's picking your poison because they can all make you pay. Their pitchers have been fantastic all season, but they get overlooked when you are putting up the numbers the offense does. They have great players everywhere, position players like Grace Lyons, Jana Johns, and Jayda Coleman. National Freshman of the Year pitcher Jordy Bahl, Hope Trautwein, and Nicole May. 
Alo broke the record for most home runs of all time, 96, in her home state of Hawaii on March 11th. She's been intentionally walked by teams more this season, especially once she tied the record. She now sits at 118!
Be sure to watch Oklahoma as they continue their quest to repeat as National Champions. The only two teams that beat them this season are still in! The games are easy to find on ESPN networks. Show these women some love!