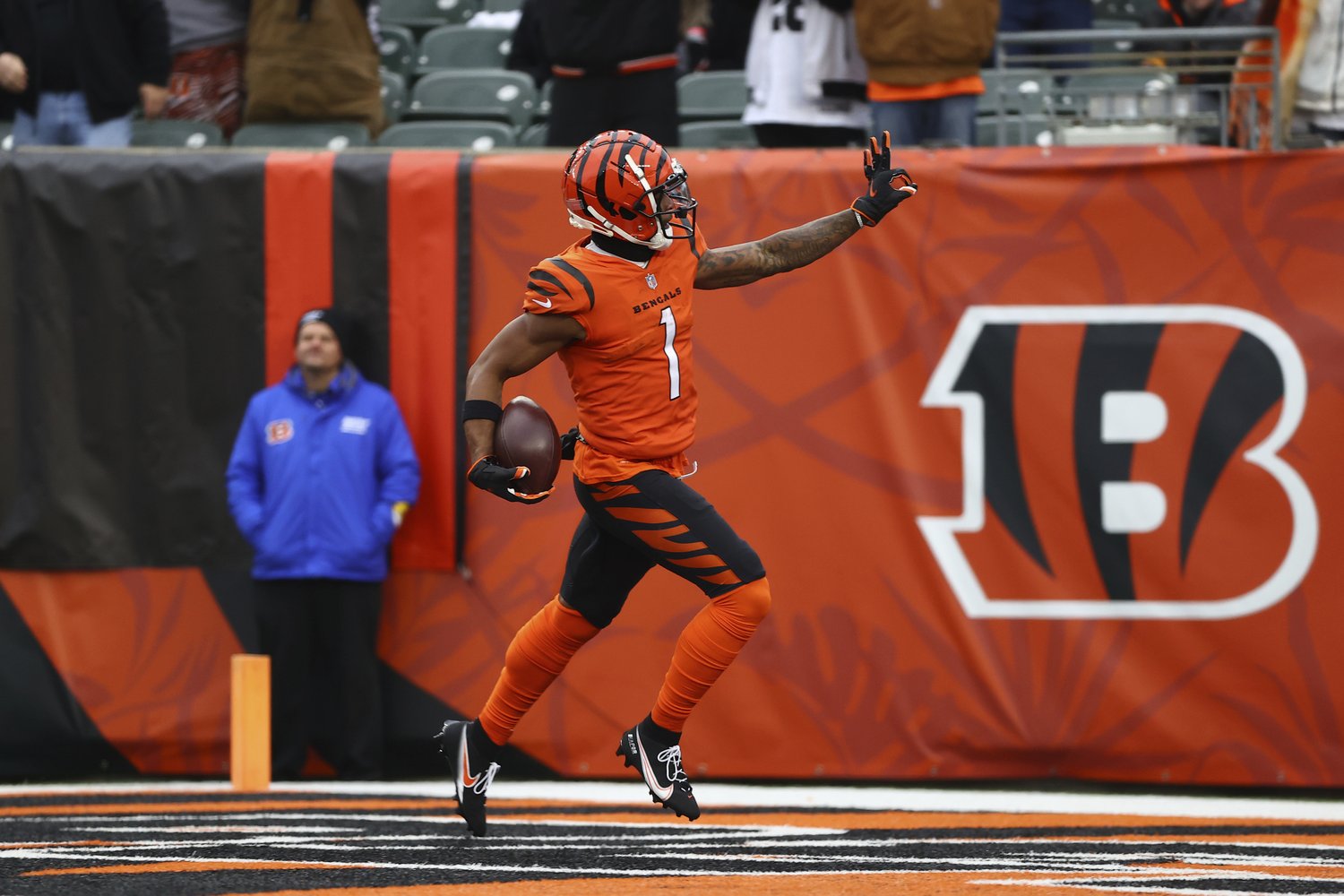 After another roller coaster season, the NFL Wild Card Weekend has us ready for football that actually matters. While it may be safe to assume that one of Brady, Rodgers, or Mahomes will coast to the Super Bowl, this year has been as unpredictable as any, so the stakes feel a lot higher as we roll into the playoffs.
Keep checking in here at Multiplicity Media as our NFL experts make their game picks throughout the playoffs.
Experts: Maxwell (Maxweezy) Millington, Alexa (Lexi) Wester, Greg Waddell, and Xavier Santos.
——
Raiders @ Bengals Sat. Jan 15. 4:35 PM
Maxweezy: I call this one the "Happy To Be Here Bowl." While few doubted Joe Burrow as a legitimate franchise quarterback, it was fair to assume the Bengals would be a fourth-place team in the AFC North this season. The Las Vegas Raiders had higher aspirations, but looked dead in the water when Jon Gruden's emails leaked.
Despite all odds against them, both teams find themselves in the postseason with a chance to move past the wild card round for the first time since 1990 (Bengals) and 2002 (Raiders).
Score Prediction: Bengals 31, Raiders 26.
Greg: I'm heartbroken these two teams are meeting in the first round, because I'm adamant that "good mojo" is the strongest asset a team can have entering postseason play and the Raiders and Bengals are #1 and #2 in my "good mojo" rankings, respectively.
Joe Burrow's cigars and general swaggy nature are primed for a playoff breakout…but the Raiders and their four straight one possession wins are too hot. Boosted by the legacy and spirit of John Madden himself, the Raiders feel like this year's team of destiny.
Score Prediction: Raiders 27, Bengals 24
Lexi: I'm with Greg! It's disheartening that these teams matched up in the first round because I want to see them both exceed expectations for the playoffs much like they have for this entire season. I have loved watching the Bengals claw their way through this season. Burrow and Ja'Marr Chase are one of the best, if not the best duo for the future of the NFL.
That being said, it's hard to not believe the Raiders are playing for their beloved John Madden in hopes of heading to the Super Bowl in his honor. That would be an incredible story. Both teams will fight for this until the end and when the clock strikes 00:00, Derek Carr and his Raiders will be on top.
Score Prediction: Raiders 28, Bengals 23
Xavier: The Raiders are an interesting team. They've been on the winning end of some exciting games but it's often been their own incompetence that has made those games exciting. They are a feel good story when you consider everything they've gone through but I think their run ends Saturday. If the Bengals can keep Joe Burrow upright, this game could get out of hand and quickly.
Score Prediction: Bengals 31, Raiders 17
Patriots @ Bills Sat. Jan 15. 8:15 PM
Maxweezy: The last few weeks of the regular season showed that it's still a safe window to bet against Bill Belichek. The defense is still good, the Pats finished the year second in the NFL in points allowed. But as of late, Mac Jones has looked like a rookie quarterback.
In the last five games, the former Alabama product has completed about 60 percent of his passes and has a passing rating of 79 while leading New England to a 2-3 record. If Buffalo limits their mistakes, they should be in good shape.
Score Prediction: Bills 23, Patriots 13.
Greg: "The Patriot Way" can go a long long way….against average to mediocre teams. Just two of the Patriots' 10 wins came against playoff teams. On the road in front of Bills Mafia will be too much for Mac Jones, who doesn't have the firepower to compete with Josh Allen even if Allen doesn't have his best stuff.
Score Prediction: Bills 34 Patriots 11
Lexi: The Bills thought they were in the clear when Tom left. Little did they know, the almighty Belichick had tricks up his sleeve in drafting Mac Jones. This is in no way a Brady-led Patriots team, but they have fought through some tough games and found their spot in the playoffs.
The Bills have underperformed a few times this season but have found their identity in a run game, led by none other than Josh Allen, himself. With 763 rushing yards, Josh finds himself among the first to do so while also touting over 4400 throwing yards on the season. This is going to be a frigid winter battle, but the Bills find themselves the victors in the end.
Score Prediction: Bills 38 Patriots 17
Xavier: Josh Allen was absolutely terrific last season. So terrific, that many of his stats looked unsustainable and we expected a regression to the mean. Early in the season, that thought process bore out and the Bills struggled to score against teams with far less talent. Eventually, they decided to incorporate more QB runs and they haven't looked back since. Their backs are mediocre and they decided Josh Allen, and Josh Allen alone, should be the one making the decision on every play.
For the Patriots, it's all about containing Josh Allen on the ground. The Patriots strength is their secondary and should match up well with the Bill's skill position players. The pressure will be on the front-seven to contain Allen and force him to play within the pocket. Playing man against Allen is asking for trouble so expect a ton of zone defense. If Allen can be patient and take what the defense gives him, he should be able to manufacture some long scoring drives. If he gets impatient and tries to force the issue, the Pats could force the turnovers they need to pull the upset.
Score Prediction: Patriots 20, Bills 17
Eagles @ Buccaneers Sun. Jan 16. 1:00 PM
Maxweezy: I was wrong about the Eagles. After watching head coach Nick Sirianni's press conferences prior to the season, I was sure Philadelphia would look as tumultuous and dysfunctional as the Jaguars did this year. It's a major accomplishment the Eagles are in this position, but the road will most definitely end in Tampa.
Score Prediction: Buccaneeers 35, Eagles 20.
Greg: Every couple of years there's a team that makes the playoffs that leaves me thinking "how?" This year that's the Eagles. A perfectly fine organization with plenty of winning history – but this year's biggest win was that time when Jalen Hurts narrowly avoided being crushed by the Washington Football Team's stadium tunnel. Hurts won't be so lucky to avoid a collapse in this game, as Tom Brady still exists and time is a flat circle.
Score Prediction: Buccaneeers 31 Eagles 10
Lexi: I refuse to believe the Eagles made the playoffs until they step on the field. They were 3-5 at home and 6-3 away this season. It remains a mystery how a playoff berth was accomplished given the roster this season. According to their Twitter account, they did break a franchise record for rushing yards this season, which again, is impressive. However, that doesn't bode well against Tampa's third ranked rushing defense. Jalen Hurts will have quite the obstacle.
The Buccaneers have had a rollercoaster of a season. A few concerning losses capped with the Antonio Brown fiasco and it's set up for Tom Brady to storm through the playoffs. The man is 44 years old and threw for over 5,000 yards this season. I refuse to bet against him, especially since he just loves proving everyone wrong, including Father Time year after year.
Score Prediction: Buccaneeers 28 Eagles 13
Xavier: Every year, we see one or two major upsets on Wild Card Weekend. As of now, this is my favorite upset pick on the slate. With Chris Godwin and Antonio Brown out, and Mike Evans hobbled, the Tampa passing game could be in trouble. Fournette and his pass catching skills are also out and we saw Fournette serve as Brady's security blanket at times. Brady is great enough to transcend a lack of talent around him but you are asking him to thread a fine needle.
For Philly, it's going to come down to avoiding 3rd and long situations. They will need to be aggressive on first down and use play calling to keep the Tampa defense off balance. If Tampa knows what's coming, they can pin their ears back and make life miserable for your quarterback despite a weak secondary. Ultimately, I think Philly has improved their approach to offense and will avoid falling behind big early in the game.
Score Prediction: Eagles 24, Tampa Bay 20
49ers @ Cowboys Sun. Jan 16. 4:30 PM
Maxweezy: Here are a couple things we know about the Dallas Cowboys. 1) When they can run the ball effectively they win. During their impressive 12-5 season, Dallas won every game in which they ran the ball at least 24 times. With the exception of their win over Minnesota, the Cowboys rushed for north of 100 yards in each win.
2) Dallas (and to an extent Dak Presscott) shrinks against good teams. The Cowboys were 3-4 against teams that would go on to make the playoffs this season and two of those wins came against Philadelphia.
Here's what we know about San Francisco: they have the NFL's seventh-best run defense and they're a non-NFC East playoff team.
Score Prediction: 49ers 24, Cowboys 17.
Greg: I love watching this Cowboys team. Their talent is special. But as long as I've been alive, I've seen this franchise lose games like this one.
The Niners may lack talent, but they possess some element of scrappiness, toughness, just-get-it-done-ness that makes for a bad matchup for America's team. I don't know how it will happen, but I think it will.
Score Prediction: 49ers 24, Cowboys 22.
Lexi: As a 90's kid who idolized Jerry Rice, I will always have a soft spot for the Niners. They haven't been impressive this season with Jimmy G at the helm. But they have Deebo Samuel who is one of the top wide receivers in this league and you could easily make an argument that he is number one. It's concerning that they went 0-4 against the Cardinals and Seahawks this year, but I believe they can rely on the Jimmy-Deebo connection to pull off a playoff win. That's how they win this game. Get the ball in his hands.
As for the Cowboys: Death, Taxes and them not living up to being "America's Team". Given that, I will say it has been enjoyable watching one of the key pieces to this Dallas defense in Micah Parsons. He has been activated from the Covid-19 reserve list and will be ready for this weekend and so will I. This is one of my top games to watch this weekend.
Score Prediction: 49ers 31 Cowboys 28
Xavier: Dallas has shown flashes of brilliance on offense but have been wildly inconsistent on a week-to-week basis. Defensively, their back-seven struggles in coverage. San Francisco's O-line is capable of blocking the Dallas front and giving Jimmy G the time he needs to hit his playmakers in space. Expect Shanahan to force Dallas's LBs to hold up in coverage. Advantage Niners. Dallas, on the other hand, has struggled against defensive pressure and I expect we will see that play out on Sunday. The playoffs are extremely matchup dependent and I believe the Niners matchup well with this version of the Cowboys despite having a far worse quarterback.
Score Prediction: 49ers 27, Cowboys 23
Steelers @ Chiefs Sun. Jan 16. 8:15 PM
Maxweezy: This game could be closer than people think. I don't think the Chiefs offense is completely fixed and the Steelers can pressure the quarterback. Keep in mind Pittsburgh already got spanked in Kansas City the day after Christmas, but I think Mike Tomlin is a good enough coach to make sure that it doesn't happen again.
Score Prediction: Chiefs 30, Steelers 24.
Greg: Patrick Mahomes vs. Ben Roethlisberger. I'll take the Chiefs, unless they decide to do some Parent Trap shit and let Jackson Mahomes start at center. Even then, Kansas City might cover.
This defense has been too good down the stretch, and even given Mahomes' struggles mid-season, I'm taking him over any other living human under center when it matters most.
Score Prediction: Chiefs 49 Steelers 14
Lexi: What a wild season for the Steelers. I never thought Ben would be seeing a playoff game given he was wearing concrete bricks attached to his shoes all season. Pittsburgh is riding the coattails of a terrible timeout by the Chargers and won't see the light of day after facing Kansas City at Arrowhead Stadium.
Mahomes and his offensive line takes care of business and doesn't let the king of sacks, TJ Watt or Cameron Heyward make enough of an impact in this game. At least Big Ben ended his career at Heinz Field with a win, right?
Score Prediction: Chiefs 42 Steelers 17
Xavier: Not much analysis is needed here. The Chiefs will roll through the Steelers and Big Ben's career will finish on the wrong end of a blowout.
Score Prediction: Chiefs 41, Steelers 13
Cardinals @ Rams Mon. Jan 17. 8:15 PM
Maxweezy: This is perhaps the toughest game to predict of Wild Card Weekend. The Cardinals have stumbled down the stretch after being one of the hottest teams in the NFL this season. Matthew Stafford and the Rams have also looked less and less like the Super Bowl contenders I thought they were. In a division game all bets are off, but I'll take the more experienced roster here.
Score Prediction: Rams 33, Cardinals 28.
Greg: I'm terrified for my boy Matthew Stafford in this one – the moment he's waited his entire career for is here. He finally has a team capable of winning THE WHOLE THING. But the Cardinals are no slouch.
Kyler Murray is one of five guys in the entire league who can single-handedly win a team a football game. But the Cards have been dicey in the stretch run, and this one feels like it could come down to a big defensive stop that saves the day for Stafford, and the Rams have the playmakers on both sides to make it happen.
Score Prediction: Rams 27 Cardinals 23
Lexi: This season has been weird to watch as a Lions fan. First time since 2009 that Matthew Stafford hasn't led my team to any victories. Although he has left Detroit, I still see him making the same type of mistakes even with a much more talented roster than he ever had in the Motor City. The man loves throwing picks. Having 17 on the season is ghastly, but lucky for him, he plays for the Rams now.
The Cardinals may have started the season strong with a 7-0 record, but they went 4-6 to finish and it screamed fraudulent to me. As long as Stafford can take care of the ball, the Rams win this matchup.
Score Prediction: Rams 35 Cardinals 24
Xavier: DeAndre Hopkins and Jalen Ramsey have engaged in some epic battles over the years. If Nuk is healthy, I expect nothing less. If not, Ramsey is capable of holding Hopkins to a four catch, 30-yard line. That puts pressure on the rest of the Arizona receivers and thus far they've been unable to step up on a week-to-week basis. The ultimate X factor, however, will be what version of Matthew Stafford shows up. If the best version of Stafford shows up it could get ugly for the Cardinals. If bad Stafford shows up, the turnovers will be too much for the Rams to overcome.
Score Prediction: Rams 31, Cardinals 17

Follow us on Twitter @MultiplicityMG