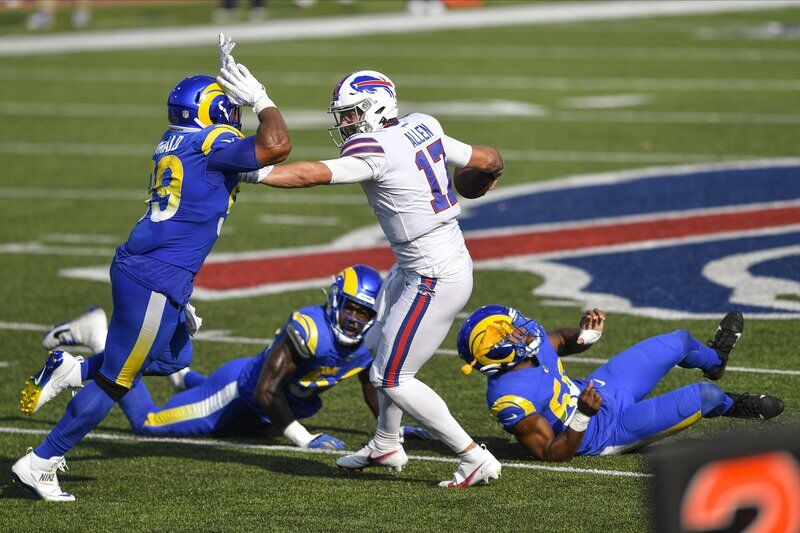 The NFL is back! This means fantasy football is back! I'm here to give you advice on who to start and who to sit in the Thursday night matchup between the defending champion Los Angeles Rams and Buffalo Bills.
Bills
Josh Allen, QB- Start. No brainer. Start every week! 
Devin Singletary, RB- Sit. He's shown us nothing over the last few seasons to believe he should be in your starting lineup. Unless you are hard-pressed or in a 14-plus team league, he should be on your bench. 
Stefon Diggs, WR- Start. Be mindful that Jalen Ramsey is on the other side. He likely won't travel with him, so he should still get his normal target share.
Gabriel Davis, WR- Sit. If he is your best flex option, start. Personally, I wouldn't start him. I want to see what his target share will be, and you don't really want to lose your flex spot Thursday night. Unless he's the best guy you got, I would leave him on the bench on a wait-and-see basis.
Dawson Knox, TE- Start. It's likely that if you have him, he's your TE1. Unless you drafted one of the top five tight ends in Kelce, Andrews, Kittle, Waller, or Schultz, you start Knox.
Defense/Special Teams- Start. They could get some turnovers, but I expect both teams to score a good amount of points. You will have better options on your waiver wire Sunday morning if you care about those points. 
Rams
Matt Stafford, QB- If you have one of the elite fantasy football quarterbacks, e.g., Josh Allen, Lamar Jackson, Patrick Mahomes, Justin Herbert, Tom Brady, or Aaron Rodgers, sit him. If he's the only quarterback you drafted, obviously start him. 
Cam Akers, RB– Hopefully, he is your RB2, but start. We don't know exactly what his timeshare will be yet, with Darrell Henderson Jr and Kyren Williams lurking behind him. I think he gets 10-15 touches in this game, but remember, it's against the Bills' defensive line. 
Cooper Kupp, WR- START.
Allen Robinson II- Sit. It's a 50/50 choice for me. If you feel like you have a better flex option, start them. He has a chance to have a big game, considering it could be a high-scoring game, but we don't quite know yet the connection he has with Stafford.
Tyler Higbee, TE- Sit. If you are in a 10 or 12-man league, it's likely Higbee is your backup tight end. He hasn't shown enough consistency to be a starter. Maybe this year will be different. 
Defense/Special Teams– Start. You could find a better option on the waiver wire, but does it reallllly matter? Nah. They may get a turnover or two, much like Buffalo. 
Start both kickers.

Week one is upon us; let's have a great start to the fantasy football season!