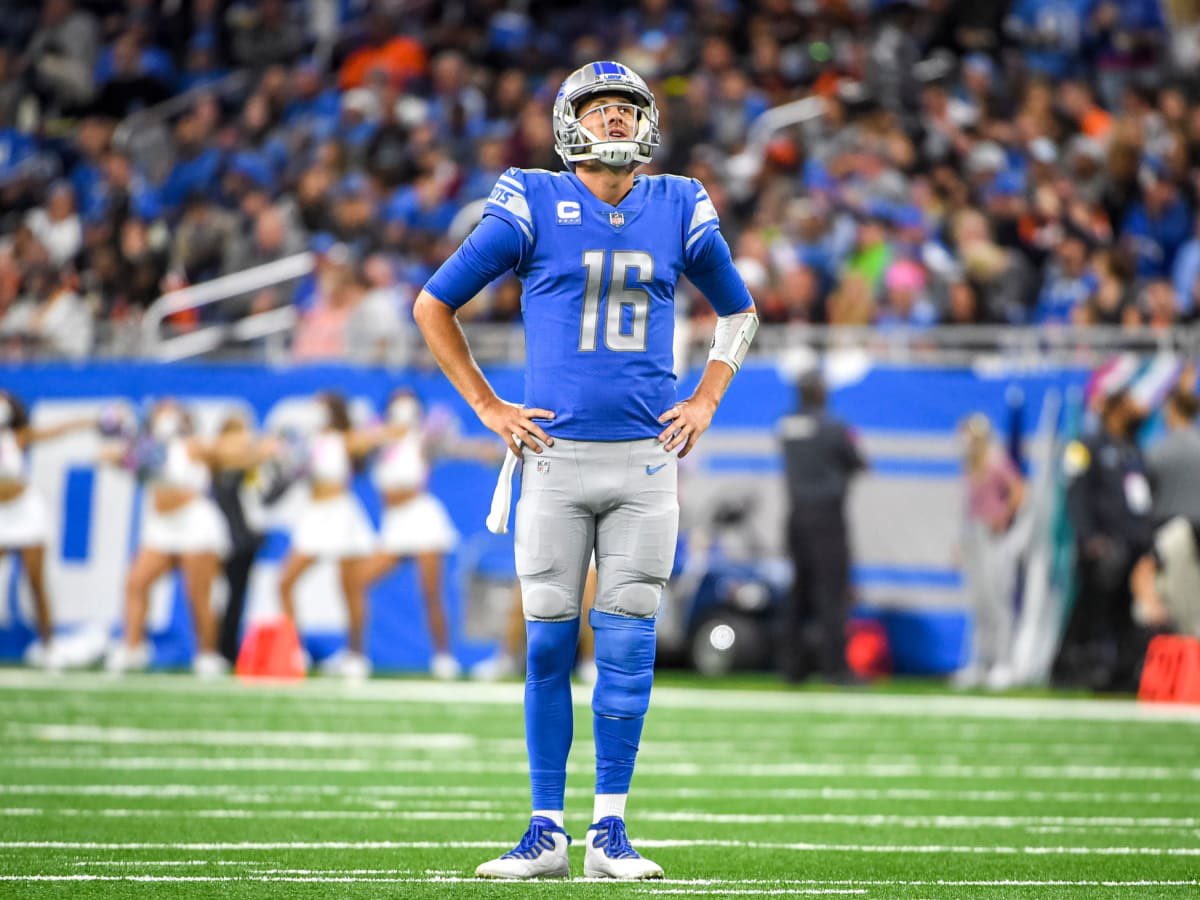 As some players start to really get their footing, some return from injuries, and others are falling completely out of fantasy favor. Such as the Bears offense minus Khalil Herbert, Allen Robinson II, the Rams' backfield, and George Kittle. Some new quarterbacks entered the conversation; Zach Wilson, Kenny Pickett, and Bailey Zappe. While some older ones are having career-best starts to the year; Jared Goff, and Geno Smith. We are now in week five, and you want to have a .500 record, and hope that Brian Robinson and Jameson Williams can make you look smart for stashing them on your IR.
QBs
Start
Joe Burrow vs BAL
Burrow is QB8, and the Ravens' defense has been flat-out bad through four weeks. He has eight touchdowns to his five turnovers, but the numbers will jump up eventually, why not this week?
Jalen Hurts vs AZ
Jalen Hurts is still battling atop the MVP conversation, sitting at QB3, should continue to shine.
Jared Goff vs NE
Goff has probably been the best surprise fantasy asset through four weeks. He is currently QB5, with 11 touchdowns, top five in passing yards. He's really third since Ryan and Wilson already played Thursday night. He's tied with Lamar and Mahomes for the most passing touchdowns.
Justin Herbert vs CLE
Herbert has already thrown for 1,250 yards and has nine touchdowns to his two interceptions while battling injury. The Browns' defense has been underwhelming; expect Herbert to take advantage of that.
Tom Brady vs ATL
Tom Brady only has six touchdowns this season, but this feels like a game where he could go for four or five touchdowns.
Sit
Matt Stafford vs DAL
Stafford has really struggled early on, and with an absolutely elite Cowboys defense, it's safer to sit him.
Carson Wentz vs TEN
Wentz is QB11 but has been horrible the last two weeks. Two games under 10 fantasy points, 17 sacks, and five interceptions will do that.
Ryan Tannehill vs WSH
He's been very average this season, and while Washington hasn't been good, I don't expect it to change enough to warrant a start.
Marcus Mariota vs TB
He could play well fantasy wise, he'll have the ball in his hands a lot. I'm just not able to trust him against this defense this week.
Kenny Pickett vs BUF
Pickett is talented, but first, start against this Bills defense? No thank you.
RBs
Start
Leonard Fournette vs ATL
Fournette was hurt by the way the game went last week against KC. Yet he still had 18.4 fantasy points due to his passing game work. The Falcons give up 123 rushing yards per game, so expect Fournette to have a great day.
Derrick Henry vs WSH
King Henry, vs Washington. Start King Henry.
Jamaal Williams vs NE
Williams is sitting at RB6, and he's the backup for his team. In the last two weeks, he's had 39 carries for 205 yards and four touchdowns.
Austin Ekeler vs CLE
Austin Ekeler had his breakout performance last week. 109 total scrimmage yards and three touchdowns equaled 34.9 fantasy points. He should see the same opportunities in week five.
Jeff Wilson Jr vs CAR
Wilson Jr had 18 carries and a touchdown last week. He should be able to get that kind of opportunity in this game, whether this game is close or the Niners blow them out.
Sit
Cam Akers vs DAL
I don't trust either running back for the Rams.
Antonio Gibson vs TEN                                                                                      Brian Robinson is returning, and JD Mcissick still has his pass-catching role. Gibson could find himself losing his role altogether.
James Conner vs PHI
Philly's defense is for real. I don't like the matchup.
Ezekiel Elliott vs LAR
The Rams have a great run defense and haven't been involved in the passing game. He also only has one touchdown this season.
David Montgomery (if active) vs MIN
Khalil Herbert is clearly the guy the Bears coaches want, so I would be shocked if Montgomery gets his starting spot back.
WRs
Start
Ja'Marr Chase vs BAL
Chase cooked the Ravens last season, and they have been bad in the secondary this season. This could be his breakout game, again.
Chris Olave vs SEA
Olave had seven targets last week, resulting in four catches for 67 yards and a touchdown. Against a Seattle team, and still, no Michael Thomas, expect even more.
Mike Evans vs ATL
AJ Terrell is a very good young corner, but I'm not sure if he can lock up Evans.
AJ Brown vs AZ
AJ Brown has been Hurts' go-to guy through four weeks, and that won't change.
Deebo Samuel vs CAR                                                                                    Deebo does it all for San Francisco and will continue to be a must-start, especially with Jimmy G back at the helm.
Sit
Mike Williams vs CLE
He played well last week, so naturally, he won't this week.
Hunter Renfrow vs KC
Coming back from an injury, and he wasn't getting a lot of targets before it so sit until shown otherwise.
Drake London vs TB
I think you could start London, but it's hard to foresee him having a great game against TB. I wouldn't blame you for starting him though.
Elijah Moore vs MIA
He only had four targets last week, it will take a week or two to see who has the rapport and chemistry with Zach Wilson.
DK Metcalf vs NO
I think Marshon Lattimore could lock him down.
TEs
Start
TJ Hockenson vs NE
Hock was targeted 12 times last game, resulting in eight catches for 179 yards and two touchdowns. Expect him and Goff to build on their connection.
Darren Waller vs KC
Waller is still missing a breakout performance, but Carr is comfortable with him and will always look to keep him involved.
Tyler Higbee vs DAL
Higbee is TE5, and had 14 more targets last week against the Niners. Stafford is genuinely only looking at Kupp and Higbee so he's a great starting tight end until that changes.
Dallas Goedert vs AZ
Goedert is TE9, and has 20 targets through four weeks. He's a great start, although the Cardinals have some talented safeties.
Zach Ertz vs PHI
Ertz has 31 targets through four weeks, and is playing his old team. He has double-digit fantasy points every week so far and has two touchdowns.
Sit
George Kittle vs CAR
This one hurts, Kittle has been more focused on blocking because of injuries to the offensive line. Until that changes, he's a sit.
Irv Smith Jr vs CHI
He still hasn't lived up to the off-season expectations, and it doesn't seem like he will in this offense.
Gerald Everett vs CLE
Everett isn't a reliable fantasy asset, he'll have good games this season, but not enough to warrant starts.
Hunter Henry vs DET
Hayden Hurst vs BAL
Hurst hasn't gotten the target volume, which makes sense given he plays with Chase, Higgins, Boyd, and Mixon.
DEF
Start
Bills vs PIT
Top fantasy defense against a rookie quarterback in his first start? Yes, please.
Philly vs AZ
Philly's defense has been matching expectations, and against an inconsistent Arizona offense, I expect more of the same.
TB vs ATL
This Tampa defense against Marcus Mariota? Yes, please
49ers vs CAR
Baker Mayfield hasn't proven any doubters wrong, and it'll be tough for him to start doing it this week.
Cowboys vs LAR
Dallas has been incredible defensively, and the Rams have been very inconsistent. Expect Parsons and Diggs to shine.
Sit
Browns vs LAC                                                                                                     Don't start a defense against Justin Herbert.
Chiefs vs LV
I know that the Raiders have struggled to start the year, but they always play the Chiefs well.
Bengals vs BAL/Ravens vs CIN
I think this game will be back and forth, shootout type, so sit both.
Commanders vs TEN
We suck. Don't start them.