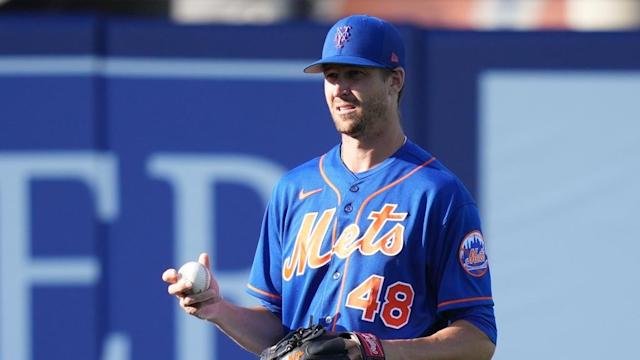 Earlier this week, MLB.com released their top-ten starting rotations for the 2022 season, and the New York Mets came in at number one. This doesn't come as much of a surprise unless you're a homer for the Toronto Blue Jays or Milwaukee Brewers. While those fans have every right to feel like their team boasts the best starting rotation, they're still wrong.
Let's take a look at the New York Mets' projected starting rotation for the upcoming season:
Jacob DeGrom
Max Scherzer
Chris Bassitt
Carlos Carrasco
Taijuan Walker
Adding Max Scherzer and Chris Bassitt to any rotation would be a major upgrade. But these acquisitions are even more significant for a Mets team that has had to rely on the likes of Rick Porcello, Michael Wacha, David Peterson, Joey Luchessi, and Tylor Megill the last two seasons. They lost Marcus Stroman and Noah Syndergaard in free agency but still managed to improve to rotation.
Jacob deGrom has easily been the best pitcher in baseball for the last four seasons, and other than an elbow injury that forced him to miss most of last season (which appears to be a thing of the past for the time being), he's shown no signs of slowing down any time soon. Since 2018 he has a 1.94 ERA, 0.881 WHIP, a 12.0 K/9, and 774 strikeouts in 581 innings of work.
Even with the delay to the start of Spring training, it didn't take long for Max Scherzer to look like his usual self. Already in mid-season form, Scherzer has 12 strikeouts in 11 innings and a 0.636 WHIP. One shouldn't put much stock into Spring Training numbers, but given his age (he will turn 37 years old in July) and the "dead arm" he dealt with last season, it's encouraging to see him throwing hard and effectively, especially with the long layoff since last season.
Chris Bassitt is the best 'third-option" for the Mets since rostering the vaunted trio deGrom, Syndergaard, and Matt Harvey. He has a 142 ERA+ over the last two seasons and is coming off of the best season of his career. Bassitt struck out a career-high 159 batters last season while throwing a career-high 157.1 innings in -that's right, you guessed it- a career-high 27 starts. His 1.055 WHIP, 9.1 K/9, and .218 BAA were also career-bests. He threw 69 pitches through 4⅔ scoreless innings in his Spring training debut for the Mets and is expected to get at least one more tune-up start before the regular season begins.
While there are some health concerns with deGrom's elbow and Scherzer's age, the real question marks are at the back end of the rotation. Carlos Carrasco struggled mightily in his first season with the Mets after tearing his hamstring in Spring Training last season. Now he's coming off of offseason elbow surgery to remove bone spurs from his elbow.
Taijuan Walker had a terrific first-half last season but struggled mightily after the All-Star break. He posted a stellar 2.66 ERA through his first 16 starts and made the first All-Star game appearance of his career. Walker followed that up by posting a 7.13 ERA and surrendering 51 earned runs in his final 13 starts. He, too, is coming off of offseason surgery and may not be ready for the start of the season. If that is the case, the Mets still have some depth pieces in Megill, Peterson, and Trevor Williams waiting in the wings.
While there are some real questions and concerns at the four and five slot, leading your rotation with two of the greatest pitchers of this generation and arguably of all time can never be a bad thing. deGrom and Scherzer form one of the most potent and scariest one-two punches in MLB history. Throw in Bassitt, and it's going to be tough for any team to win a series against the Mets this season.
deGrom experienced stiffness in his shoulder toward the end of a workout yesterday and was sent for an MRI this morning as a precautionary measure. If he has to miss any time that will be a major blow to the team as the Mets are looking to contend for a World Series this season. But if this rotation can stay healthy, expect them to mow down a ton of hitters and dominate the upcoming season.