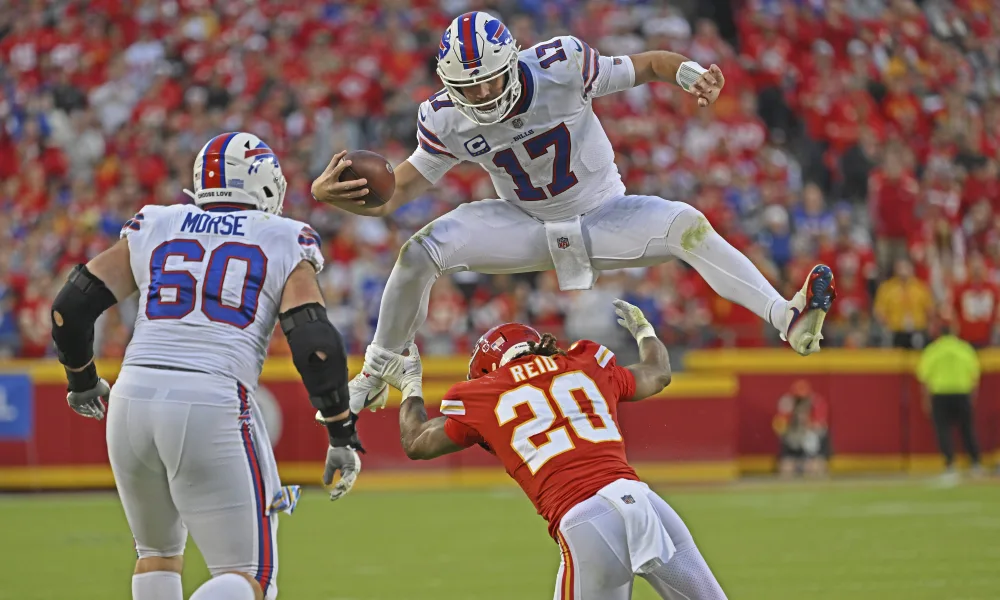 I want to start this week off by welcoming back my five avid readers to another week of me oversharing about my weekend while talking football. The football gods have been good to me through the first six weeks of the NFL season, and I hope you've experienced similar fortune, whether with your team winning or hitting the bookie over the head with some good bets. Most of my picks have been hitting that few weeks and the Giants keep winning, so I'm happy. For now, anyway.
On Saturday, I took the kids shopping for clothes and sneakers and ran some errands before heading to my right hand's gender reveal. Congratulations to Nes and Stephanie on finding out they're having a boy, and thank you for choosing me to be the Godfather. I won't let ya'll down. And a shoutout to Jasmine for putting together a beautiful and fun event. Last but not least, shoutout to MJ and Slik, yall sick he didn't choose ya'll to be the Godfather, LMFAO.
By the end of Saturday night, it was already determined that the self-proclaimed glizzy God, Greg, won The Biggest Loser this week, and my Clemson bet saved me from sharing the Biggest Loser punishment with his co-glizzy-gobbler Carter.
*Side note: If you want to see these guys devour hotdogs while drinking hot dog water, CLICK HERE!!!
I didn't get a chance to watch as much NFL as I would have liked as I had more errands to run and I had to pick up and feed the kids, but thankfully I subscribe to NFL+. Now the app and platform are trash, but I get to watch full game replays and 45-minute condensed versions of each game, so I'm still able to absorb as much as possible and give ya'll a newsletter worth reading.
Anyway, let me stop boring you with the details of my weekend, and let's take a look at some notable moments from Week 6 in the NFL.
NFL Week 6 Recap
Washington Commanders v Chicago Bears
This game was as hard on the eyes as everyone expected. It's like the NFL wants to make fans suffer every Thursday, scheduling bad teams for primetime games. Two touchdowns were scored in this game, so I guess that's an upgrade from last week.
The Bears orchestrated three red zone drives but fell short all three times, not even converting a field goal. 
New England Patriots v Cleveland Browns
The Patriots won by 23, and this game was still much uglier than the final score indicates. Bailey Zappe lit up Cleveland's defense for 309 yards and two touchdowns, while the Patriots' defense dominated the Browns all game. By the time the Browns scored their only touchdown of the game, the Patriots were already ahead by 15 and scored twice after. Nick Chubb had his lowest rushing total of the season and failed to score a touchdown for this time in 2022. Mac Jones may want to be careful cuz Zappe Hour is in full effect, and we all know his history. 
Baltimore Ravens v New York Giants
As has been the case all season, the Giants came out of the locker room at halftime trailing their opponent, and for the fifth time in six weeks, they made the necessary adjustments to make a comeback victory. Julian Love got New York's first interception of the season late in the fourth quarter, and rookie Kayvon Thibodeaux got the first sack and forced a fumble of his career against Lamar Jackson. The Ravens are now 3-3, having lost all three games after leading at halftime.
San Francisco 49ers v Atlanta Falcons
This game was just as disgusting as the outcome. This game should've been a cakewalk for the 49ers, but the Falcons scored on their fast drive of the game and never looked back. San Francisco turned the ball over three times, including a Jeff Wilson fumble that was returned for a touchdown. Atlanta held the 49ers' run game in check and forced Jimmy G to try and beat them. We all know how things go when you force Jimmy to be the hero. Marcus Mariota rushed for a touchdown with slightly more than eight minutes left in the third quarter to extend Atlanta's lead to 14, and neither team scored again for the rest of the game. 
New York Jets v Green Bay Packers
The Jets' defense dominated this one from start to finish, holding Aaron Rodgers and the Packers to just 10 points. For the third straight week, the Jets held their opponent to under 300 total yards. Breece hall continues to impress, and the Jets won by 17 points even though their QB only threw for 110 yards. The highlight of the game was rookie Sauce Gardner celebrating wearing a cheesehead hat. The Packers are now 3-3 and have lost back-to-back games against two "inferior" New York teams.
Jacksonville Jaguars v Indianapolis Colts
The first time these two teams met, the Jags shut out the Colts 24-0. The Colts weren't having any of that this time around. With the Colts playing without Jonathan Taylor for a second straight week, Matt Ryan seemed to have drunk from the fountain of youth. Matty Ice threw for nearly 400 yards with three touchdowns and completed his first turnover-free game of the season. Jacksonville scored a touchdown with 2:44 left to take a one-point lead, but Ryan drove the Colts downfield and connected with Alec Pierce for a 32-yard touchdown with just under a minute left to win the game. Since their week two matchup, the Colts have won three of four games, and the Jags have lost three of four. 
Minnesota Vikings v Miami Dolphins
This was a sloppy and disgusting game. While there were some jaw-dropping stat lines in the final box score, this game featured 13 three-and-outs and 16 punts. The first points weren't scored until halfway through the second quarter when the Dolphins kicked a 44-yard field goal. Since catching two touchdown passes in the season opener, Jefferson has yet to record another receiving touchdown. Tyreek Hill and Jaylen Waddle combined for 300+ receiving yards for the second time this season, but that wasn't enough to overcome Miami's three turnovers. Both now have three games with at least 100 yards. 
Cincinnati Bengals v New Orleans Saints
It appeared the New Orleans Saints were going to upset the Cincinnati Bengals for the majority of this game, but the Bengals scored 16 points in the final 18 minutes to pull off an epic comeback victory and extend their winning streak to three games. Burrow threw for 300 yards and three touchdowns, and Ja'Marr Chase had his first multi-touchdown game of the season. 
Tampa Bay Buccaneers v Pittsburgh Steelers
The Steelers were ten-point underdogs at home against the Bucs, but Trubisky filled in for Pickett–who left the game and entered concussion protocols–in the final quarter and led his team to victory. Brady had a chance to tie with a little more than four mins left, but Tampa Bay failed to convert the 2-point attempt and would go on to lose by two. The only part of this game worth mentioning is that Tom Brady was once again spotted on the sideline yelling at his teammates en route to another loss. That always makes for good entertainment and memes. 
Carolina Panthers v Los Angeles Rams 
The Rams finally did what they were supposed to do and dominated an inferior opponent. Cooper Kupp was held under 100 receiving yards for just the second time this season. The Panthers continue to prove they are one of the worst and most dysfunctional franchises to represent the NFL shield. Players and coaches trying to fight each other on the sideline have no place in professional sports. Funny enough, not even 24 hours later, Robby Anderson was traded from Carolina to Arizona. Expect more players with any trade value to be on the move soon.
Arizona Cardinals v Seattle Seahawks
Just another game of two trash teams trying to battle to see whos worse. From beginning to end, this game was an eye-sore. Kyler Murray isn't the guy I thought he was; he might not even be a guy at all. This game should have been dubbed "The Battle of the Frauds." Cuz 80% of the people who stepped on the field belong in the CFL or out of football altogether. 
Buffalo Bills v Kansas City Chiefs
Now, this was a game worth watching. The two best QBs in the league were battling it out until the final drive. The Allen-Mahomes has Brady-Manning vibes written all over it. Both QBs threw for over 300 yards and multiple touchdowns. The Bills took the lead with 1:04 on the clock, and history tells us that's more than enough time for Mahomes to orchestrate a game-winning drive–especially against the Bills. This time, the Bills refused to let history repeat itself, and just two plays into the ensuing drive, Taron Johnson intercepted a pass intended for JuJu Smith-Schuster to seal the victory and take down the Chiefs in Arrowhead. 
Dallas Cowboys v Philadelphia Eagles
This was an ugly game for the Cowboys. Cooper Rush threw three interceptions and suffered his first loss as a starting QB in the NFL. Jalen Hurts has come back down to earth, but the Eagles continue to prove this defense is legit, and they have one of the best receiving corps in the NFL. Unfortunately for fans in the Lonestar state, it looks like Dakota is going to retake the reigns of the offense next week.
Los Angeles Chargers v Denver Broncos
It seems like every primetime game the Broncos are part of is just a snooze fest. Denver's defense neutralized the Chargers' offense, holding them to just 297 yards and ending Justin Herbert's streak of 26 consecutive games with a passing touchdown. Russ started off on the right foot, completing his first nine of his first ten passes, but completed just six of 18 the rest of the way. It appeared as if we were going to get the second tie of the season until a heads-up play on special teams by the Chargers set up the game-winning field goal in overtime.
5 Biggest Winners
*Brian Daboll. Daboll took over virtually the same roster that Joe Judge fielded last season, but the Giants look way better under his leadership. The Giants clearly love playing for coach Dabs, and he's put himself in a position to win the NFL Coach of the Year award as the Giants are tied with the Bills and the Vikings for the second-best record in the NFL.  
*Robert Saleh. I came in here and made fun of Saleh after his comments about keeping receipts following a Week One loss to the Ravens. But it's Saleh whos laughing now. The Jets have gone 4-1 since he made those remarks and should be 5-1 following next week's matchup with the Denver Broncos.  
*Buffalo Bills. Defeating Patrick Mahomes in Arrowhead is no easy task. Entering Sunday, Mahomes was on an eight-game win streak at home with a 26-6 record overall. The Bills were the last team to beat the Chiefs at home before the streak began, and they ended it on Sunday. 
*Dustin Hopkins. Hopkin injured his kicking leg in the first half of MNF, but that didn't stop him from converting four field goals in the game, including a 39-yarder to win the game in overtime.
*Bailey Zappe. Bailey Zappe is taking full advantage of his opportunities, throwing for 309 yards and two touchdowns while completing 70% of his passes on Sunday. New England's offense looks more explosive with Zappe running the show than Mac Jones, and he may have done enough to keep the starting job when Jones returns from injury. 
Disgusting Behavior
*ME. After watching the Chicago Bears fail to score in the red zone twice but being able to hold the Commanders to just three first-half points, my dumbass live bet the Bears to win with a margin of 1-6 points. I parlayed that with a few hockey bets. Of course, I hit in every pick on the ticket, and then the Bears got stopped on 4th & goal on their final drive to lose by 5 and ruin everything. 
*Broncos Country. Russell Wilson has played so poorly through the first six games of the season that Broncos fans called for Drew Lock and had him trending on Twitter. 
*Tom Brady. Old-ass Tom Brady yelling at his teammates on the sideline was reminiscent of Mr. Wilson yelling at Dennis to get off his lawn. How about you step your game up and show commitment to your teammates before you start spazzin on people? 
*Matt LaFleur. No reason any team should be losing to the Jets by 17 points. Horrible gameplans and stubborn playcalling have led to the Packers losing back-to-back regular season games for the first time since the 2019 season and being a .500 team. 
*Lamar Jackson. Up by three points with three minutes left in the game, Lamar threw an interception and fumbled the ball to help the Giants pull off a comeback victory. 
Offensive Player of the Week
Josh Allen. After his 300-yard, 3-touchdown performance in a victory over the vaunted Chiefs, Allen has once again separated himself from the pack and looks like a runaway for MVP.
Defensive Player of the Week
Harrison Smith. The Vikings safety had six tackles, a forced fumble, and an interception in Minnesota's emphatic win over the Miami Dolphins.