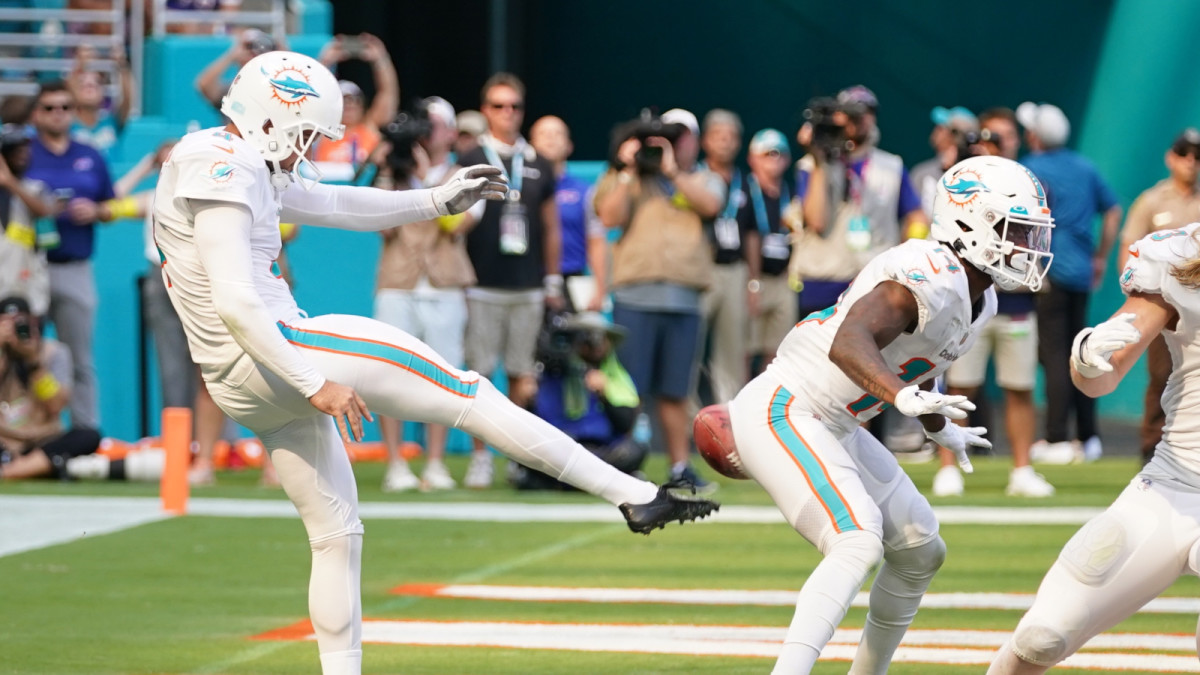 What a weekend! USC struggled against Oregon State but head back to LA undefeated and continue to #FightOn. As you know, like most people, I need alcohol in order to sit through an entire day of CFB. The urge to consume alcoholic beverages is amplified when my bets don't cover. My entire weekend was full of booze, bad football, and bad beats. I lost every CFB, and almost every NFL bet I placed this weekend.
DISGUSTING BEHAVIOR! Especially for a guy that's part of not one but two betting shows. Me trynna win a bet this weekend was like Thomas Morstead trynna punt out his own end zone…right in the shitter-more on that later.
Not only is my bank account lower than your grandfather's sex drive, but once again, I must complete a punishment on The Biggest Loser this week. All in all, I AIN'T SHIT, AND YOU SHOULDN'T TAIL ANY OF MY BETS UNTIL FURTHER NOTICE. 
It is worth noting that all the losses weren't completely due to my ineptitude as a gambler. Well, maybe that was the case for CFB but not my NFL bets. There were eight upsets in Week 3 and two more backdoor covers. Not ideal when you trynna win some money. 
On the bright side, as I drowned in sorrow and alcohol, I discovered what might be my new favorite tequila…Gran Coramino. Shoutout to Kevin Hart for an amazing product, and shoutout to my right-hand Nes for putting me on.
Well, that's enough about me and my atrocities, let's talk some football!!
Week 2 recap
Pittsburgh Steelers v Cleveland Browns
For most of the game, the Steelers looked like they had a chance to win this one and pull off one of the many upsets that occurred this week. The Browns outscored them 13-3 in the final 15 in the fourth quarter and pulled out a 12-point victory. Don't look now, but Jacoby Brissett and gang are keeping the Browns afloat while they wait for Nasty Man to complete his 11-game suspension and return to the gridiron. 
Baltimore Ravens v New England Patriots
The Patriots entered halftime down by one point, but the Ravens dominated the second half and pulled away. For the second straight week, we were forced to watch a white boy perform a horrible rendition of the Griddy. But on the bright side, Lamar Jackson rushed for at least 100 yards again, making it the first time he's rushed for 100+ yards in consecutive games in his NFL career. The young man continues to impress and show the Ravens front office why they need to PAY THAT MAN!
Houston Texans v Chicago Bears
David Montgomery went down with an injury early in the game but have no fear; Khalil Herbert is here. The second-year backup running back ran for 157 yards and two touchdowns, helping Chicago overcome another poor performance by Justin Fields and lead the Bears to their second win of the season. 
Las Vegas Raiders v Tennessee Titans
A battle between two 0-2 teams left the Raiders sitting a 0-3 for the first time since 2018. It's safe to say the honeymoon stage is over for Davante Adams and Derek Carr. Adams voiced his frustrations with the team's performance following the game, and surely after Sunday's debacle, Aaron Rogers isn't the only one that wishes Adams was still in a Green Bay jersey.
With Week 3 in the books, Adams has recorded less than 50 receiving yards in back-to-back games for the first time since the 2016 season. Almost forgot to mention this fun tidbit, the Raiders join the Texans as the only WINLESS teams through the first three weeks of the 2022 NFL season. 
Kansas City Chiefs v Indianapolis Colts
Well, what do you know, Matt Ryan can still play QB in the NFL. I joke, he's washed, but he did have a solid game. He fumbled twice, but he completed over 70 percent of his passes and didn't throw an interception for the first time this season.
Rookie Jelani Woods caught the first two passes of his NFL, both for touchdowns, one of which was the deciding factor in this game. For the second straight week, the Chiefs struggled to find the endzone, except this time it was the Colts who came from behind and snuck out of the stadium with a victory. 
Buffalo Bills v Miami Dolphins
This game was the stiffest test the Bills have had in the early going of the 2022 NFL season. Tua struggled against the Bills defense and may or may not have suffered a concussion but went home with a win. Josh Allen threw for 400 yards and two touchdowns, but that wasn't enough against the new-look Miami Dolphins as the Bills struggled to find the endzone all afternoon.
I must admit, watching the Bills' offensive coordinator lose his shit in the coach's box at the end of the game was priceless. I imagine that's how many of my fellow bettors felt with all the upsets this weekend.
View this post on Instagram
I'm sure when Trent Sherfield woke up Sunday morning, he knew he'd be in for a long day on special teams. What Sherfield didn't expect was to get a football kicked square into his ass while trying to block for his punter. Time expired as the Bills tried to set themselves up for a game-winning field goal, but if it wasn't for the aforementioned "butt punt" that resulted in a safety, Buffalo would've never been in a position to win by a field goal anyway.
Detroit Lions v Minnesota Vikings
Would you believe me if I told you the Lions are the second-highest scoring team in the NFL through the first three weeks? Probably not right; well, it's true. Unfortunately, the Lions are 1-2 because, despite this fact, they've given up the most points through three weeks as well.
While the offense is clicking, shotty defense and terrible decision-making by one Dan Campbell have led to the Lions sitting firmly in an all-too-familiar place…last place in their division. 
Cincinnati Bengals v New York Jets
Joe Flacco threw two INTs, shocker. The Bengals couldn't get the run game going, but Joe Burrow finally looked like the guy we all saw last year. Burrow threw for 275 yards and three touchdowns and would've had another had the refs not robbed Tee Higgins and his phenomenal toe-tap in the back of the endzone. 
Philadelphia Eagles v Washington Commanders
Remember when Carson Wentz was an MVP favorite? Well, that ship sailed long ago, leaving him at the docks, and got lost at sea. The Eagles look like the real deal through three weeks, and Jalen Hurts continues to make a solid case for MVP. He threw for 340 yards and three touchdowns.
DeVonta Mitchell and AJ Brown continue to look like the best WR-duo in the league, combining for 254 yards and two touchdowns. I'll leave you with an interesting–and if you're an Eagles fan, concerning- stat Philly is outscoring opponents 72-21 in the first half, but they're getting outscored 14-29 in the second half of games.
New Orleans Saints v Carolina Panthers
The Panthers finally fed CMC, and as a result, they finally won a game. This was Carolina's first win since Week 10 of last season. Jameis continues to turn the ball over at an alarming rate which has been the case his entire NFL career.
Kamara hasn't looked like himself through the first few weeks of the season, and I'm sure fantasy owners are wishing he was suspended at this point. Chris Olave and the rest of the skill players have looked really good over the past two weeks, and if they can somehow get a competent QB, this team can dominate the division for years to come. 
Jacksonville Jaguars v Los Angeles Chargers
Justin Herbert was a game-time decision due to the rib injury he suffered against the Chiefs in Week 2. He wasn't the typically accurate QB we've grown accustomed to seeing every weekend but still managed to throw for nearly 300 yards. To make matters worse, Joey Bosa went down with a groin injury and is considered week-to-week moving forward, and All-Pro LT Rashawn Slater is expected to miss the rest of the season with a torn biceps.
Jacksonville surprisingly dominated this game from start to finish, and Trevor Lawrence looks like he's finally starting to turn a corner. Big Trev tossed three touchdowns and a two-point conversion while committing zero turnovers for the second consecutive week. Maybe, just maybe, he'll make me look smart for picking him to win Most Improved Player this year. 
Los Angeles Rams v Arizona Cardinals
The Rams continue to struggle to generate points, and one can't help but wonder if Stafford is still bothered by the elbow that was giving him problems during the offseason. Luckily for the Rams, the division rival Arizona Cardinals stink. I was one of Kyler Murray's biggest supporters entering the season, but he continues to struggle reading the defense, and his decision-making has been questionable at best. With the exception of a brilliant fourth quarter last week, Murray and the Cards have been TERRIBLE.
Atlanta Falcons v Seattle Seahawks
Another week, another game I wish I didn't have to watch. I must admit, as a Giants fan that was tormented during the Matt Hasselback/Shaun Alexander days, I truly enjoyed watching Cordarelle Patterson run all over this disgusting Seahawks team. 
Green Bay Packers v Tampa Bay Buccaneers
In what was dubbed as a "battle of the GOATS," this game was anything but that. Brady is washed, and almost all of his weapons missed this game due to injury or suspension. AR12 doesn't have any reliable weapons outside of his two running backs. If this game was played a year or two ago, I would have been excited like any other time these two QBs faced off, but on Sunday, I couldn't help but feel bad for both of them. 
Dallas Cowboys v New York Giants
This was an old-school type football game with both teams relying on their run game and defense on Monday night. Both teams rushed for over 160 yards, but only one team could generate any pass rush, and Dallas got the better of the Giants. Saquon Barkley broke off another big run, but Daniel Jones was under constant duress.
The Cowboys pressured DJ 21 times and recorded 5 sacks and 12 QB hits. To put the stamp on an emotional divisional game, Sterling Shepard went down with a torn ACL on New York's final offensive play. The Cowboys are now 2-0 with Cooper Rush under center this season. If you're keeping track, then you know that's two more wins than they have when Dakota starts. 
*Side note-My boy texted me some props he liked for the game, and I told him I don't bet on Shep anymore cuz he always gets hurt, and last time I bet on him, he ruptured his Achilles, and now he's down with another season-ending injury. 
5 Biggest Winners
*Cooper Rush. Not only did he win over the heart of one Greg Waddell, but he wins football games too. Three career starts, three career wins; Rush remains undefeated. 
*Mike McCarthy. As long as Cooper Rush is the starting QB, expect the Cowboys to find a way to win. As long as they keep winning, McCarthy will have a job. At least until Sean Payton decides he's tired of being an analyst and ready to come out of retirement. 
*Joe Burrow. Burrow avoided an 0-3 start to the season with a dominant showing against the New York Jets, who were riding high after an upset victory in Week 2.
*Jalen Hurts. Hurts' offseason work continues to pay dividends for the Eagles. Because of his stellar play, the Eagles are one of two teams that remain undefeated through the first three weeks.
*Miami Dolphins. The Playoff race is going to be tight in the AFC, and the Dolphins got a very important victory over a division rival and Super Bowl favorite. They may get a hefty fine for how they handled Tua's perceived injury on Sunday, but you'll have to ask them if it was worth it.
Disgusting behavior
*The entire Giants offensive line should be ashamed of themselves for the way they have "protected" Daniel Jones. No offensive line has allowed more QB pressures or sacks through the first three weeks than this unit. 
*Jimmy G has played the game of football for too long not to have better awareness. Getting a safety for stepping out of the back of the endzone was just one of many of his plays that left 49ers fans reaching for a drink. 
*Mac Jones. I'm not the karma police, but I'm hoping that sprained ankle will force him to think twice next time he decides to dance in the endzone. 
*Dan Campbell. This newsletter is long enough already, and I'm actually a little surprised you made it this far. I would need to write a separate piece highlighting all of Campbell's shortcomings and stupidity. His decision-making is costing his team games, and the front office needs to wake up and realize it's time to move on. 
*Las Vegas Raiders. The Raiders were dominated by a Titans team that struggled to do much of anything in the first two weeks. There's no reason that a team that has players like Davante Adams, Darren Waller, and Josh Jacobs should be 0-3. 
Offensive Player of the Week
Lamar Jackson is my OPOW. He only threw for 218 yards, but he rushed for another 107 and recorded five total touchdowns against a Patriots defense that only surrendered three touchdowns through the first two weeks. 
Defensive Player of the Week
I hate to say this cuz he plays for the Eagles, but Brandon Graham was dominant on Sunday and set the tone for an Eagles defense that only allowed one TD all game. He recorded 6 tackles (two for a loss), 2.5 sacks, five QB hits, one deflected pass, and forced a fumble.