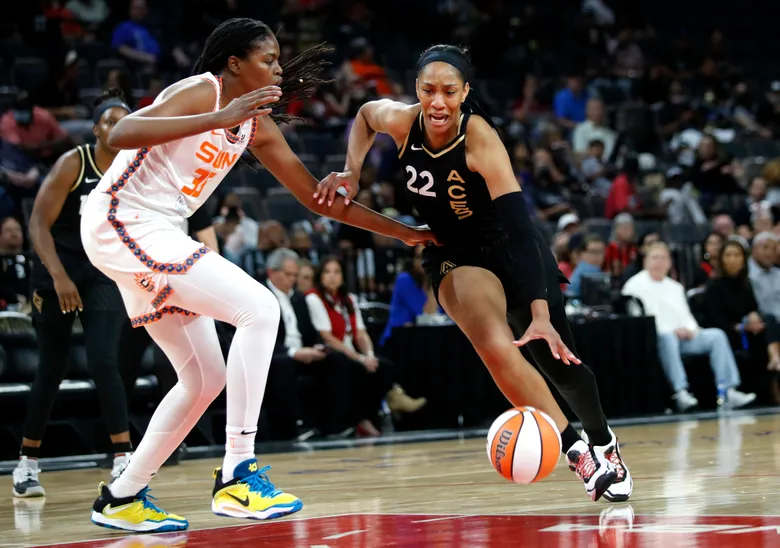 The WNBA Finals are upon us. It's not necessarily the matchup everyone expected, but it's still a great one. The three-seed Connecticut Sun takes on the one-seed Las Vegas Aces. Jonquel Jones, Alyssa Thomas, and Dewanna Bonner against A'ja Wilson, Chelsea Gray, and Kelsey Plum. A matchup with some history and superstars on both sides looking for the final piece to add to their legacy. 
Las Vegas Aces
After a sweep of the Phoenix Mercury, they stared down a matchup with the Seattle Storm. After losing game one at home, they answered with three straight wins in some instant classic playoff games.
We got a phenomenal duel from game two and on between A'ja Wilson and Breanna Stewart. Wilson had 33 points, 12 rebounds, and three blocks in game two, 34 points, 13 rebounds in game three, and 23 points, 13 rebounds, and three blocks in the deciding game four. Stewart responded with 32 points and three blocks in game two, 20 points, 15 rebounds, six assists in game three, and 42 points in game four.
Both of them were fantastic, but the reason the Aces won the series is Chelsea Gray. She was incredible. The efficiency is the wildest part. In game three, she had 29 points and 12 assists on 57 percent shooting, and in game four, she had 31 points and ten assists on 59 percent shooting. She is averaging 24 points and seven assists on 62 percent shooting throughout the playoffs. 
Connecticut Sun
After needing a game three to beat the Wings, and past shortcomings in the playoffs, not many gave them a chance to beat the Chicago Sky. After going down 2-1 in the series, even fewer did, including myself. The Sun made the games physical, slow, "ugly," and really made the Sky play at their pace.
They blew out the Sky in game four, scoring over 100 points. I believe that game is what gave Connecticut the ultimate belief that they could win the series. Chicago didn't shut the door and paid for it in game five. The Sun completely negated Courtney Vandersloot's impact, didn't allow Quigley to ever find a rhythm, and forced Kahleah Copper to beat them in the half-court.
Candace Parker was dominating the series, so they put most of their attention on stopping her and making others beat them. Their vets made timely plays on offense and defense. They battled through moments of frustration to come out the other side back in the Finals. Six players scored in double figures in game four, three off the bench. In game five, they held the Sky to 34 percent shooting, just five points in the fourth quarter, and ended the game on an 18-0 run after being down by with just a few minutes left. All five starters scored at least 12 points. 
WNBA Finals Matchup
Two teams that have met in the playoffs in the last few years have yet to get to the top of the mountain despite being one of the best teams for the last five years. Both teams have a superstar that is desperate for that championship to allow them to stand next to their peers.
Jonquel Jones is a former Most Improved Player, Sixth Woman of the Year, and last season's MVP. A'ja Wilson is now a two-time MVP and Defensive Player of the Year after winning both awards this season.
These two teams met in the semifinals in 2020, where the Aces won in five games. It should be noted that the Sun didn't have Jonquel Jones. Bri Jones wasn't the player she is now, Courtney Williams was on the Dream, and Natisha Hiedeman is a different player now. The Aces didn't have Kelsey Plum due to her Achilles injury before the season, Dearica Hamby was injured, and Jackie Young was still coming off the bench.
While some of the key names were there for the series, they weren't the players they are today. Jackie Young and Bri Jones are the last two most improved player award winners, Kelsey Plum was third in MVP voting, and Jonquel Jones is here. This is an even matchup. The Aces have the backcourt advantage, and the Sun have the frontcourt advantage. 
So, two teams that have yet to win a WNBA Finals are playing with everything on the line. The stakes couldn't be higher. The pressure cooker is on HIGH. This series will be physical, emotional, intense, passionate, compelling, and competitive.
Chelsea Gray and Dewanna Bonner will be so important. Hopefully, A'ja versus Jonquel is the duel we all know it can be. Kelsey Plum and Jackie Young must play the best basketball they've ever played in their careers. Hiedeman and Williams have to make it as tough as possible on them because you don't want it to be a high-scoring series. Vegas can't turn the ball over or take bad shots; the Sun thrives in transition. Alyssa Thomas must be aware and have knowledge of when to look to score and when to look for others. 
I love that we will have a new champion, and new players will get to celebrate the feeling they've never felt. I have A'ja Wilson winning her first WNBA Finals as well as Finals MVP.
Aces in a classic series, in five games.