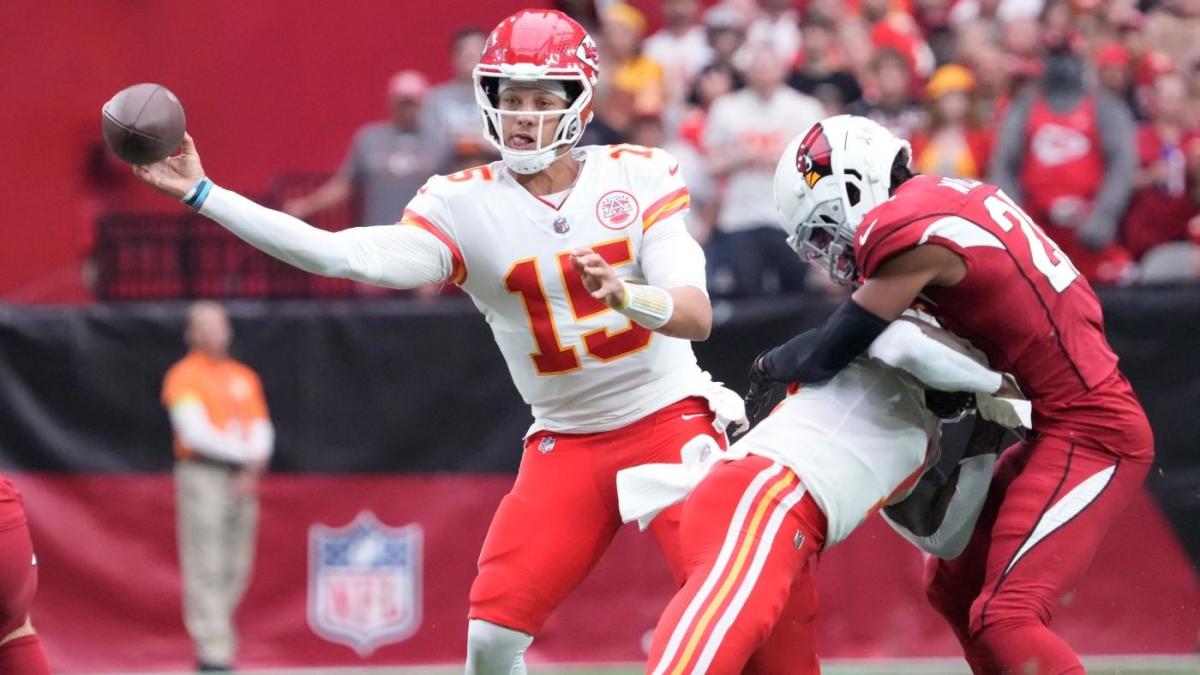 Welcome to the first edition of the MMG weekly NFL newsletter. I'll be bringing you up to speed on anything interesting you may have missed from each game of the season. I will also be handing out some awards and nominating my biggest winners and losers of the week.
If you're still reading this and haven't gone back to scrolling aimlessly down your Twitter feed, it's safe to assume you're a football-loving sports junkie with a borderline drinking problem like myself.
I spent most of my Saturday editing articles, placing and losing bets, and drinking a ton of Hennessey Pure White and Johny Walker's Gold Label while digesting as much college football as possible. See, I recently decided to get more invested in CFB, but most of the product is garbage, and I've found the games much more enjoyable if I'm drinking and betting on them.
While watching my beloved USC Trojans kick some Cardinal ass and throwing back shots of whiskey, my cousin—shoutout to you Stevie, you a real one—called me to tell me he got free tickets to the Ravens v Jets on Sunday.
First off, he had me at free. Anytime you tell me FREE tickets, I'm in. Watching the Jets get their teeth kicked in and a chance to watch Action Jackson live were just added bonuses.
Sunday morning, I woke up early to get ready for the game. I went to the store and bought a bacon egg and cheese and then headed to the supermarket to buy some White Claws. Now, this is my first time drinking seltzers because I didn't wanna drink hard liquor so early, but it's game day. I gotta drink something other than coffee, right?
*Side note, I'm officially a seltzer guy.
We got to the stadium a couple of hours before kickoff, so we decided to chill in the parking lot and down a couple more White Claws before heading to our seats. My God was that an awful decision…JETS fans are ANNOYING! I knew you had to be remedial to root for a team that's been that dreadful for this long, but damn. The fact that their go-to chant is spelling out their team name like a bunch of kindergarteners who are learning to read and write is just disgusting behavior.
The game turned out to be very boring, and I kept dozing off like an old man trying to watch the 6:00 news. The one thing that kept me awake for most of the game was keeping track of my bets and realizing I was a strong candidate to be the Biggest Loser.
Now in case you don't know, the Biggest Loser is a game show here at MMG where the person who loses the most money gambling that week has to complete a punishment that is tasked to you by the person who won the most money. Turns out I was the biggest loser this week, and you can CLICK HERE to subscribe to the show and see what punishment Howell County Penei Sewell has drummed up for me.
I got home in time to watch the Giants secure their most impressive win in years. Now, that's not saying much, given how things have gone since the Coughlin era ended, but it was impressive nonetheless. It was a bittersweet victory for me because, personally, I want the Giants to tank competitively for a QB.
Now enough about me and watching my teams come out victorious while simultaneously burning money; let's get into the fun stuff.
NFL Week One Recap
Buffalo Bills v Los Angeles Rams
JOSH ALLEN IS HIM! Allen showed everyone why he's the favorite to win MVP. The game started off slow, with the score tied at ten entering the half, but then Allen began to slowly but surely dissect and dominate the Rams. Although he threw two interceptions (one wasn't his fault), he threw three touchdowns and rushed for another. The Bills dominated on both sides of the field and looked like the real deal after week one.
New Orleans Saints v Atlanta Falcons
This was one of the more disgusting games on the slate. If you missed it, lucky you. Michael Thomas scored two touchdowns in his return to the field, Jarvis Landry recorded 114 yards in his first game with the Saints, and Chris Olave scored a touchdown in his NFL debut. Other than that, this game was just God-awful—full of turnovers, defensive miscues, and penalties. Pop Warner teams are more disciplined than these two. Pretty much everything one could expect from bad teams in a week one game.
Cleveland Browns v Carolina Panthers
Baker Mayfield vowed to take out all his frustrations on the Cleveland Browns and give them an ass-whooping they'd never forget. What was built up as a revenge game turned out to be nothing of the sort. Baker's revenge attempt was as futile as Kendall Roy's attempt to exact revenge on his daddy dearest—forgive me, I recently rewatched the season finale to Succession. The Browns' defense limited Christian McCaffrey to 57 total yards and kept Baker under lock-and-key the whole game, leaving Bank of America stadium with a W.
San Francisco 49ers v Chicago Bears
The only people happy with the 49ers' performance on Sunday are the bookmakers that took all of our money. San Francisco struggled mightly in what should've been an easy victory. I expected hiccups on offense, but I don't think anybody expected their defense to be as sloppy and undisciplined as they were. Giving up 19 second-half points and losing to the Bears is unacceptable behavior.
Pittsburgh Steelers v Cincinnati Bengals
These are the type of division rivalries coaches and players get out of bed for. I was all-in on the Bengals winning this game until I saw that Tomlin gifted the entire Pittsburgh Steelers with black uptowns. From that moment on, I knew he was preparing his team for a home invasion, not a football game. The Steelers escaped with a dub, but Najee Harris left the game with an apparent foot injury, and they may have lost defending DPOY TJ Watt may be lost for most of, if not the rest of the season, with a torn pec. Joe Burrow threw for over 300 yards, and Ja'Marr Chase had a helluva day, but four interceptions and a fumble aren't going to lead to many victories.
Philadelphia Eagles v Detroit Lions
I fully expected the Eagles to steamroll the Lions, and for the first half, that very well seemed to be the case. But the Lions came alive in the second half and showed they will fight for the full 60 minutes, and they won't make things easy for anyone. I'm not sure if the Eagles defense isn't as good as I thought it to be or if I just underestimated Detroit's offense. One thing for certain is Dan Campbell's lack of awareness and poor game management may have cost his Lions a rare victory.
Indianapolis Colts v Houston Texans
Houston got out to a 20-3 lead, and it looked like there was an upset in the making, but something far worse happened. Led by Jonathan Taylor and Matt Ryan, the Colts clawed their way back into the game and forced overtime. Unfortunately, Rodrigo Blankenship missed a 42-yard field goal. On the ensuing drive, Lovie Smith opted to punt the football instead of going for a hail mary, and the game ended in a tie.
New England Patriots v Miami Dolphins
The Dolphins' defense was whizzing all over the field and punishing the Patriots' receiving corps all day. Anytime the Pats built up some momentum, the Dolphins hit 'em hard and reminded them…Tom Brady ain't walking through that door. The Patriots were plagued by dropped passes and turnovers all game. Tyreek Hill had a solid debut with the Dolphins, and Tua played well, but neither offense looked impressive.
Baltimore Ravens v New York Jets
This game was very much as lopsided as the final score indicates. As a lifelong Jets hater, I enjoyed this thrashing. I must admit, their defense looks a lot better than last year, and they did a solid job limiting the Ravens in the run game. Unfortunately, the secondary isn't quite as good as advertised (Sauce looked good, but that's about it), getting burned on multiple costly big plays. The Jets stink! They're garbage, they always have been, and they always will be. And now their coach said he's "keeping receipts." Well, I hope you got a lot of room in your receipt drawer Mr. Robert Saleh, cuz it's about bout to get really crowded in there.
Jacksonville Jaguars v Washington Commanders
I'd be concerned about Trevor Lawrence if I were a Jags fan. His performance was underwhelming, to say the least. Granted, he was under constant duress, but when you see what the likes of David Carr and Joe Cool, among others, were able to accomplish last season with virtually no o-line, that excuse starts to lose its merit. Travis Etienne looked good in his debut, so I guess that's something to smile about. The Washington Commanders defended home turf and went home with a W, and the receiving corps looked dangerous. Wentz is still Wentz. Yes, he threw for over 300 yards and four touchdowns (pretty awesome), but he also threw two costly interceptions that made this game a lot closer than it should've been. Shoutout to Travon Walker for recording an interception and a sack in his first NFL game and showing why the Jaguars drafted him over Aidan Hutchinson.
New York Giants v Tennessee Titans
The Giants stink; let's just get that out of the way. As a lifelong Giants fan, I accept that. But this team has more heart than I've seen in a long time in Met Life. They play hard, they play tough, and they are clearly willing to run through a brick wall for coach Dabs. The Titans held them scoreless through the first half but were only down by two possessions. The run game got going after halftime, and Barkley started looking like his old self. A few missed tackles, a two-point conversion, and a missed field goal later, and the Giants start the season 1-0 for the first time since 2016.
Kansas City Chiefs v Arizona Cardinals
Patrick Mahomes is a SAVAGE!!! Josh Allen is the favorite to win MVP, but Mahomes has something to say about that. If you had any doubt that Mahomes was still gonna be that dude without Tyreek Hill, you need to get your eyes and brain checked. Mahomes immediately silenced any doubters and naysayers, throwing for nearly 400 yards and five touchdowns while completing over 75% of his passes. By the way, the Cardinals stink, and it won't be long before Kingsbury is fired and young Kyler regrets not sticking with baseball.
Las Vegas Raiders v Los Angeles Chargers
Justin Herbert continues to improve and impress. Herbert lit up the Raiders for 279 and 3 touchdowns. He completed over 75% of his passes while spreading the ball around to nine different receivers. Let's not forget about the Chargers' revamped defense. They pressured Derek Carr all game. Carr was sacked five times, fumbled twice, and threw three interceptions. At one point, it looked like he started seeing ghosts, and frankly, I haven't seen a white man in America that scared for his life since Obama became President.
Green Bay Packers v Minnesota Vikings
Aaron Rodgers showed up to the game looking like CM Punk, but his team had no fight on Sunday. I wouldn't be surprised if he woke up hungover Monday morning after watching Week One highlights of his former teammates. The Packers stunk it up all afternoon, but luckily fans in attendance and watching at home got to see the masterclass performance Justin Jefferson put on. He used his elite route running and speed to carve up the Packers' defense to the tune of 184 yards and two touchdowns on nine catches. Now that's just beasty! J-Jettas is coming for that best receiver in the league crown, and I'm here for it.
Tampa Bay Buccaneers v Dallas Cowboys
TB12 is officially the oldest quarterback to start an NFL game, yet he doesn't look much older than he did when he first entered the league. He's like the white version of Morgan Freeman or the Pat Sajak of the NFL. Unfortunately, looking as good as he did 20 years ago doesn't equate to playing like he did 20 years ago. Luckily for Mr. Brady, the Bucs have an elite defense that made life difficult for the Cowboys all night. As expected, the Cowboys' offense stunk it up all night. Tampa Bay held them to just three points; their fewest points scored at home in 20 years. And to make matters worse, they will be without Dak for at least the next six weeks after he got surgery on his right thumb Monday morning.
Denver Broncos v Seattle Seahawks
Russell Wilson showed out against his former team, but this game was dominated by both defenses. The Broncos had little trouble moving up the field, but they struggled to get into the endzone, constantly settling for field goals. Denver played from behind for most of the game despite Wilson's impressive play. And what do ya know, the game came down to a field goal in the final minutes, and yup, you guessed it….he missed! Ultimately, multiple fumbles, head-scratching coaching decisions, and a missed field goal spoiled Wilson's spectacular game and ruined his chance at revenge. Seattle upset the Broncos and stole the home opener without Wilson in a Seahawks uniform since he got drafted.
Five Biggest Winners of Week One

 
*Joshua Patrick Allen, aka the General, aka the Mafia boss, set the tone for the Bills' season by going into the home of the defending Super Bowl champions and lighting So-Fi stadium on fire (figuratively speaking, of course). More importantly, he's officially moved up my "favorite white boy rankings." He now sits firmly in third place behind Greg Waddell and Ryan Reynolds.
*The Cleveland Browns need to do all that they can to keep their heads above water while they wait for Deshaun Watson to return from suspension. The Browns got the run game going early and often, and their defense kept the Panthers in check all game, securing a road win to start the season.
*Saquon Barkley. Barkley has heard all the criticism over the past couple of seasons as he dealt with a multitude of injuries. I have even gone on the record doubting his abilities and value moving forward. SaQuad told the media all offseason he's healthy and he's gonna prove everyone that doubted him wrong. I know it's only one game, but I, for one, am convinced…. HE'S BYKE! Barkley went from looking as if he was afraid of contact to bulldozing his way through defenders. He racked up 194 total yards, scored a touchdown, and converted the game-winning two-point conversion. At least for one week, Saquon has silenced the critics.
*I know you're probably shocked to see the 49ers in the biggest winners section after the poor excuse for a football game they played on Sunday. But with Dak Prescott expected to miss the next six-eight weeks, the 49ers may finally be able to get rid of Jimmy G.
*College kickers. The most common theme in the first week of the NFL season was missed field goals and extra point kicks. Much like fantasy football, kickers are rarely drafted in the NFL. If things continue to trend the way they did in Week One, 2023 may be the year of the kicker.
Disgusting Behavior
*Normally, this section would be reserved for bad decisions or plays made on the field, but Mike Tomlin makes the list this week for something else. Now it's nothing new for a coach or player to gift the team with a pair of sneakers or some jewelry. But Tomlin buying black-ups for his players is just disgusting, swagless, and hilarious.
*Nick Scott has given us the honor of being our first candidate for the disgusting behavior award. Scott tried to prevent Josh Allen from rushing for a first down, but instead, he was met with a swift stiff-arm from Hell by the General.
*Half the kickers in the league. I've never seen so many missed field goals and extra points on a single Sunday in my life. Yet, I watched Kansas City Chiefs safety Justin Reid step in for an injured Harrison Butker and net an extra-point field goal. EVERY KICKER THAT MISSED THIS WEEKEND SHOULD BE ASHAMED OF THEMSELVES!
*Baker Mayfield. Baker has been talking crazy ever since he was shipped to Carolina. In a game that he hyped up all season and said he was gonna "f*** 'em up" when referring to his former team, Baker really fumbled the bag on this one. Literally and figuratively. He rushed for and threw a touchdown, but he also had four fumbles and an interception. Revenge game? Sure. But revenge for the Browns, not Baker.
*Now, the final spot for disgusting behavior goes to a former NFL player. The one, the only, Adrian Peterson. AP decided to step into the boxing ring with fellow former NFL running back Le'Veon Bell. The way Bell caught AP with the feint right before delivering the knockout blow with a straight punch was like a scene straight out of a Fight Night trailer. The fight itself was boring, but the knockout was hilarious; you can watch the full fight here if you're interested.
Offensive Player of the Week
Patrick Mahomes' performance in week one was Godly. 360 passing yards, five touchdowns, and zero turnovers in a blowout victory, he easily takes the MMG OPOW award.
Defensive Player of the Week
Von Miller wins the first-ever MMG DPOW award. He only had four tackles, but three were in the backfilled, and he had two sacks as well as two QB hits. His presence alone ignited a defense that is expected to be one of the best in the league this year.
That's it for this week. If you stuck around this long, I appreciate you. Keep your eyes peeled for next week's newsletter and if you have any suggestions for any new seltzers for me to try, let me know!