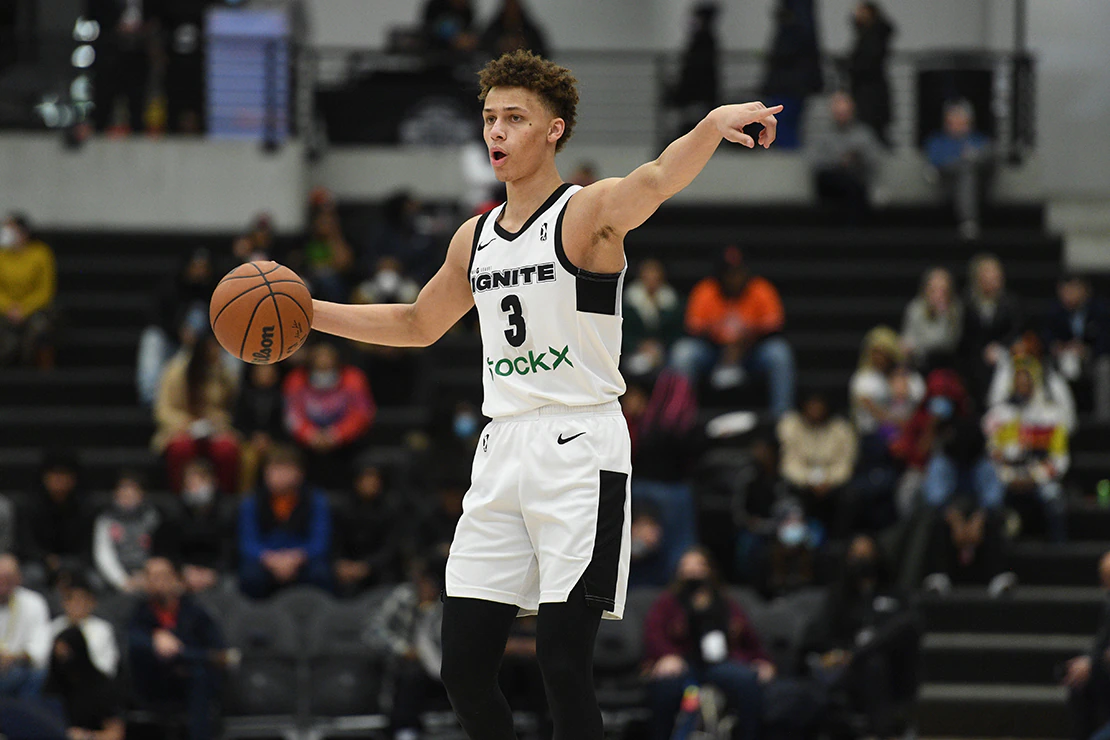 General Theory and Future Fit
The hardest part with evaluating Daniels has been where he fits on an NBA team, as well as where he fits in the modern NBA. Many of the more impressive young players in the league have been wing-sized players with guard skills. Some are primarily scorers who can create, like Jayson Tatum, Zion Williamson, and Brandon Ingram.
However, some are proper lead guards who just happen to be tall, like Cade Cunningham, Luka Doncic, and LaMelo Ball. Now Dyson Daniels may not compare to these six players in ability (with five of the six being all-stars and Cunningham likely being one soon), but the idea of how he fits into the league is still there. Dyson does not exhibit a score-first mentality; nonetheless, the issues of his poor handle and lack of self-creation outside of getting to the paint hurt his ability to be a lead guard.
We see how skilled size has become more important than anything else in this league. Teams are building their rosters around these 6'6″ + playmakers. At the very least, teams have players on their roster who fill this role. The Point Forward role is relatively renewed in abundance, as many can point to Lamar Odom, Hedo Turkoglu, and Josh Smith as some of the premiere point forwards of the past.
Now, many teams have players who play this role, and big men are getting increasingly talented. For every Cade Cunningham in the league, there is a Kyle Anderson. This role has become more critical as teams recognize the lack of quality big men in the league, and the modern NBA forces teams to add size elsewhere to be effective. So, the goal is to add size to the other positions while not letting up on the amount of skill on the court.
Enter the modern point forward; skilled wings who can act as a playmaker in the halfcourt, push the ball in transition and offer some other elite skill that keeps them on the floor. Dyson not only fills this role but has many developmental paths to be highly effective.
Dyson began the season 6'6″ and fresh off the most challenging competition of his playing career, the FIBA U19 World Cup. By the end of the season, Dyson reached 6'8″, comfortable in his body and improving in every aspect of the game. Below are the changes in Daniels' stats from Showcase Cup to the Ignite Tour.
| | | |
| --- | --- | --- |
| Stat | Showcase Cup | Ignite Tour |
| PPG | 11.3 | 12.8 |
| RPG | 6.2 | 8.2 |
| APG | 4.4 | 5.8 |
| FG% | 44.9 | 47.7 |
| 3P% | 25.5% | 36.8% |
With the improved performance and ever-growing body, Dyson's developmental track could be quicker and more impressive than expected. 
So how does he fit? Defensively is the easiest part to figure out, as not much improvement is needed for him to be impactful. As an on-ball defender, Dyson can excel in many situations. His screen navigation ability will be vital to guarding teams with a lot of motion. His swarming arms and quick hands caused plenty of deflections, both on-ball and in the passing lanes, and allowed him to trap ball-handlers.
Ignite often had Dyson float off his defender, helping Hardy with his guard target. This allowed Dyson to apply pressure to ball handlers by eating space, leading to him breaking up many passing lanes. His knack for getting back in transition could be vital to guard some of the younger teams in the league. Defensively, he has no problem finding the court and fitting into a system. The offensive end, however, has questions. 
The questions on his shooting, albeit understandable, should be surrounded by optimism. An 11.3% rise, with increased volume while growing throughout the season, has hardly any precedent. It's unrealistic also to expect Dyson, who is readjusting his form, to become an elite three-point shooter.
However, the league average would be more than passable with his offensive skills. A career 70% Free Throw percentage leading back to 2018 shows that his mechanics are still fixable and gives hope for progress. As an off-ball shooter, Dyson excels due to his ability to relocate into open space. His ability to attack closeouts or swing the extra pass also helps make him a passable off-ball player, even with the shaky jumper. 
In the halfcourt, the best way to utilize Dyson would be to create an initial advantage via some motion for him or another player and then get the ball to Daniels to make the play. If his teammate has an advantage, Dyson's ability to pass over the defense and get the ball to his teammates' spots puts him in the best position to attack the mismatch.
Against smaller guards, he is keen to take them into the post rather than try and go up and over them, an issue many big guards tend to have. Simply trying to outmuscle the more undersized guard can lead to live-ball turnovers or potentially offensive fouls—Dyson's willingness to put his back to the smaller guard forces the defense to collapse onto him instead, opening up teammates.
Rather than allowing him to iso, Dyson is best suited to attack a defense already on their heels. If he pigeonholes himself into a problem, which can occur when driving into the paint, having players who cut actively will benefit him the most. Cutters like MarJon Beauchamp helped give him an out in these situations, as Dyson was able to find passing gaps in the trap and hit him in stride. Using Dyson in an offense that focuses on motion and having multiple playmakers on the court will be the best way to utilize him offensively. 
Looking forward to Daniels' progression, it is hard to see him become a number one option. Part of it may go back to the "Academy Brain" and his pass-first mentality. However, inevitably it comes back to his inability to create separation outside of simply out-striding his defender and the current lack of trust in his jumper.
There's also the question, "what if the shot does not come around?" A sub 34% three-point shooter with a shaky handle is not one many teams would want on the floor. A player to look at is Matisse Thybulle, still managing to get 25 minutes a game on a contender because of his defense, despite being a 0 on offense. Luckily for Dyson, he, at the very least, is an extremely creative finisher and a great standstill passer.
If the handle is completely abandoned, Dyson can still use his quick strides to attack slower wings, and his pinpoint passes to hit players off of motions. He may not be the most effective player in this scenario, but an elite defensive player who can act as a connector and creative finisher is still an impactful player in the NBA. And with Dyson's current progression as seen over the last few years, betting against his development may not be wise.
With improvements to his shooting, self-creation from deep and mid-range, and a more aggressive mentality, Dyson could become the heliocentric engine many teams target. However, his current track as an elite defender who can repeatedly put teams on their heels on the offensive end is still a ceiling worthy of a top 3 pick.  
Despite the consensus that the top 3-4 players in the class are essentially locked, Dyson Daniels challenges this by being one of the most well-rounded prospects of recent memory. On my Big Board, Daniels sits third, behind Banchero and Holmgren and just ahead of Ivey and Smith.
Regarding Ivey, Dyson has the size advantage while also being the better defender, and I give him the edge overall as a playmaker. The two are close, and I believe that if a team is looking for a truer lead guard, then Ivey may be the choice. However, I prefer the result of what Dyson could be to what Jaden Ivey's progression could be. 
Then there is Jabari Smith. Smith is an elite shooter and one of the better defenders in this class, putting him in the #1 conversation. However, aside from that, everything else is based on minor flashes. Despite being considered the better shooter, Smith had worse splits than Daniels at the rim, in the paint, mid-range, and off the dribble. The only region that Smith shot more consistently than Daniels was from 3 (42%).
Still, Smith's lack of ability to create lateral separation and poor finishing are traits of a limited offensive player. Although this type of player has a high floor and can find a long-term NBA role, the ceiling is not very impressive. Similar players who were seen as 3&D uber-athletic wings with a limited offense like Jaren Jackson Jr and Mikal Bridges have struggled to add much to their offensive game.
Even Jaylen Brown, who has improved immensely, saw his lack of self-creation become a detrimental problem for the Celtics in the NBA Finals this past week. In terms of development, Daniels becoming a positive three-point shooter is a more realistic outcome to me than Jabari improving as a self-creator and playmaker for others.
The draft will be this Thursday, June 23rd, and the team that drafts Dyson Daniels should be excited for what's to come. Daniels' newfound size, skills, and feel for the game provide the making of a player who can impact winning in every aspect of the floor.
His age and immature body become non-factors on his ability to adjust, as his poise and high intensity will help him immediately impact the league. His ability to fit the modern movement of the NBA and play in any system convinces me that he can be a force on both ends of the floor in the league. Regardless of draft position, I expect him to outperform the consensus and become a star for years to come. 
Special thank you to @ChipJNBA, @Klaytheist11, @DavidSajdak8, and @DraftPow for their assistance in this article, as well as those whose YouTube videos were sourced.
Article was written by Neema Djavadzadeh. @FindingNeema23