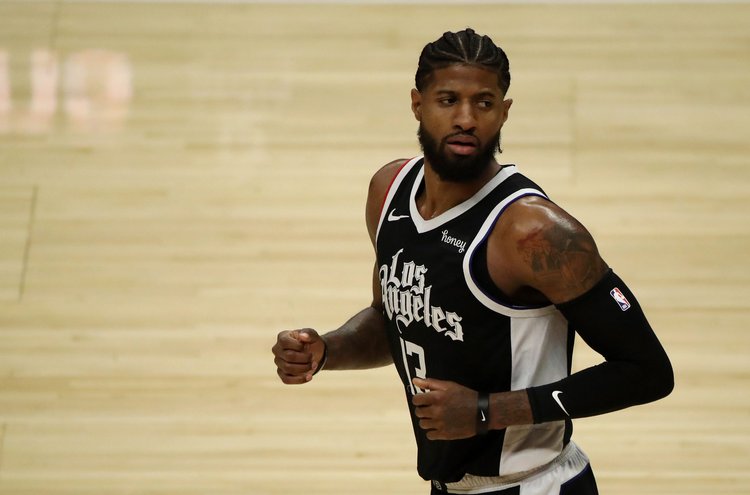 Over the last few years, Paul George's name and legacy have been a lot like a roller coaster. From a beloved up-and-coming superstar to a tragic injury, to playoff and "pandemic" P. Last season's playoff run to the Western Conference Finals with the Clippers silenced some of those jokes and slander. Although some choose to keep the same narrative, and others just flat out forget the things he's done in his career.
When he was drafted to the Indiana Pacers in 2010, there weren't a ton of expectations, but he had the size and athleticism that the new-look NBA was looking for. At 6'8, that meant he could play and guard multiple positions. In his first season, he didn't necessarily light up the world, but he did make the All-Rookie team. In his second season, he showed more flashes of being a really good player. He started all 66 games that he played, which was the lockout year, so that was every game.
All-Star
In just his third season, he became an All-Star and then started to take his place as the best player and number one option on the Pacers. He earned the NBA's Most Improved Player Award, averaging 17.4 points, 7.6 rebounds, 4.1 assists, and nearly 2 steals per game. His offensive repertoire took a leap, and you could see he was confident in his talent. He started to make plays off the dribble in isolation, pick and roll, and of course, in transition.
Budding Superstar
After a breakout season, he showed signs of becoming a superstar in the playoffs. He helped lead the Pacers past both the Hawks and Knicks in six games. He wasn't very efficient in these series, shooting under 30% from three and under 42% from the field. The turn came in the Eastern Conference Finals against the Miami Heat Big 3. Mainly because he was going head to head with Lebron James and had some memorable moments in the series that opened eyes. His dunk on Birdman is one of the best poster dunks in playoff history. That followed with a really cool moment with Lebron where they shook hands at half-court. He was just 23 years old at this point and had some obvious shortcomings and just couldn't get past them.
LeBron and Paul George in the 2013 Eastern Conference Finals. I miss this NBA pic.twitter.com/d5zFb0zBLa

— Hoops Videos 🎥 (@HoopsVids) November 19, 2018
In the 2013-2014 season, he played 80 games, raised his game to 21.7 points and nearly two steals. He led the Pacers to the first seed in the Eastern Conference and made his second All-Star game, All-NBA Third Team, and NBA All-Defensive First Team. They went to seven games in the first round of the NBA Playoffs against the Atlanta Hawks. His 30-point game in game seven pushed them to the second round. He averaged 23.9 points, 10.1 rebounds, 2.4 steals, shot 45.8 percent from the field, and 40.4 percent from three. Those were all higher than his season averages. After a gritty second-round win over the Wizards in six games, he was again looking at the Big 3 of the Miami Heat. His 24-point game gave them the first game, but he struggled a bit in games 2-4. In game five, he dropped 37 points to push the series to six and back to Miami, where it would end. He wasn't ready quite yet, but it was clear it wouldn't be much longer before he was.
.@Yg_Trece on how Playoff P was born against LeBron and the @MiamiHEAT. @KingJames #NBATwitter pic.twitter.com/AqvYp0iHtW

— SHOWTIME Basketball (@shobasketball) December 30, 2020
The Setback
George was playing to be named to the FIBA Basketball World Cup Team in the summer of 2014. His being there also meant the possibility of him playing on the USA Olympic Team. Unfortunately, on August 1st, in an intra-squad scrimmage, he broke his leg. He suffered a compound fracture of the tibia-fibula bones in his right leg. It was a gruesome and truly heart-wrenching moment to watch. Broken legs tend to take up to a year to fully recover.
The Comeback
He was back practicing by February. Yes, you read that right, February! He made his in-game return on April 5th, 2015. Obviously, he was not back to his pre-injury game yet, but to even be on the court at all is a win. He played the last six games of that season and reached his goal of coming back before the season ended. He played 81 of 82 games in the 2015-2016 season, which is insane in its own right. He averaged a career-high 23.1 points, along with 7.0 rebounds, 4.1 assists, and 1.9 steals. He made his way back to the All-Star game, All-NBA Third-Team, and All-Defensive Second-Team just one year removed from breaking his leg. The Pacers lost to the two-seeded Raptors in seven games in the first round. He had games of 39, 33, 28, and 26 points in the series. He had shown he could be the Paul George that was on the verge of becoming a superstar just a year prior.
paul george cooking everybody 1 on 1 at team usa.

a bucket pic.twitter.com/UZL9CXZNRD

— Paul George History (@pg13history) April 7, 2022
 Change of Scenery
After an up and down 2017 season, he decided he wanted to be traded from the Pacers. They eventually obliged, and he found himself in Oklahoma City with the Thunder and Russell Westbrook. It started off rocky, but it steadily improved with time. Another All-Star and All-NBA Third Team recognition for him. The playoffs are where you make your name, and many were (and still are) on the fence about George. He had three 30-point games in a series against the Jazz but had just 5 points in the deciding game six. The nickname Playoff P quickly became a meme and a running joke on Twitter.
MVP(G)
George's best season came in 2019, where he finished 3rd in MVP voting. He led the league in steals and made his sixth All-Star game, second All-Defensive First-Team and his first All-NBA First-Team. Again, the only thing that mattered, in the end, was the playoffs, and he both helped and hurt his case. While he played well, with two games over 30, and just one of the five under 25 points, Damian Lillard hit one of the most iconic shots of all time over him, and George's answer to it in the postgame conference was that it was a bad shot. More jokes followed from Twitter.
Back Home
An unexpected trade sent Paul George to his hometown of LA to play with fellow Californian Kawhi Leonard for the LA Clippers. Two of the best two-way players of their generation side by side, and this was clearly George's best chance to win a championship. They famously turned down playing with Lebron on the Lakers, sending social media and the NBA into a LA vs. LA frenzy. Covid-19 shut down the season, and then the players decided to play in a bubble. The chance for them to meet in the Western Conference Finals was there. His chance to finally get past Lebron. The first-round wasn't perfect; he struggled in games 2-4 but bounced back in game five with 35 points. They got through Dallas in six games.
Then something no one expected happened. The Clippers went up 3-1 on the Denver Nuggets, just needing one more win to move on to the conference finals. It would eventually be even 3-3 and would need a deciding game seven. The Clippers imploded, with costly missed open threes, turnovers, low effort, and energy. Again here come the jokes. Now it's "Pandemic P." It's hard to gauge the NBA bubble, players that played well get disregarded because there were no fans, then with others heavy slander and criticism. The bubble isolated these athletes from their families, outside living, and pretty much everything. Here's a look into how George was feeling inside the bubble.
Paul George opens up about the depression he dealt with in the bubble, and that he didn't sleep for a week.

Full Interview: https://t.co/hlMcPrDFRe pic.twitter.com/Bih1fkMnMt

— Farbod Esnaashari (@Farbod_E) February 23, 2022
 Redemption
The 2021 season was a chance for them to silence the jokes and change the narrative. The playoffs came around after another All-Star and All-NBA Third Team selection for George. Set to play the Mavericks again in the first-round which seemed storybook-like. They lost the first two games at home, then won the next two on the road. After they dropped game five at home again, they needed to go to Dallas for a win or go home for game six. While Kawhi Leonard had one of the best games of his career, George played his role to a tee as Robin to Leonard's Batman. The duo showed how elite they could be many times throughout the series, like when they came back from 19 down in the first quarter down 2-0 in the series in Dallas. The deciding game seven would be played in LA, and the duo once more showed their greatness. George had 22 points, ten assists, and three steals, while Leonard brought in 28 points, ten rebounds, nine assists, and four steals.
They moved on to face the one-seed Utah Jazz. Once again, they fell down 2-0 and were headed home to try to fight back into the series. George and Leonard both scored 31 points in game four, tying the series. Leonard got hurt in that game and didn't return for the rest of the playoffs. Which meant it was time for George to step up as the alpha male in the playoffs. He answered the call with 37 points and 16 rebounds in game five, and then 28 points, nine rebounds, and seven assists in game six. The two wins would send the Clippers to their first-ever Conference Finals.
They would play the two-seeded Phoenix Suns, who were the favorites, especially without Kawhi. People didn't expect a whole lot, but PG did not go down without a fight. While they did lose in six games, he had 34 in game one, came back in game three after missing free throws that could've won game two, and dropped 27 points and 15 rebounds. In game five, he scored 41 points, 13 rebounds, and six assists in a win. He showed he could get it done in the playoffs, and with his team healthy, they very well may have been in the Finals.
Perseverance
George battled through injury but showed to be a top 10 player in the league when healthy. The fact that he was back on the court even close to a superstar level after breaking his leg shows mental and physical toughness and heart. Most don't come back from an injury like that, let alone better than the player they were before. Paul George deserves his flowers, and deserves people's respect. His legacy and the narrative around him shouldn't be about a few games in the playoffs. Especially since when he plays great in the playoffs, people are silent. He is one of the best two-way players of his generation, and it's time people look at him that way.