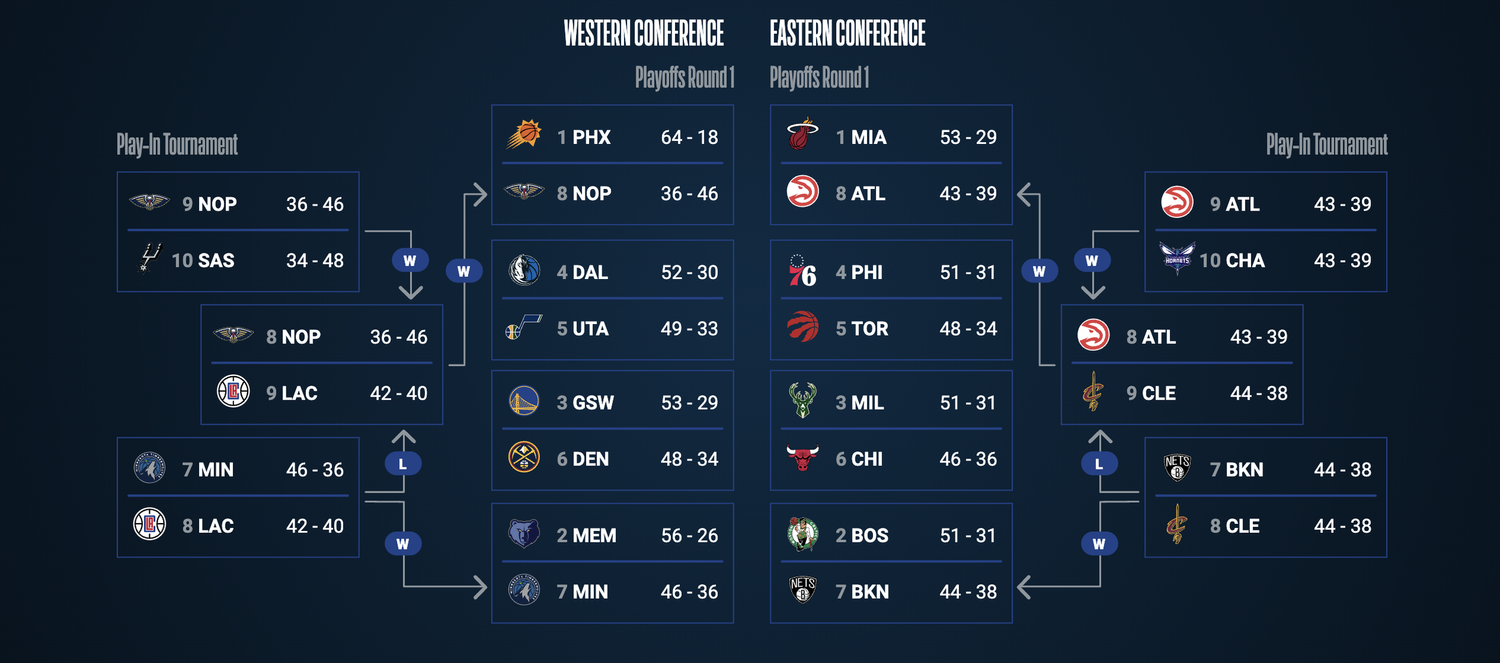 It's that time of the year again! The NBA Playoffs are back! After a rollercoaster season, chock-full of surprises, and an exciting play-in tournament, we can now look ahead to the official start of the 2022 NBA Playoffs. What a wonderful time of the year.
Follow along with us here at Multiplicity Media as our panel of experts and analysts will make predictions and break down matchups throughout the postseason.
To help kick things off; co-founder of Multiplicity Media Group and host of "Chaos & Conversation" Michael Lofton, Greg Waddell of Sleepers Media, reporter and Spotify Live NBA contributor Maxwell Millington, an anonymous contributor (he's scared of all the heat he's going to get when he turns out to be wrong), and myself will be taking a look at the Eastern Conference for the first round of the playoffs.
Miami Heat (1) v Atlanta Hawks (8)
Max: The Hawks have done the improbable again. Like last season, Atlanta has shaken off a slow start (28-30 before the All-Star break) to find themselves in the playoffs. But let's not kid ourselves. The circumstances are very different this time around. The Hawks aren't getting a "happy to be here" Knicks team that folded like origami under the bright lights (I'm talking to you, Julius Randle). Miami is a bonafide title contender with something to prove, and they should have no issue sending Ice Trae and the Hawks home quickly.
Prediction: Heat in 5
G: Miami earned the #1 seed in the East, but is anyone taking them seriously as a title contender? I'm certainly not – although I have immense respect for Spoelstra and the concept of "Heat Culture." Miami has too many guys with playoff experience..but they don't have the best player in this series. Trae Young, or as I like to refer to him, TRAE MUTHAFUCKIN YOUNG, has already taken this Hawks team to the Eastern Conference Finals. They had their ups and downs with injuries during the regular season, but I like what I saw in the play-in games, and guys like Kevin Heurter, Clint Capela, and Bogdan Bogdanovic aren't that far behind Miami's supporting cast. Give me the Hawks in an "upset."
Prediction: Hawks in 7
Larry: You won't find a bigger fan of Trae Young outside of the state of Georgia than myself. Ice Trae is a special player who has become one of the most exciting and electrifying players in the game. The problem is he has to face the vaunted Miami Heat. The Heat are loaded with tough, gritty NBA veterans who play intelligent and physical defense. To make matters worse for the Hawks, the Heat have one of the best basketball minds in the world running the show in Erick Spoelstra. Miami's size and physicality will prove to be too much for the Hawks, especially if Clint Capela misses significant time after hyperextending his knee in the final play-in game against the Cleveland Cavaliers. The Heat won the season series pretty handily, and while I expect this series to be a dogfight, the Heat should advance to the second round unscathed.
Prediction: Heat in 5
X-Factor: Hawks bench
Boston Celtics (2) v Brooklyn Nets (7)
Larry: Another classic case of defense versus offense. Yes, Tatum is a walking bucket, and to an extent, so is Jaylen Brown. But defense is the backbone of this Boston Celtics team. Although they still have Al Horford and Daniel Theis, not having Robert Williams' athleticism and rim protection for most of the series will be crucial for the Celts. The Nets don't have the defense acumen or the depth that the Celtics have, but they still have Kevin Durant, the best player in the world, and Kyrie Irving, one of the most gifted and skilled offensive players ever to grace a basketball court. Both teams have key players fasting for Ramadan, and it will be interesting to see if that affects their performance. Ben Simmons may make his first appearance with the Nets this series, but with or without him, Brooklyn should be able to advance past Boston, setting up a second-round rematch against the Milwaukee Bucks.
Prediction: Nets in 6
X-factor: Robert Williams
G: I spent three hours earlier this week on Spotify Live arguing that Kevin Durant isn't the best player on earth, and I don't feel great about that. But until you take the crown from the current king (Giannis had 50 in a close-out game in the NBA Finals and sent KD and his big toe packing last playoffs), you don't get that honor from me. Because I am a spiteful, vindictive person, I really want to pick Boston to win this series. But I have to be honest here – a healthy Brooklyn team shouldn't have trouble with Deuce's dad. And the basketball fan in me NEEDS the KD/Giannis rematch next round.
Prediction: Nets in 6
ML: The Celtics and Bucks tried their best to maneuver themselves in the standings to play the Chicago Bulls first, but just as important was to avoid the Nets in the first round. The Celtics went out and handled their business and, at one point, won 23 of 27 games and with winning at Memphis on the final game of the season to secure the two seed. It has secured them a date with the most gifted scorer in the game today, Kevin Durant, and one of the most skilled players to ever touch a basketball in Kyrie Irving. Despite this incredible duo's greatness and recent performances, it's time for the Celtics to get revenge. The difference between this year and last year isn't the rosters…It's about belief and cohesion. Coach Ime Udoka has provided a spark into the Celtics that has them humming at the right time, and the trust factor between the two Jays has reached another level. I think Kevin and Kyrie can win a game each by themselves. However, the Celtics, with Rob Williams returning in the middle of this series, will be the lift Boston needs to send Brooklyn home.
Prediction: Celtics in 6
X-Factor: Rob Williams
Milwaukee Bucks (3) v Chicago Bulls (6)
G: I love this Bulls team when healthy. I'll go to my death bed claiming Playoff Lonzo Ball will be a thing someday. But since it's not this year, we are robbed of what should have been a highly entertaining first-round series. I expect this to be a business-like approach from the defending champs, who are still the best team in basketball when they play to their ceiling. Giannis says please when he orders 50-piece chicken nuggets meals, so it will be a gentleman's sweep at worst.
Prediction: Bucks in 5
Max: The Bulls' first playoff appearance since 2017 should be a celebratory occasion for fans in the Windy City. Maybe it is, but the celebration will probably be short as the defending champion Milwaukee Bucks are expected to make quick work of their injury-riddled Central Division opponent. Speaking of the Central Division, I actually think Chicago wins at least a game due to familiarity. Fun fact: Chicago has a net rating of -7.4 since the All-Star break, yikes.
Prediction: Bucks in 5
ML: Since January 2018, the Milwaukee Bucks have won 16 of the last 17 games against their Central Division rival. To further emphasize the one-sided winning, the Bulls haven't beaten the Bucks when Giannis has been active since 2017. There is no evidence that would suggest that we will see something different than this dominating trend. Chicago hasn't been at full strength in some time. The unfortunate news of Lonzo Ball missing the rest of the season was a fatal blow to the Bulls' chances of extending their regular season bounce back by improving their win total from 31 wins to 46 in 2021-2022, becoming the sixth seed in the Eastern Conference. Brighter times are ahead, and hopefully, good health for the Billy Donovan-led squad. However, to quote the great color analyst and former NBA Champion Stacey King, "Too big., too strong, too fast and too good!" This is a perfect way to describe the Bucks when playing the Bulls. I couldn't have said it better myself. I like the Milwaukee Bucks in a gentlemen sweep, and then the Playoffs will begin for the defending NBA Champions in about ten days.
Prediction: Bucks in 5
X-Factor: Jrue Holiday
Philadelphia 76ers (4) v Toronto Raptors (5)
Larry: This is the one series that can go either way. While the 76ers have MVP-finalist Joel Embiid and James Harden running the show, they both have notoriously flamed out in the playoffs. Pascal Siakam and Fred VanVleet have been nothing short of stellar for Toronto all season, and I wouldn't expect that to change now. Especially not against this inconsistent Sixers team. In three games against the Sixers, Pascal Siakam is averaging 30.3 points, 8.7 rebounds, and 8.3 assists per game. It's also worth noting that the Raptors won three of the four regular-season matchups against Philly, two of which came after the Harden trade. This series will come down to which version of James Harden shows up. The Raptors will most assuredly double and triple-team Embiid, and the Sixers will need Harden to be aggressive and efficient if they want to advance to the second-round and beyond.
Prediction: Sixers in 7
X-factor: James Harden
Max: I'm told the Raptors "overachieved" this year even though they start an All-Star guard (Fred VanVleet), an All-NBA contender (Pascal Siakam), and a likely finalist for Rookie Of The Year (Scottie Barnes). I don't buy it, but it is unfortunate that Toronto has a first-round opponent with so much to prove this season. I think the Sixers can start fast, but the Raps aren't going down without a fight.
Prediction: 76ers in 6
Anonymous: What may be the most hyped-up first-round series in the 2022 NBA playoffs, the Toronto/Philly matchup seems like a trap for the championship hopeful Sixers. There's no doubt that's where the Sixers' mind is right now. But the task at hand is going to be a tough one. The Raptors' switch-heavy scheme is a matchup nightmare for the worn-down James Harden. And in past years, Nick Nurse has loved scheming against Joel Embiid. If Harden doesn't have an extra gear he can kick into, I think the Sixers are screwed.
Prediction: Raptors in 6 or 7
ML: This is exactly what a 4v5 matchup should look like. This is the only series that features two coaches that have an NBA championship as coaches. Multiple All-NBA players will be featured. Two of the best NBA fan bases in the entire league. This series has everything that you would want if you're a fan of the Association. The Raptors won the season series 3-1, but that isn't necessarily the precursor for what will transpire in this series. The 76ers have the two best overall players in the series, but I believe the Raptors have the next best 4. However, we know that defense travels in April-June, and the Raptors are elite in that area and have held Philly to under 90 before this year. It is imperative that the Sixers win their home games as they will be missing their best perimeter defender in Matisse Thybulle, who is only available for a maximum of four games of a possible seven. If Fred VanVleet can play, I like the Raptors in six. If he can't go, the 76ers will win in five, and we will see what two MVP caliber players will do together in their run towards hanging a banner. I think FV2 will play, and the Doc Rivers rumbles begin.
Prediction: Raptors in 6
X-Factor: Fred VanVleet