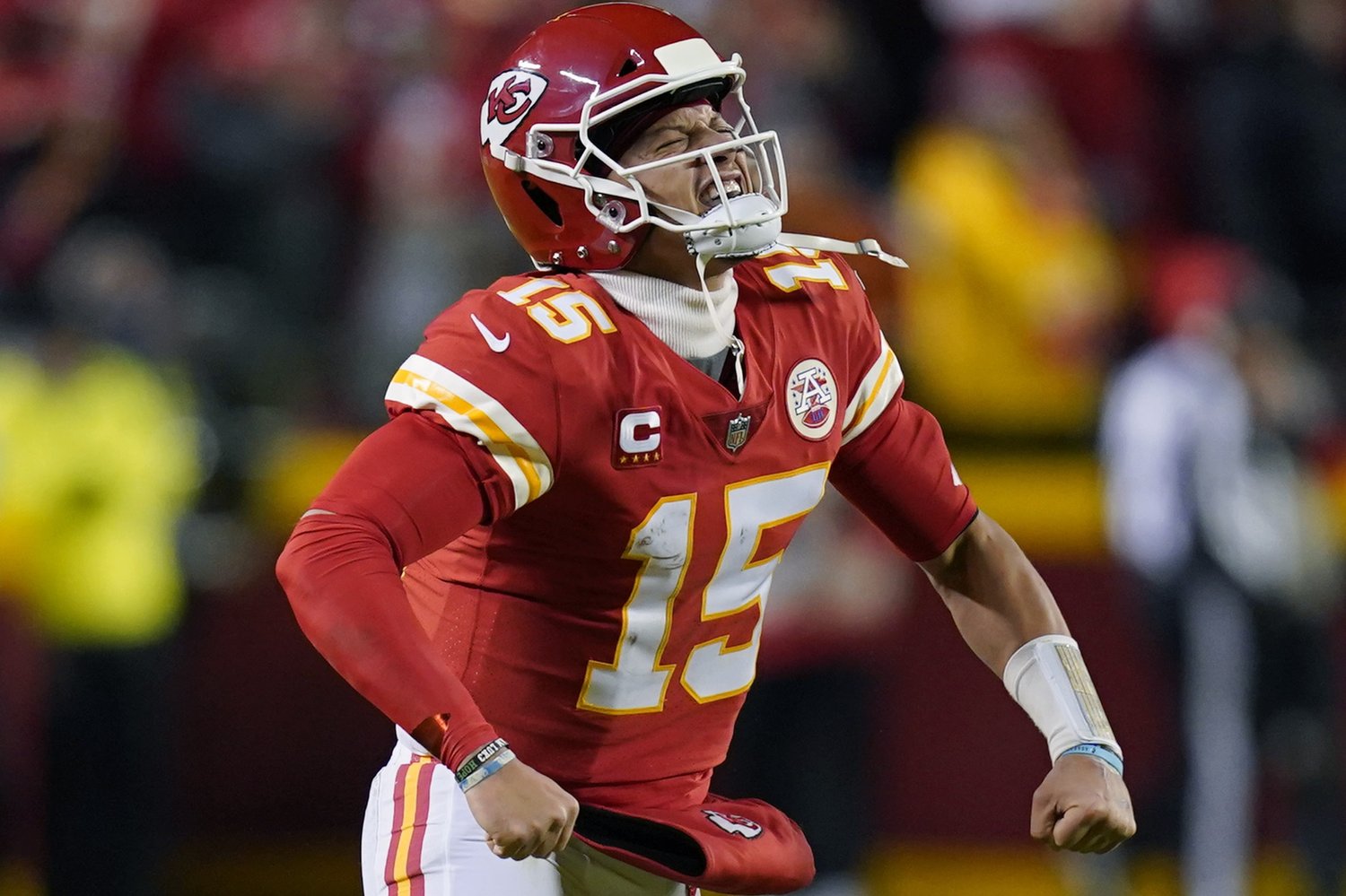 Check out what our experts predict the final score will be for each game during the Divisional round of the NFL playoffs.
Our NFL experts are back to give picks for the Championship Round of the Playoffs. Here's how each of our writers fared with their picks in the playoffs so far.
Alexa (Lexi) Wester: (WC: 5-1), (Div: 2-2), (Overall: 7-3).
Greg Waddell: (WC: 5-1), (Div: 3-1), (Overall: 8-2).
Xavier Santos: (WC: 4-2), (Div: 4-0), (Overall: 8-2)
Maxwell (Maxweezy) Millington: (WC: 6-0), (Div: 1-3), (Overall: 7-3).
———
Bengals @ Chiefs – Sunday, Jan. 30 – 3:00pm
Xavier: This game comes down to Cincy's ability to pass protect. Each week, I've stated their offensive line is the team's weakness and capable of taking down Joe Burrow and his impressive group of skill position players. I expect Zac Taylor will mix in a healthy dose of screens and early down runs in an attempt to slow down the KC pass rush and win the time of possession battle.
Normally, their offense is potent enough to go score for score with just about anybody. This week, however, they face the inevitable Patrick Mahomes. The best defense against the former MVP is to ensure he doesn't see the field. Even then, we've seen what he's capable of doing with 13 seconds on the clock. I don't see a way the Bengals win this game unless KC beats themselves.
That possibility isn't completely out of the question. We've seen the Chiefs commit untimely turnovers and costly mistakes. It will take that sort of game for Cincy to have a chance.
Ultimately, betting on the Chiefs to beat themselves isn't a sound betting strategy. It's Pat Mahomes' world, and we are all just living in it.
Score Prediction: Chiefs 34, Bengals 27.
Lexi: What an insane divisional round of games to get us to this matchup! One of the best weekends in post-season football that I can remember. Joey B and his crew already outlasted the Chiefs a few weeks ago with a memorable game-winning field goal, but there's nothing that is promising to me that they can beat them twice in one season.
Patrick Mahomes is a quarterback God and is the future and face of the NFL. 13 seconds was all it took to march down the field against a solid Bills defense to win their divisional game last weekend. They have found their chemistry at the perfect time, and as much as I adore the Burrow-Chase connection, it ends this Sunday at Arrowhead Stadium. The Bengals won't make this a cakewalk, but it will be a two-score victory for the Chiefs.
Score Prediction: Chiefs 42, Bengals 28.
Maxweezy: It'll be hard for any game to be as iconic as last week's Chiefs/Bills divisional-round matchup, but this one might be pretty fun too. Cincinnati beat Kansas City earlier this month in Paul Brown Stadium on a walk-off Evan McPherson field goal, and this game has a chance to look very similar.
The Bengals' offensive line has to have its best game of the year to give Joe Burrow a chance to make plays — and I have all the confidence in the world that he can. Cincy was 8-3 this season when they allowed less than five sacks. Cincinnati's defense against Tennessee was encouraging, but the Patrick Mahomes that struggled in the midst of the regular season is long gone, so I'm not banking on the Bengals to contain him.
It might be an oversimplification, but I have to go with the better QB, better coach, and more complete, and experienced roster. The Chiefs will win, but like all of the divisional round games, I expect this game to be won on the last play.
Score Prediction: Chiefs: 40, Bengals: 38.
Greg: I'd like to take this paragraph to pat myself on the back that both my pre-Playoff Super Bowl teams are still standing. I'll be riding those two yet again. Unfortunately, last week was the real treat…I have a feeling this week will feel a bit like getting served a side salad immediately after finishing a steak dinner.
Now that we got that over with…I love the Bengals. I don't see them getting walked all over, and the Chiefs are always susceptible to falling behind early. This feels like a game where Joe Beezy marches down the field, gets the Bengals a 7-0 lead, and then the Chiefs remember they're the Chiefs and Pat Mahomes does the "most talented quarterback to ever play the game" thing and by the early 4th quarter we're all taking a nap.
Score Prediction: Chiefs 42, Bengals 20.
49ers @ Rams – Sunday, Jan. 30 – 6:30pm
Xavier: I predicted the Rams would represent the NFC in the Super Bowl and have no desire to watch Jimmy G attempt to execute a watered-down version of Kyle Shanahan's offense. I couldn't possibly be rooting harder for a team (the Rams) that isn't my own. And yet, it's impossible to ignore Kyle Shanahan's track record against his former understudy Sean McVay. Shanahan is 6-0 the past 3 years and some of those games weren't particularly close.
The Rams did have success in the most recent game between the two but a coaching mistake set off an unfortunate chain of events that led to Los Angeles giving up a 17 point lead and ultimately losing. The Rams experienced a similar meltdown last week in their game against the Tampa Bay Buccaneers. Everything that could go wrong did, before Stafford connected with Cooper Kupp to set up the game-winning field goal.
Kyle Shanahan, on the other hand, is not immune to second-half collapses and has been on the wrong side of some incredible comebacks. This game is going to break our brains. We are going to experience some of the worst coaching decisions by some of the best coaches the game has to offer. There will be turnovers. There will be costly mistakes. Ultimately, I think the Rams do just enough to hang on and advance to the Super Bowl.
Score Prediction: Rams 27, 49ers 24.
Lexi: Even though I had Tom Brady and the Buccaneers winning last weekend, I can't deny that my heart was happy for Matthew Stafford. He deserved that win and in a fashion that he seemed to frequently do in Detroit, just in less important games. The way he was running down the field, screaming "Clock it!", all I heard was "RILEY!" The exact phrase he used in a similar game-winning fashion against the Cowboys in 2013. Much like last weekend, Stafford is going to lead his team with pride until the clock strikes 00:00.
As for the 49ers, who knew they could get this far with Jimmy G at the helm? I have to give him credit for being able to lead his team to victories in the postseason. He doesn't always make the best decisions in games, but it's worked out well for him so far.
The Niners also had an incredible run game against the Rams in November, which ultimately led them to a 21 point victory, but it's hard to beat a team twice especially with as much talent as the Rams have. But I love chaos, I love the underdogs. I also love the Niners defense in this game.
The last three weeks for LA has relied on Stafford taking care of the ball, but Bosa and his 3rd ranked defense put an end to the fairytale for Stafford. I think Kyle Shanahan gets his team to another Super Bowl.
Score prediction: 49ers 38, Rams 31.
Maxweezy: As the cliche goes, it's hard to beat a team three times in one season. But will the 49ers (and more specifically Kyle Shanahan) really have a hard time beating a Rams team they've bested in the last six matchups?
Despite the fact that San Francisco has made it this far, it feels like this team is only hanging on by a thread. Jimmy Garoppolo was just good enough to beat the Cowboys but almost cost his team the game in the final moments. Facing the Packers in Lambeau, Garoppolo threw for 131, one interception and was sacked four times. That downward trend doesn't inspire me considering the quarterback on the other side is gaining confidence after a big win over the defending Super Bowl Champs.
This game could come down to who does the best job at protecting the QB. The Rams allowed more sacks than the Niners in both regular season matchups and San Francisco doesn't have to blitz to get pressure on the quarterback. If the Rams offensive line holds up their end of the bargain I don't see a scenario where the Niners score more points than Los Angeles.
Score prediction: Rams 28, 49ers 17.
Greg: CLOCK IT! CLOCK IT! HURRY! CLOCK IT! Lions fans like myself had flashbacks during Stafford's heroic rush to spike the ball. In the midst of the Rams' team-wide meltdown against a far inferior Buccaneers team last week, while everyone on the roster appeared visibly terrified, Matthew Stafford appeared calm.
Because he has been there before. He's seen chaos and mayhem and ineptitude up close and personal, and he's dragged horrible football teams out of holes that competent franchises can't even imagine. But this Rams team is far from horrible, and god forbid…if Stafford gets the ball within a score with 2 minutes left, you already know what will happen.
Enter the 49ers, who have earned their own good fortune during this playoff run. I won't look down on Jimmy G anymore; what the Niners have around him is enough to complete this run with Handsome Rex Grossman at the helm. But the Rams feel like destiny, and they have been utterly dominant for 6 of 8 quarters this postseason…I'm guessing we see more of that.
Score prediction: Rams 38, 49ers 21.

Follow us on Twitter @MultiplicityMG