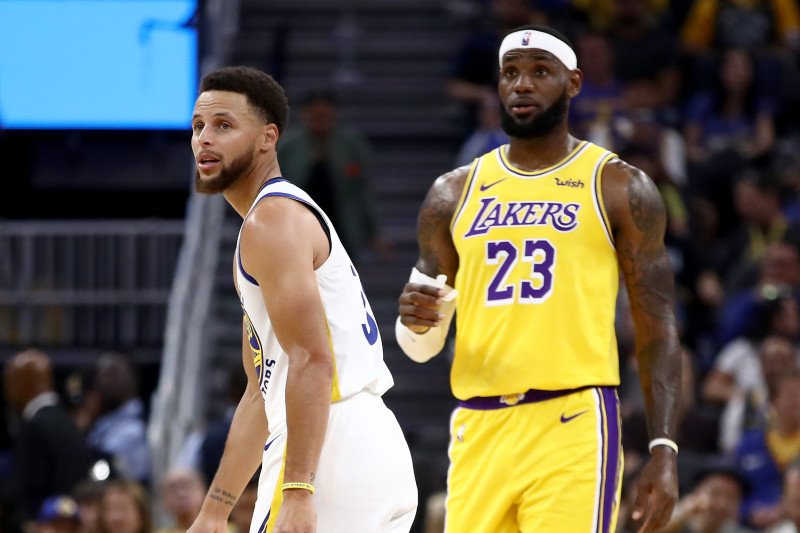 This NBA season has been a wild ride, and we're just reaching the halfway point. It's been another drama-filled season with so many different storylines and narratives. The star character changes every day. It's been fun so far. Well, I guess that depends on what team you root for. If you're a New York Knicks fan like myself or a fan of the Orlando Magic, Boston Celtics, or even the Brooklyn Nets, this season has been painstakingly brutal with very few positives to take away from it.
Sometimes fans and even the media and NBA front-office executives can have unrealistic expectations of a team but realistic or not. We all still selfishly expect them to meet our expectations, if not exceed them.
For example, many Knicks fans expected this team to exceed their projected win total (myself included…Carter, you gonna have to get your money in blood) and make another playoff appearance. Some even expected this team to make it out of the first round. Judging by the outcry in the virtual Bellevue hospital known as Knicks Twitter, fans are unhappy that the team is not meeting their UNREALISTIC expectations.
With the trade deadline one week away and All-Star weekend two weeks away, and just about every team having played approximately 50 games, now is as good a time as any for us to start giving out mid-season report cards. Starting with the Western Conference
Northwest Division mid-season report cards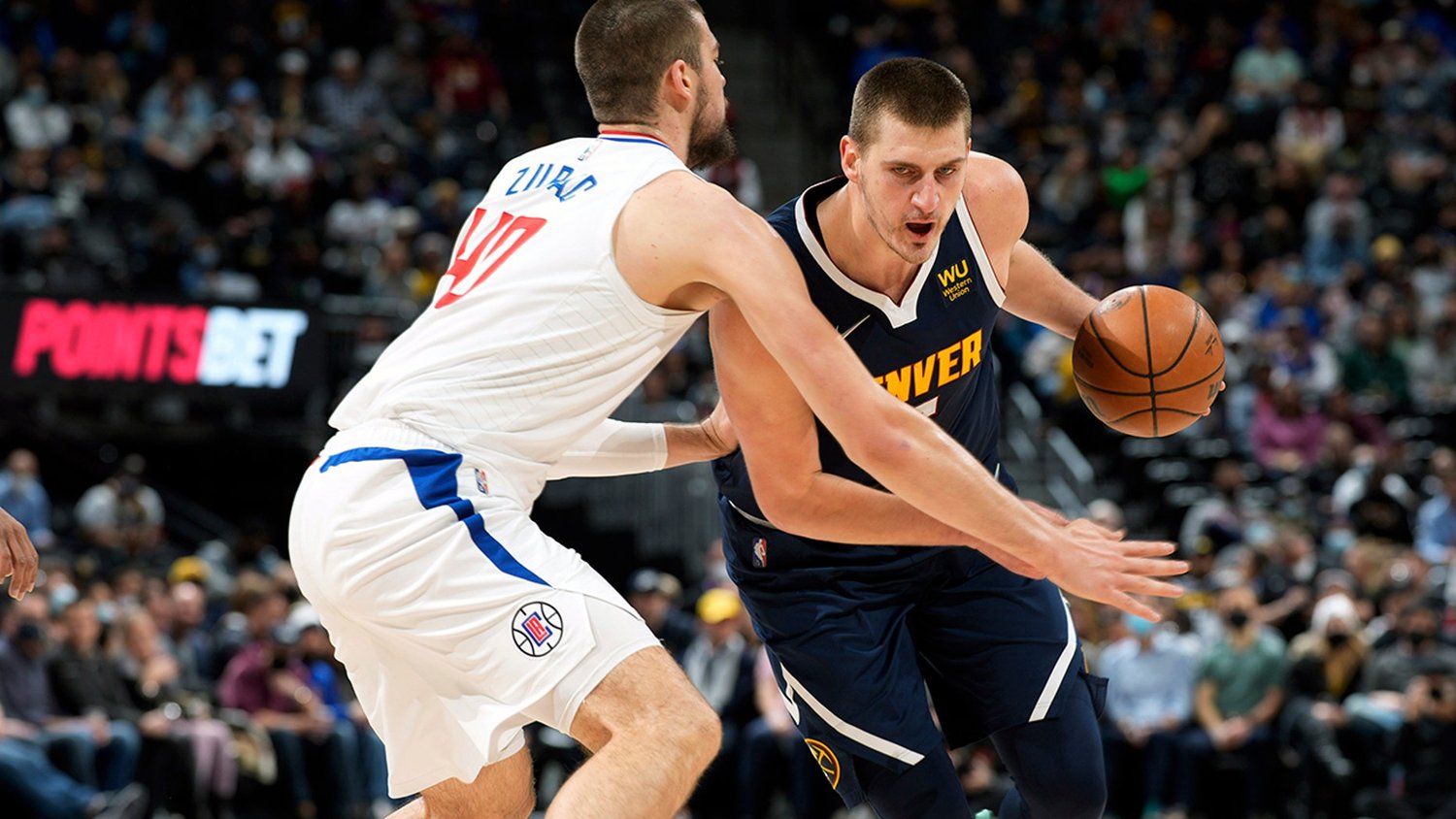 Utah Jazz (31-21)
The Utah Jazz have taken a significant step back after finishing the 2021 season with the league's best record. Outside of Rudy Gobert, the defense has been a mess. Landing outside of the top ten in defensive rating (DRTG) for just the third time since Quin Snyder took over as the head coach in 2014. The relationship between Gobert and Donovan Mitchell is as frayed as ever, with the shot-blocking Frenchman calling out his teammates for not playing defense.
The Jazz also hasn't been as lucky shooting the three-ball as they were last year. In 2021 the Jazz shot 38.9 percent on 43 3-pointers per game; with virtually the same roster, that number is down to 36.2 percent on three fewer attempts per game.
They've also dealt with their fair share of injuries and lost players to health and safety protocols. Key players like Mitchell, Gobert, Mike Conley, and Rudy Gay have all missed significant time, and they recently lost Joe Ingles for the rest of the season with a torn ACL.
Still, Utah has the league's best offensive rating (ORTG) and is ten games above .500 and in fourth place of the Western Conference. The loss of Joe Ingles will only make the road to glory considerably more onerous, but they still have the assets to make a move before the trade deadline and improve the team's outlook.
Grade: C
Denver Nuggets (28-23)
What Mike Malone and Nikola Jokic have done this season is nothing short of remarkable. If you had told me before the season started that the Denver Nuggets would be without Jamal Murray and Michael Porter Jr. and still be above .500 and in playoff contention, I would've called you bat-shit crazy. Yet here we are.
Led by the reigning league-MVP, the Nuggets currently sit in sixth place of the Western Conference, just one game behind the Utah Jazz for the fifth seed. The most glaring issues for this team have been horrendous 3-point shooting and lack of scoring outside of Joker. Of all the players in the NBA to start at least 40 games this season, only Giannis Antetokounmpo (36.5), Ja Morant (33.1), and Trae Young (33.0) are responsible for a higher percentage of his team's points than Jokic (32.9).
This Nuggets team could make a deep push in the playoffs if they can make another move or two before Murray returns from injury. General manager Tim Connelly recently traded for Bryn Forbes to surround Jokic with more shooting. They still have players on moveable contracts along with draft capital to go out and add to this roster.
Grade: B-
Minnesota Timberwolves (26-25)
The Minnesota Timberwolves are one of the more polarizing teams in the league. Many wishful thinkers believe they are a piece or two away from contending, while many detractors believe the Wolves won't win anything as long as Karl-Anthony Towns is on the roster. Regardless of what side of the fence you fall on, it's hard to deny that this Timberwolves team has finally turned a corner.
Anthony Edwards has been a revelation for Minnesota fans as he develops and improves upon an impressive rookie campaign last season. He's currently averaging 22.3 points, 5.0 rebounds, and 3.7 assists 35 minutes per game while posting shooting splits of .443/.363/.807. Most importantly, Towns and D'Angelo Russell have been relatively healthy simultaneously, for the first time since the Timberwolves traded away Andrew Wiggins in exchange for the latter back in 2019.
Edwards, along with D'Angelo Russell and Kat, all average at least 18 points per game while shooting at least 35 percent from 3-point range. The problem for Minnesota is that nobody else on the squad can really be relied upon to put the ball in the hoop or shoot efficiently from behind the arc.
Currently sitting in seventh place of the western conference, the Timberwolves are set to participate in the Western Conference play-in with a real chance of making the playoffs for the first time since the 2017-18 season. While they are still far from being a true contending team, they have the pieces to pull off a massive trade and show their franchise cornerstones they are serious about building a winning culture.
Grade: B-
Portland Trail Blazers (21-31)
It all started that fateful summer day in June of 2021 when the Portland Trail Blazers officially hired Chauncey Billups to replace Terry Stotts as head coach. Since then, this whole organization has been a shit-show. Nearly six months after Billups was hired, general manager and President of Basketball Operations Neil Olshey was fired for violating the franchise's code of conduct.
There have been rumors of superstar point guard Damian Lillard's growing discontent and unhappiness with the franchise and the possibility of a trade request. Lillard is currently out of the Blazers' lineup as he continues his rehabilitation from abdominal surgery. CJ McCollum has missed significant time with a collapsed lung. And let's be honest, the Trail Blazers reached their ceiling with Lillard and McCollum running the show a long time ago.
The writing has been on the wall for a few years, and it's time to blow this team up and rebuild. Still, this team doesn't appear to be sellers as the trade deadline nears despite having expiring contracts that can bring back real value in a trade. It's time to trade Jusuf Nurkic and Robert Covington before becoming unrestricted free agents.
Currently ten games under .500, the Trail Blazers are at real risk of missing the playoffs for the first time in nearly a decade. Even if they make it to the postseason, the likelihood of making it past the first round is slim-to-none. While going into rebuild mode will almost certainly bring an end to "Dame Time" in Portland, at least the franchise will finally have a sense of direction instead of continuing this fight to stay a middle-of-the-pack team.
Grade: F
OKC Thunder (16-34)
Everyone with eyes and ears knows that the OKC Thunder are all-in on taking and rebuilding. As was the case last year, this season is all about development. The Thunder have the worst offensive rating in the league (102.1), but this young roster has played exceptional defense more often than not, ranking 11th in the NBA with a 108.7 defensive rating.
Shai Gilgeous-Alexander has been very inconsistent this season, but he's played well of late, averaging 25 points, 6.6 assists, and 5.5 rebounds over his last ten games. It's also worth noting he has struggled mightily from 3-point land, shooting a career-low 27.8 percent from behind the arc on the season. Lugentz Dort has continued to look like a steal for the Thunder. He has made a name for himself on the defensive end, but he's averaging a career-high 16.4 points and 4.2 rebounds per game. He's also improved his free throw shooting, converting 86.5 percent of his attempts from the charity stripe.
The Josh Giddey pick certainly looks like it was the right move. He's a horrible shooter, but he's a fantastic playmaker and already a solid defender. He has 11 double-doubles on the season; in early January, he broke the record for the youngest player to notch a triple-double, and he's been named Western Conference Rookie of the Month in each of the first three months of the season.
Sem Presti seems to have his building blocks in SGA and Giddey, and with a treasure trove of draft picks over the next six years, anything is possible, and the Thunder have a bright future.
Grade: C+
Pacific Division mid-season report cards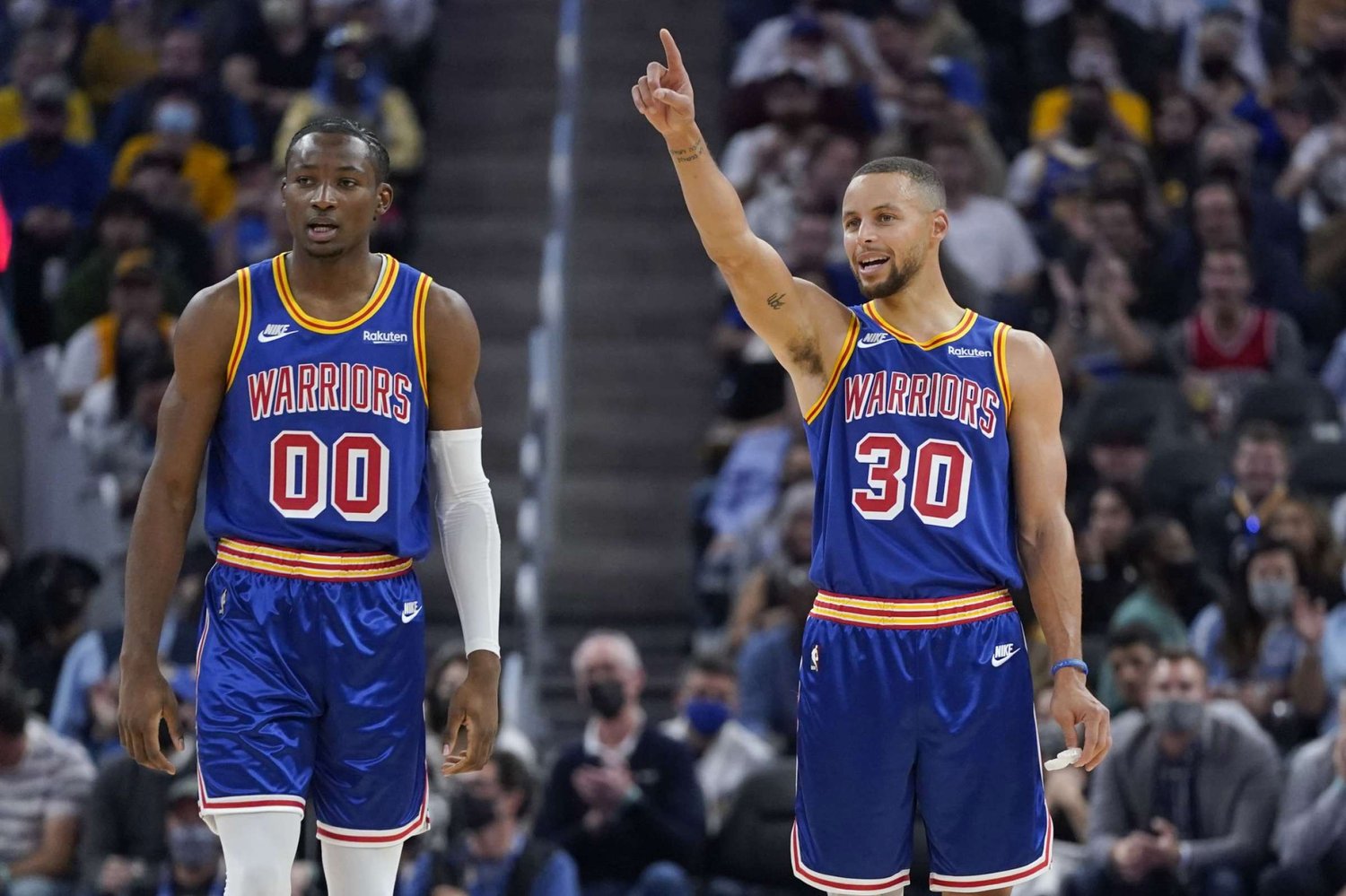 Golden State Warriors (39-13)
Spoiler alert! Only three teams received an A grade in this exercise. The Golden State Warriors are the first on that very succinct list. They got off to a red-hot start, winning 18 of their first 20 games and currently boasting the league's second-best record (39-13). The Warriors are looking like title favorites again, even after a cooling-off and coming back down to earth.
Klay Thompson is finally healthy, playing NBA basketball for the first time since 2019. The Warriors have the number one defense in the league (103.2 DRTG), and that's with Klay only playing in 10 games so far. Defensive anchor Draymond Green has also missed significant time, appearing in 34 of a possible 52 games this season, and isn't expected to return until after the All-Star break.
Curry looked like the runaway MVP for the first two months of the season but fell into a shooting slump where we saw him shoot 32.9 percent three and 38.5 percent from the field overall for the month of January. Despite Curry's slump and not playing a single game this season with a fully healthy roster, the Warriors are pretty much a lock to have home-court advantage in the playoffs, and they're starting to get healthy at the right time. The Warriors were projected to win 48 games this season. They already have 39 wins with 30 games left on their schedule.
If Steph returns to MVP form and Klay can be 75 percent of what he was before all the leg injuries, the rest of the league is in trouble.
Grade: A
Los Angeles Lakers (25-27)
Oddsmakers thought the Los Angeles Lakers would be great this year as if they didn't trade for Russell Westbrook in the offseason. Despite being the target of many jokes because of how old the roster is, many people thought they would get some variation of the "Showtime Lakers," but what they've gotten instead is the "Shit Show Lakers." Vegas Insider had the Lakers season wins total at O/U 52.5 games.
Meanwhile, they currently sit in ninth place of the Western Conference, three games below .500. I never thought I'd see the day where a team with two 20-plus scorers and five players averaging double figures would be a sub-.500 team midway through the season, yet here we are.
In their defense, the Lakers have a lot of new faces on the roster, and they've been getting bit by the injury bug all season. Anthony Davis has already missed 21 games, LeBron James has missed 16 games and counting (currently out of the lineup with a lingering knee issue), Talen Horton-Tucker missed the first 13 games of the season nursing a torn ligament in his finger, and free-agent acquisition Kendrick Nunn has yet to appear in a single game for the Lakers. In fact, the Lakers have had 22 different players appear in a game this season; only four of them have played in at least 40 games.
Still, almost every team has dealt with injuries and health and safety protocols, so it's not a valid excuse for a team that was viewed as favorites to come out of the West to be under .500 with just about 30 games left in the season, especially when teams like the Los Angeles Clippers have been without their two best players for the majority of the season.
This season, LeBron has been playing out of his mind (which probably led to his abdominal and knee ailments), but it hasn't been enough to win the Lakers games. They have no real 3-point shooters besides Malik Monk and Carmelo Anthony, both of whom are inconsistent, and they don't have any assets to improve the roster.
It's almost comical watching this whole situation unfold in Laker Land. To think, the Lakers could have had sharpshooting Buddy Hield on a much smaller salary, but Lebron nixed the deal in favor of Russ. Now Westbrick is the center of every trade rumor involving LA.
Grade: F
Sacramento Kings (19-34)
The only reason why this circus act of a franchise doesn't get an F is that they finally did something right when they fired Luke Walton. Granted, he should've been fired in the offseason (probably should have never been hired if you really think about it), but the fact that he's no longer on the sidelines crushing his players' confidence is a win in my book.
Tyrese Haliburton has played fantastic basketball all season and seems to be the player the team should be building around instead of De'Aaron Fox. He is ready to take over the team and run the offense full-time. Still, the Sacramento Kings being who they are, have no intention of moving on from Fox despite his lack of progression and his inability to lead a competent offense. Not to mention, Fox is one of the few starting point guards in the league that hurts his team's spacing with his terrible perimeter shooting.
This team has had no direction, looking like a chicken with its head chopped off, since they blew up the team nearly two decades ago, and the Maloofs were still running amuck. The Kings have many assets that can bring back a ton of value and building blocks, but the front office seems to have too many loose screws to do anything before the deadline. 16 games under .500 one week away from the trade deadline, it's time for the Kings to have a fire-sale, move everyone with value except Haliburton and rookie Davion Mitchell, and truly embrace a rebuild.
Grade: D
Los Angeles Clippers (26-27)
Despite missing their two stars for most of the season and a poorly constructed roster composed of cast-offs and misfits, the LA Clippers are 26-27 through 53 games and remain in the playoff race. Paul George hasn't played since Dec. 22nd after partially tearing the ulnar collateral ligament (UCL) in his shooting arm, and sadly, we probably won't see Kawhi Leonard play basketball this season.
Although the Clippers have a bottom-five offense, they are a scrappy bunch that ranks sixth in defensive rating (103.2). It's evident this Clippers team will run through a brick wall for head coach Tyronne Lue, and that's the biggest compliment you can pay a head coach. I must admit I'm impressed. I expected the Clippers to be a play-in team, but that was with a healthy George. They've managed to hover around .500, going 13-15 without the 12-year veteran this season.
Grade: B-
Phoenix Suns (41-9)
Many fans around the world felt like Phoenix Suns head coach Monty Williams was robbed of the Coach of the Year award, but he's in the perfect position to win the award for the first time in his career. They brought back a nearly identical roster this season, but they've taken another step forward as a unit.
The Suns have the best record in the NBA at 41-9 through fifty games, and after going 16-0 in November and 13-1 in January, the Suns became the only team this season with a winning percentage of over .900 in two different months. They also went undefeated on the road in November and January, making them the only team in NBA history to go undefeated on the road in multiple calendar months in a single season.
As the best player on one of the best teams in the league, Devin Booker has cemented himself as a star in the NBA. He averages 25.4 points, 5.5 rebounds, and 4.3 assists on respectable .445/.380/860 shooting splits this season while leading the third-highest scoring offense and number one team in the league.
At 36 years old, Chris Paul is the healthiest he's been since the 2015 season. He's played every game this season and is the league leader in assists (10.4 per game). CP3 has dished out 74 more assists than anyone else in the league.
Grade: A+
Southwest Division report cards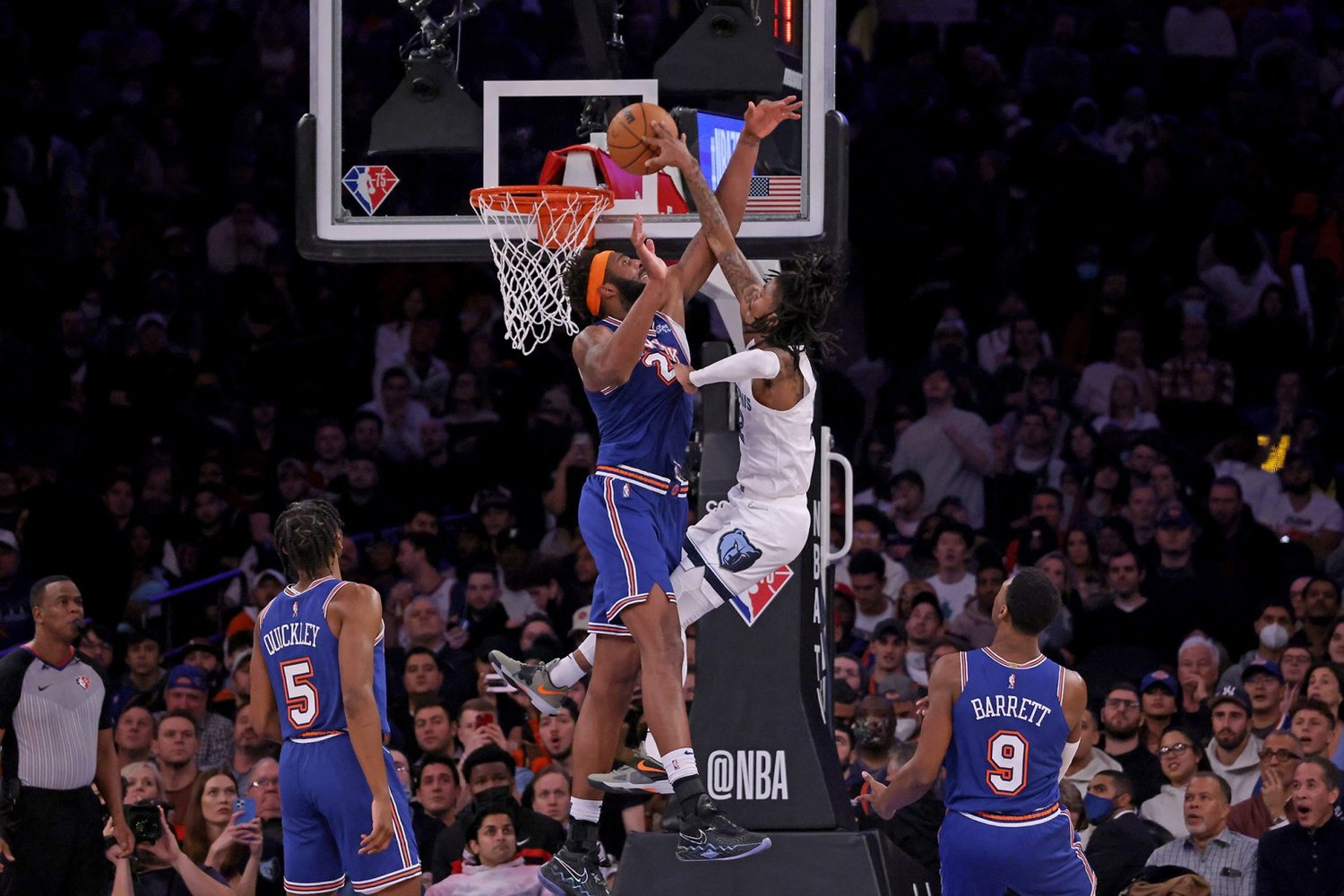 Dallas Mavericks (29-23)
I'd be lying if I said I didn't have my doubts about the Mavericks this season. There were so many question marks coming into the season, especially after the controversial hiring of head coach Jason Kidd. The roster is nearly identical to last year's, and let's be honest, the Mavericks roster has been ass for the last few years and has stunk it up without Luka Doncic in the past. And they've continued to do just that this season. The Mavs are 23-14 in the games that Luka has played but are just 6-9 when he's been sidelined.
Not many people other than delusional Dallas fans expected this team to be very good, but we all expected Luka to be the wonder kid he's been and carry them to the playoffs. Ask any Mavs fan, and they'll tell you Luka hasn't played up to standard for most of the season.
Gone are the days of the Mavericks looking like a bunch of traffic cones on defense. This Mavericks team doesn't pack the offensive punch it once did, falling from a top-ten offense in the past two seasons to a bottom-ten offense. But they make up for it on the defensive end. Over the last two seasons, with Rick Carlisle at the helm, the Mavericks defense never ranked higher than 18th in the league. In the first season under Kidd's watch, they have turned the defense around, jumping from the 20th ranked defense last year to the fifth-best defense this season.
What I find most impressive is that Kidd has Kristaps Porzingis playing his best basketball since before he tore his ACL playing with the New York Knicks. KP is a matchup nightmare when healthy and utilized correctly and can wreak havoc on opposing frontcourts.
Sitting in fifth place with a 29-23 through the first 52 games of the season, Dallas is a near-lock for another postseason berth and a near-lock for a first-round exit. Dallas recently lost Tim Hardaway Jr for the remainder of the season with a fractured foot, and Porzingis is dealing with knee soreness (no surprise there). The sad part is they don't have any tangible assets to upgrade the roster around Luka.
Grade: B
Memphis Grizzlies (36-18)
Ja Morant is having a monstrous breakout season in his third year in the NBA. He has scored at least 30 points in 14 games this season, including three games where he scored 40 points. Morant is also in the midst of a seven-game streak where he's scored at least 30 points. He had the highest-scoring triple-double in franchise history when he recorded 30 points, 10 rebounds, and 10 assists against the Utah Jazz.
The Murray State product averages career-highs in points (26.3) and rebounds (5.9) per game. Coupled with his increase in scoring output, the 6'3" point guard is having the most efficient season of his career, posting .486/.342/.759 shooting splits. All of this has led to Morant being voted as a starter in his first All-Star game this year.
Jaren Jackson Jr. has taken another step forward in his development, and Desmond Bane has been a pleasant surprise as well. Bane is only in his second year and already looks like one of the best shooters in the league. JJJ has been healthy, and it seems like he learned how to play defense without fouling as often.
When Morant got hurt earlier in the season, the Grizzlies went 10-2 in his absence. They're currently in third place in the western conference and continue to shatter every expectation. Morant is a bonafide star, and Memphis' timeline has sped up a bit with his rapid ascension. Not sure there's anything they can do to beat Golden State in a seven-game series, and they're not quite at their championship window, but the Grizzlies have the assets to pull off a move and upgrade the roster around Ja and continue on this trajectory.
Grade: A-
San Antonio Spurs (19-33)
The San Antonio Spurs are another team that doesn't really have a plan and is just doing everything on the fly. 19-33 on the season, there isn't much to like about this Spurs team. They have the 15th best ORTG and rank 20th in DRTG with a 0.0 net rating (NRTG).
The good thing is Keldon Johnson has continued to improve, shooting 44.1 percent on 3-pointers this season, and Dejounte Murray has finally started to display the skills that made him a first-round pick in 2016. Murray is having the best statistical season of his career, averaging career-highs in points (19.6), rebounds (8.5), assists (9.1), and steals (2.0) per game. As of Jan. 31st, he has the fourth-best odds to win the Most Improved Player award.
They already traded Bryn Forbes in exchange for Juancho Hernangomez and 2028 second-round pick, and they have some more players who can help a contending team that could be on the move before the trade deadline. Will the Spurs fully embrace the rebuild and trade away all their players of value? Or will they continue to be another bottom feeder fighting for a spot in the play-in games?
Grade: C+
New Orleans Pelicans (19-32)
The New Orleans Pelicans have been a disaster as well. Off-season foot surgery has kept Zion Williamson sidelined all season, and it's possible he will miss the entire season as he struggles with his rehabilitation. David Griffin has proven he's an incompetent general manager and has no place in an NBA front office. He has yet another disgruntled star on his hands and continues to make horrendous transactions that constantly backfire or leave you scratching your head.
First-time head coach Willie Green has done all you could ask of him with this clunky roster. Besides Brandon Ingram, Josh Hart, and Jonás Valancuinas, the Pelicans don't have anyone on their roster that should be an NBA rotational mainstay.
With all that being said, New Orleans is only 1.5 games behind Portland as the final play-in team despite being 13 games below .500.
Grade: D
Houston Rockets (15-36)
Well, what do you know, another shit show of an organization? The Houston Rockets seem to be just as confused as the fans that watch them. This franchise has become a joke and one of the laughingstocks of the league. Player's refusing to go back in the game or leaving the arena at halftime because the coaching staff asked them to play harder is not how you build a winning culture.
Constantly the butt of jokes on NBA Twitter, the Rockets are as dysfunctional as they come. An inexperienced coach, running a team that clearly should be tanking and focusing on the development of their young players but for some reason continue to play their veterans or hold them hostage.
John Wall hasn't played all season, but Rafael Stone still hasn't found him a new home. KPJ has regressed on and off the court, looking more and more like the guy that the Cavaliers didn't want to deal with and shipped out for a bag of chips.
While Jalen Green has shown flashes of why he was worthy of being a top-two pick in the draft, his rookie season has been somewhat underwhelming. And don't get me started on Christian Wood, who, with each passing game, reminds everyone why he got cut from many NBA teams earlier in his career.
Grade: F