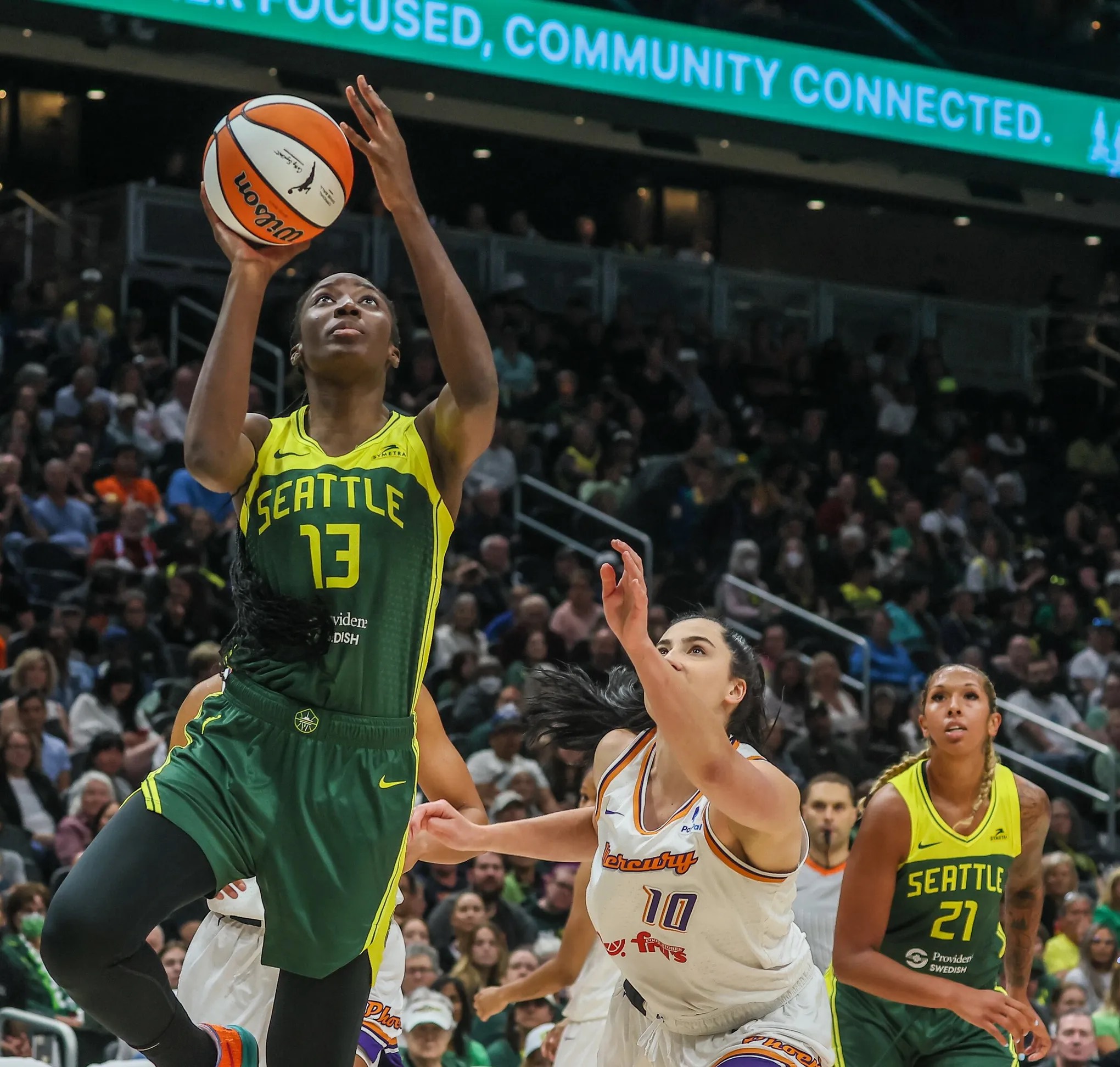 Ezi Magbegor is coming into her own in her fourth season; at just 23 years old, she was just named to her first All-Star game. She came into the league very young, and on a team competing for a championship. She was able to sit back and learn from players like Breanna Stewart, Natasha Howard, and Sue Bird. She has the experience that most players at this age don't have. Magbegor didn't play a ton early on, but her minutes have increased each season. Last season was her first being a starter, 23 of the 33 games, and she didn't disappoint. She was clearly one of the best defenders in the league and it wasn't for Stewart, and eventual Defensive Player of the Year winner A'ja Wilson, she makes First Team All-Defense. Playing alongside Stewie didn't help her chances either. 
Defensive Dominance and Versatility
Ezi has a strong case for best rim protector in the league, averaging 2 blocks per game, and second in total blocks with 31 through 16 games. A unique blend of instinct, timing, speed, length, and athleticism makes it difficult for any player trying to score in the paint. Her help side presence is tremendous, and she always competes individually, whether it be on the perimeter or in the post. The versatility she brings is invaluable, she can save defensive possessions. 
https://thehighlow.io/video/ids?ids=24LPQ4&isw=t
https://thehighlow.io/video/ids?ids=24n7lJ&isw=t
https://thehighlow.io/video/ids?ids=24ULzu&isw=t
https://thehighlow.io/video/ids?ids=24u7tG&isw=t
Offensive Development
What has come along quickly and impressively is her offense. Last season, there were flashes, it's become consistent this season. She is shooting 38% from three this season and has already surpassed last year's total with 13. She's been creating her own shots and for others more often this season as well. Her ability to attack off the dribble from as far out as the three-point line has been impressive. She is crafty around the rim and has a nice touch. Her 15 points per game are by far a career-high, a six-point jump, and is doing that while shooting 50% from the floor. According to Her Hoop Stats, Magbegor is top-20 in PER, Win Shares, and Defensive Win Shares. Her individual defensive player rating is down this season, though some of that can be attributed to playing with different players and lineups being around her. She's also shown the ability to handle the ball from rim to rim, whether it's off a rebound, steal, or block. 
https://twitter.com/WNBA/status/1667393880243965954?s=20 
https://thehighlow.io/video/ids?ids=24XhSM&isw=t
https://thehighlow.io/video/ids?ids=24mkkr&isw=t
Ezi Magbegor's progression has been steady, and impressive. Her potential and ceiling are incredibly high. She has already added more to her offensive game than most could have foreseen this early on. The three-point shooting became more consistent, the addition of playmaking, and her confidence. To be able to handle the ball in the open court like she has this season, you have to appreciate the work and that added self-confidence. The intangibles make it so enticing to watch her and excite you for what else she will be able to do in the future. The defensive energy and intensity will always be elite, as she continues to get stronger and can see more on the court, she will at the very least hold one DPOY trophy. Keep your eyes on Ezi Magbegor, she deserves every accolade that comes her way.