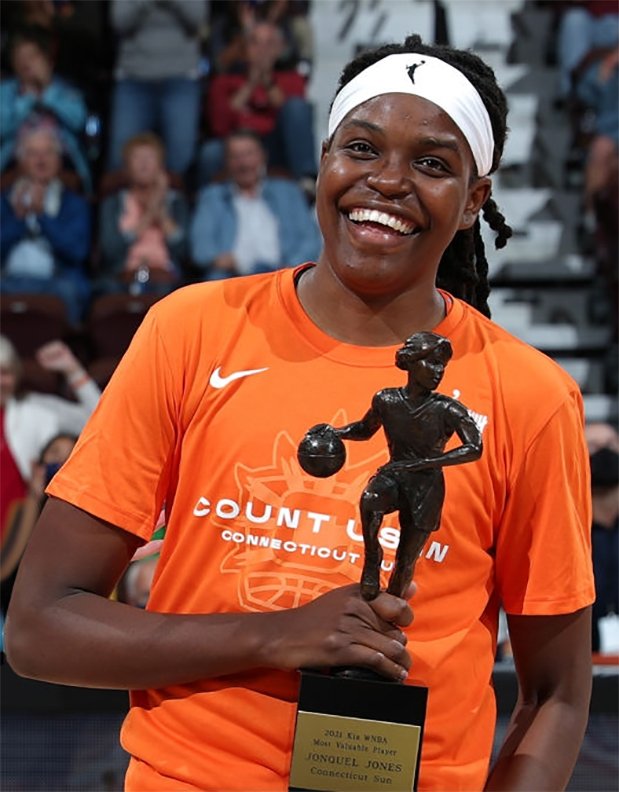 The 2021 WNBA MVP, Jonquel Jones, has been acquired by the New York Liberty. Rachel Gallican first reported the three-team deal between Liberty, Connecticut Sun, and Dallas Wings. New York acquired Jonquel and Kayla Thornton; the Sun acquired the #6 2023 first-round draft pick, Becca Allen and Ty Harris. At the same time, the Wings get Natasha Howard and the rights to Crystal Dangerfield in return. 
Connecticut wasn't done, as they traded Jasmine Thomas to the Sparks for Olivia Nelson-Ododa, Jasmine Walker, and Kianna Smith. As reported by Khristina Williams. 
The Liberty are pushing all their chips into the middle of the table. Adding a top-three player in the world will instantly catapult them into the upper echelon. When you take Kayla Thornton also joining into account, it somehow looks even better. Breanna Stewart has been linked to NY since the last offseason, and they're reportedly still able to add her via free agency. Imagine.
The Liberty still has Sabrina Ionescu, Betnijah Laney, Marine Johannes, and Han Xu on the roster. The no-look passes from Johannes to Jonquel, the pick and roll with Sabrina, and the spacing should open up the game for Jonquel even more. Both Jonquel and the Liberty are desperately chasing a WNBA championship. 
Speaking of chasing a championship, the Sun's direction is difficult to gauge. Adding young players to an established core of Alyssa Thomas, Bri Jones, and Dewanna Bonner is undoubtedly interesting. Connecticut has fallen short of its ultimate goal since the loss in the 2019 WNBA Finals. The Sun had been possessions away but couldn't get over the mountain. They let go of Curt Miller, who led them to two finals appearances. It was clear something needed to change; they couldn't keep their core altogether. The Sun's front office seems to have chosen Bri, AT, and Dewanna over Jonquel. We will see if that works out for them. Are they contending or stuck in the middle? 
The Wings… their direction? I'm not even confident that they know. They added yet another post player; to a roster with six frontcourt players, not including Natasha Howard. It's a talented team, and they have potential with a new head coach, but there are so many questions about the Dallas organization. Dallas needs health, consistency, and a true identity. Natasha Howard is a great player, but how do you make everything fit?
The New York Liberty are the clear winners of this trade as they acquired the best player in the deal. The Sun got back Ty Harris, who is waiting for her breakout moment. Will she be handed the keys? Do they go full rebuild? Do they develop players while simultaneously contending? Free agency may bring more answers to the questions, but at this moment in time, New York comes out on top.