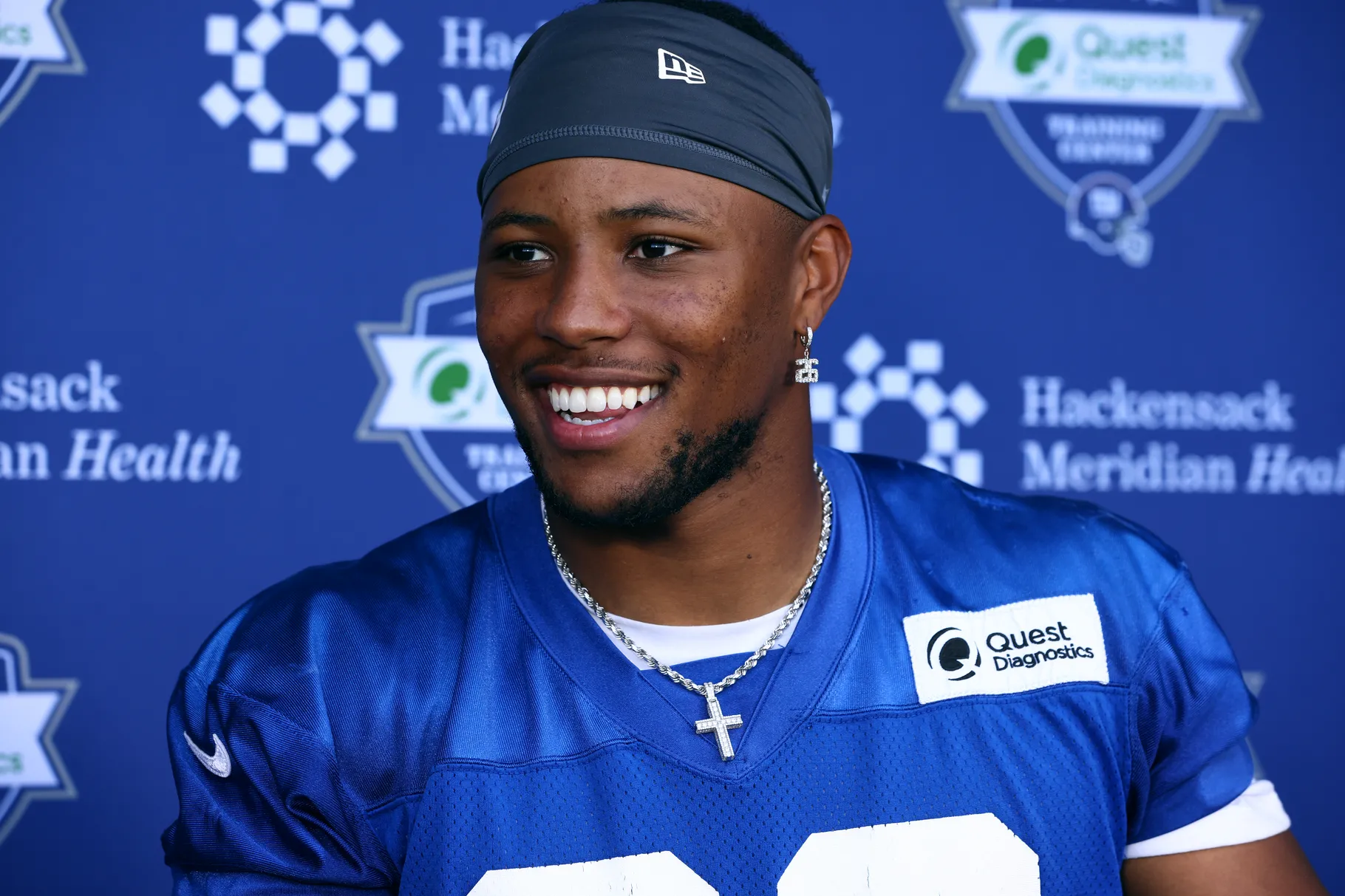 After the New York Giants selected Saquon Barkley with the second overall pick in the 2018 NFL Draft, he would compile 2,028 yards from scrimmage his rookie year en route to being named the Offensive Rookie of the Year and selected to the only Pro Bowl of his four-year career.
The future was looking bright for young Saquon and the Giants, but due to multiple leg injuries–including a torn ACL in 2020–Barkley hasn't been as effective in the three years since. The 25-year-old running back has only accumulated 2,391 yards from scrimmage. 
Injuries, constant coaching changes, and playing behind an atrocious offensive line have turned Barkley from phenom to afterthought in many eyes. Last season, he appeared in 13 of 17 games but, on most days, seemed to lack the burst and athleticism that, combined with his sheer strength, made him a force of nature. 
Candidly speaking, he even looked like he was afraid of contact at many points throughout the season. That obviously isn't the Saquon Barkley that rushed for 2,310 yards his first two seasons.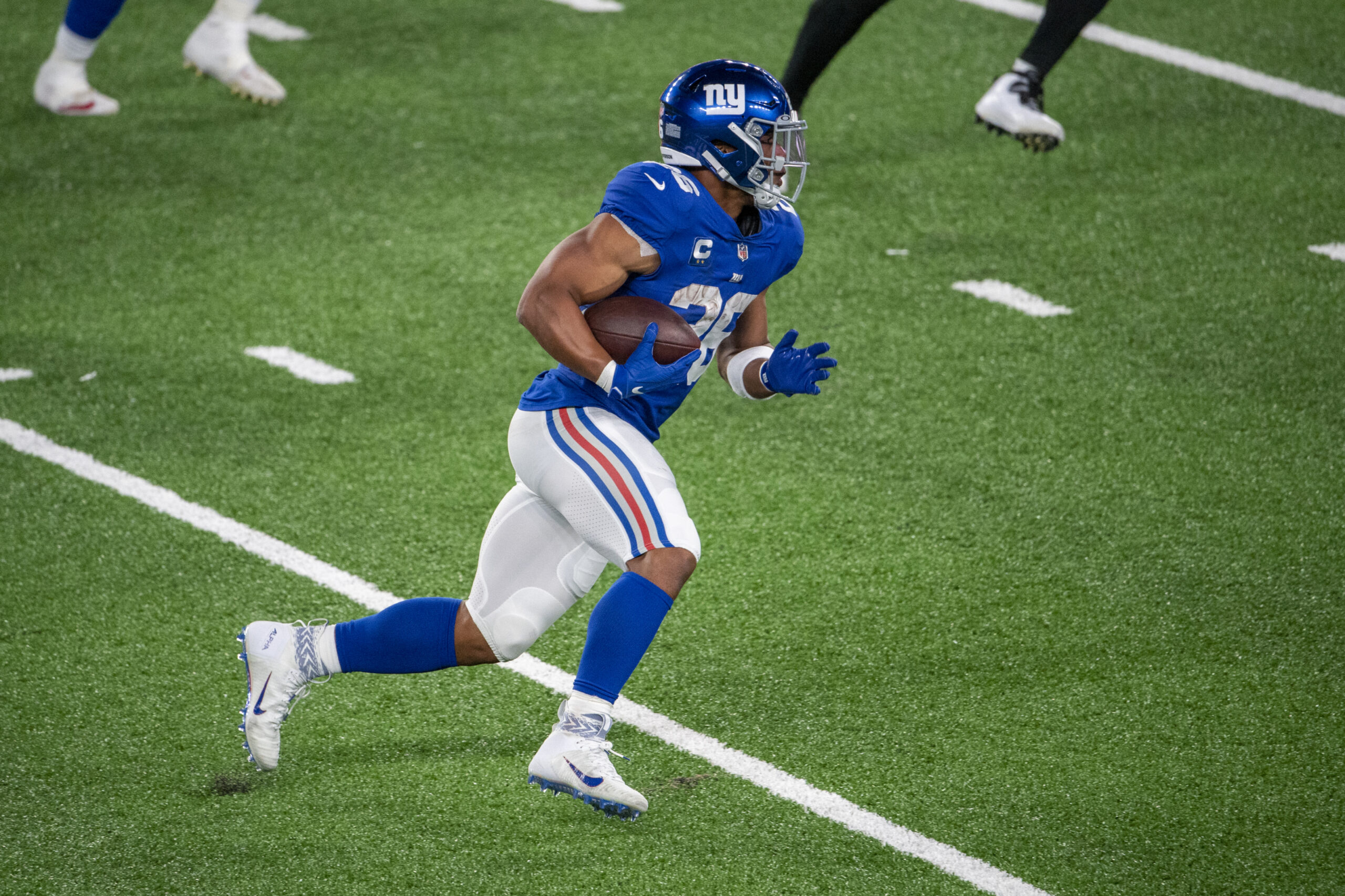 Can Saquon Barkley overcome adversity and be the playmaker the New York Giants desperately need?
He suffered a torn ACL and a Grade 2 MCL strain in his right knee on Sept. 20, 2020, and returned in time for the following season opener on Sept. 12, 2021. It's possible that Barkley returned to the field too soon and didn't fully trust his body last season. Barkley alluded to this and insinuated this was the case when addressing the media after Wednesday's final minicamp practice:
"I had to go through a little bit the past couple of years…coming into this camp focus on my body, work on my body. Doing all the little things necessary to keep my body healthy, and when you got that, when you can trust your body, your confidence just grows…I was a way more confident player in college and early in my career than last year…Now I'm starting to get that swagger back."
It's just minicamp, so it's tough to put much stock in that statement, but it is a positive sign to hear Barkley in such good spirits. His newfound confidence will be critical to his return to form, and it sounds like he's fully healthy for the first time in a long time.
"I feel a lot better than I felt at this point last year. My body feels good. My body feels strong. Feel like I got my strength back, feel like I got my speed back. Feel like I can trust my knee again, trust myself to make plays and not think about it." 
Saquon is excited about the upcoming season and ready to make the critics eat crow.
Not only does Barkley sound excited and rejuvenated about his health, but he spoke very highly of the new-look offense. When asked about the new system, Barkley said, "I'm very excited; I think this offense is going to put our playmakers in position to make plays… I'm excited not only for myself but for the playmakers on this team, the offensive line, and the team in general."
When discussing the new offense and how he can impact the game, Barkley said, "I feel like whenever I can get the ball in space, I feel like that's where I'm at my best…I have the confidence now, whether it's in-between tackles, outside the tackles, out wide, or whatever…I feel like I'm able to help the team."
This writer's faith in Barkley has wavered over the past two seasons but hearing him talk like this has me a little excited to see what he can do in this new offense. More importantly, it appears he has earned the trust of Brian Daboll and the rest of the coaching staff.
When speaking with the media following Wednesday's practice, Daboll praised Barkley's work thus far. "He's been good. He's been able to do everything we've asked him to do," Daboll declared, "the routes we're asking him to run, his quickness, his ability to get in and out of breaks, his long speed. it's all looked good."
With the expectation of moving all over the field this season, Saquon said he plans to link with Daniel Jones and other quarterbacks during this break before training camp to work on his hands.
It's been a long journey, one that is hopefully far from over as he enters his fifth season. Only time will tell if he can reclaim his status as an elite running back and playmaker in this league. Still, Barkley ended his media session with a message for all his doubters and critics:
"When the tables turn, just stay on that side."