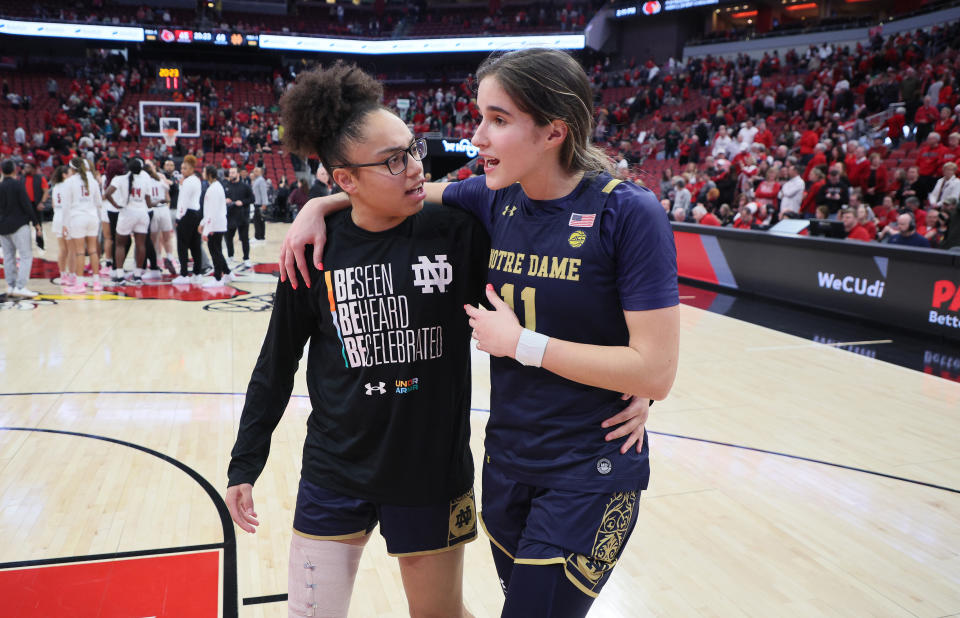 Niele Ivey has rebuilt Notre Dame women's basketball in a very short amount of time. It's impressive how quickly she's been able to put her imprint on a program following the legacy left behind by all-time great Muffet McGraw. Since her hire in April 2020, Ivey has coached her teams to back-to-back Sweet 16 appearances in her second and third years under the helm. She's done a tremendous job of recruiting and in the transfer portal as well. 
Her first recruiting class as the head coach ranked fifth in the nation, with New York Tri-State area mates Olivia Miles and Sonia Citron. Miles was ranked number eight in the country and enrolled early. Citron was ranked 14th and was a McDonald's All-American. Maddy Westbeld was Co-ACC Freshman of the Year in 2020, while transfers like Kylee Watson, Maya Dodson, and Lauren Ebo have solidified their post presence the last three seasons. 
Miles, electric in transition, instantly made it indisputable that she is one of the nation's premier passers. She averaged seven assists per game last season, ranking sixth in the country. She's earned All-America team honors and is a two-time First Team All-ACC member. One thing she has to improve is her outside shooting, last season she shot 22% from the three-point line. Citron has improved on both sides of the basketball in both of her collegiate seasons to this point. She was the 2022 ACC Freshman of the Year and a 2023 First Team All-ACC member. She is their Swiss army knife, while also being their most talented scorer. She's extremely efficient on offense, shooting 47% from the floor and 40% from the three-point line. Westbeld, a two-time All-ACC team member herself, was their third-leading scorer and leading shot blocker. She's a versatile post player, who has improved her shooting each season. She has the strength and footwork to play in the post, and the agility and athleticism to score off the dribble on the perimeter. She reached career highs in rebounds, assists, blocks and steals. 
They were ACC regular and ACC tournament champions and managed to make a Sweet-16 berth while dealing with injuries to two important players. Mabrey tore her ACL midway through the season, and Miles injured her knee in the regular season finale. This means they had to go through both tournaments without their best player and an experienced guard. 
As a team, they need better three-point and free-throw shooting. They shot 30% from three, and 70% from the free throw line. Seven players averaged six points or more, but only two of them shot over 30% from three, while just one shot 80% from the free throw line. Ivey's three top-20 recruits, Hannah Hidalgo, Cassandre Prosper, and Emma Risch can help with that. As well as returning sophomore guard KK Bransford. Dara Mabrey and Lauren Ebo graduated, so Watson and Westbeld will be pivotal to their season. Hopefully, Natalija Marshall can stay healthy this season, and Becky Obinma is the latest post player transfer for Coach Ivey to bring to South Bend. 
This is the most talent and depth Niele Ivey has had since her hiring as the head coach. Their first game of the season is against South Carolina in Paris, France. A huge milestone for both programs and it could really push this team to the next level. Competing with one of the teams in the country in a spotlight like that could set them on the trajectory they need. Obviously, it's easier said than done, but their returning players improving is essential. 
Miles's offense needs to take another step, Westbeld's shooting, as well as Citron's playmaking. Hidalgo, Risch, and Bransford can add necessary variables in the backcourt. Watson has a lot of potential she can still tap into.
Niele Ivey has displayed for years that she's a tremendous leader of young women. It's undeniable she's got the pulse of her locker room and knows how to motivate her team. Her recruiting classes have been really good to this point, and it seems this incoming class can do the same thing. Notre Dame has a legitimate chance to go past the Sweet 16, but are they ready to get back to the top of the women's college basketball landscape? If Olivia Miles and Sonia Citron have anything to say about it, that answer may very well be yes.