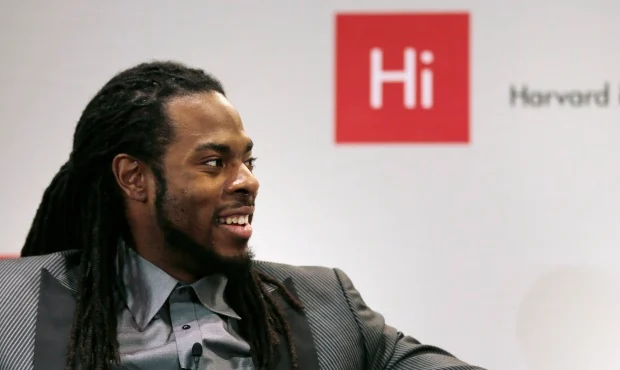 On Tuesday, Richard Sherman announced he is joining Amazon Prime Video's broadcasting team as an analyst for Thursday Night Football coverage of the 2022 NFL season. The 34-year-old Compton native will be conducting pre-game, halftime, and post-game analysis as a member of the TNF team.
Sherman played five games with the Tampa Bay Buccaneers last season before an Achilles injury ultimately forced him to finish the season on the IR. He's looked like a shell of himself over the past several seasons, and injuries have limited him to just ten games in the last two seasons. Despite these facts, he hasn't ruled out a return to football.
While speaking with Steve Wyche of the NFL Network about the career move, Sherman stated that he is healthy, continues to train, and is ready in case a team comes calling. "I'm obviously going to keep training and staying in shape…But I'm going to leave that door open. If somebody wants to call late December and needs some help, I'm happy to help," Sherman told Wyche.
Excited to Join the team! https://t.co/Al3mXolzB3

— Richard Sherman (@RSherman_25) June 14, 2022
While explaining his reasoning behind dipping his feet in broadcasting, Sherman said, "I feel like it's important for players to continue to push the game forward and educate the fans through real experience and real intellect and trying to take them even deeper into the game."
Sherman has always been a very intelligent player, and his knowledge and experience should help him be a fine analyst. Easily capable of simplifying the game while educating fans on the nuances of the game, ala J.J. Reddick on ESPN's 'First Take.' But it's his bold and outspoken personality that should make him entertaining and possibly an overnight sensation in the broadcast studio.
Fans' first chance to catch him in action will be Sept. 15, when the Los Angeles Chargers face off against the Kansas City Chiefs in Arrowhead.