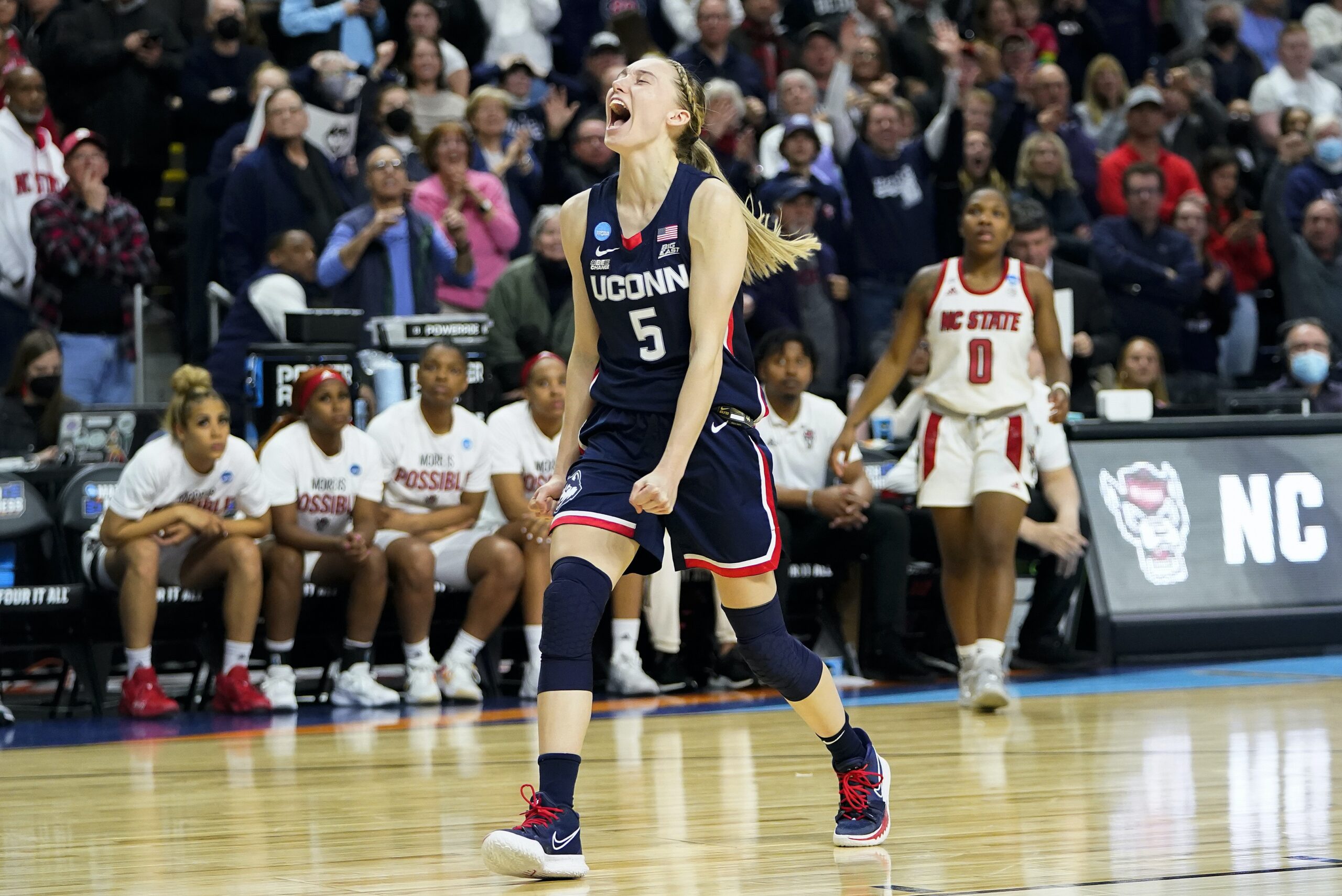 Unfortunately, Paige Bueckers must persevere through a rough injury yet again. On Wednesday, August 3rd, the UConn Women's Basketball Program reported that Paige had torn her left ACL on Monday. 
In her sophomore season, she had ankle surgery after the tournament and returned to the court in October. In December, she was injured once again; she was diagnosed with a tibial plateau fracture and was also dealing with a lateral meniscus tear that she got surgery on at the same time. It is heartbreaking to see legitimately one of the special, transcendent talents we've ever seen in women's college basketball struggle with such significant injuries.  
After a historic freshman season, it looked like Bueckers was on her way to breaking records and winning championships. Injuries have halted those accomplishments. In her freshman year, she won all of the National Player of the Year awards and was the first freshman to receive any of them.
She averaged 20 points, 5.8 assists, 4.9 rebounds, and 2.3 steals per game; she shot 52 percent from the field, 46 from three, and 86 from the free throw line. She led her team to a Final Four after a classic performance against Baylor in the Elite 8. 
Last year she became the first freshman to win the Wooden Award, Naismith Trophy and AP Player of the Year 🏆

The sky's the limit for @UConnWBB's @paigebueckers1 🙌 pic.twitter.com/BW6jUHqfYO

— FOX College Hoops (@CBBonFOX) October 28, 2021
Despite dealing with the injuries she and the team did last season, they still found a way to make it to the Final Four. She was never 100% after returning but was great enough to help lift them to the National Championship game. 
Paige Bueckers is a superstar, and the game will miss her tremendously. Her missing the season will affect all of college basketball. Obviously, UConn will be affected, but so will the other top teams in the country and the teams that are close to being able to contend. The talent gap decreases with those teams on the outside and increases with teams like defending champion South Carolina and Stanford. 
Bueckers has persevered through brutal injuries before, but this will test her like no injury before. She's losing an entire season, her junior season. She worked hard this summer to gain muscle and continue working on her game. It hurts on many levels, but I have no doubt that she will come back even better. She is too talented and hard of a worker not to confront this head-on and come back out the other side stronger. 
As for UConn, this is still a huge season. They still have a great amount of talent. This is Azzi Fudd's chance to become a college basketball star. Caroline Ducharme was outstanding in Paige's absence last season. Aaliyah Edwards, Nika Mühl, and transfer, Lou Lopez Sénéchal will have bigger roles. Dorka Juhász and Aubrey Griffin return, while freshman Ayanna Patterson could be an impact player immediately. 
The injury to Paige sparked a conversation about whether Geno overworked her or whether she should've already been in the WNBA. While both can be true, there needs to be context behind all of it. While Geno can be the blame for her injuries last season, playing while already injured and playing her late in a game, they were up handily.
This injury is not on him; it's just one of those things that are a possibility in sports. And for the "she should already be in the WNBA" crowd, how can we say the injury doesn't happen in season? And unfortunately, she's better off with her NIL money than she would be with her potential WNBA contract. 
While it is heartbreaking for Paige and fans everywhere, we must trust she'll overcome the odds again. She'll be back on the court and competing at a high level. She has a great support system in her family, teammates, friends, and fans. 
This was her response to the injury.
Paige Bueckers' IG post about her torn ACL:

"It's gonna be one hell of a comeback…I've worked too hard for the little kid in these pictures to keep going for the dreams I've had since I first picked up the ball, so why would I stop now?" pic.twitter.com/f7lsyYQCiN

— Ballislife.com (@Ballislife) August 3, 2022
I want to wish Paige a speedy, blessed recovery; the world can't wait to see her on the court again.