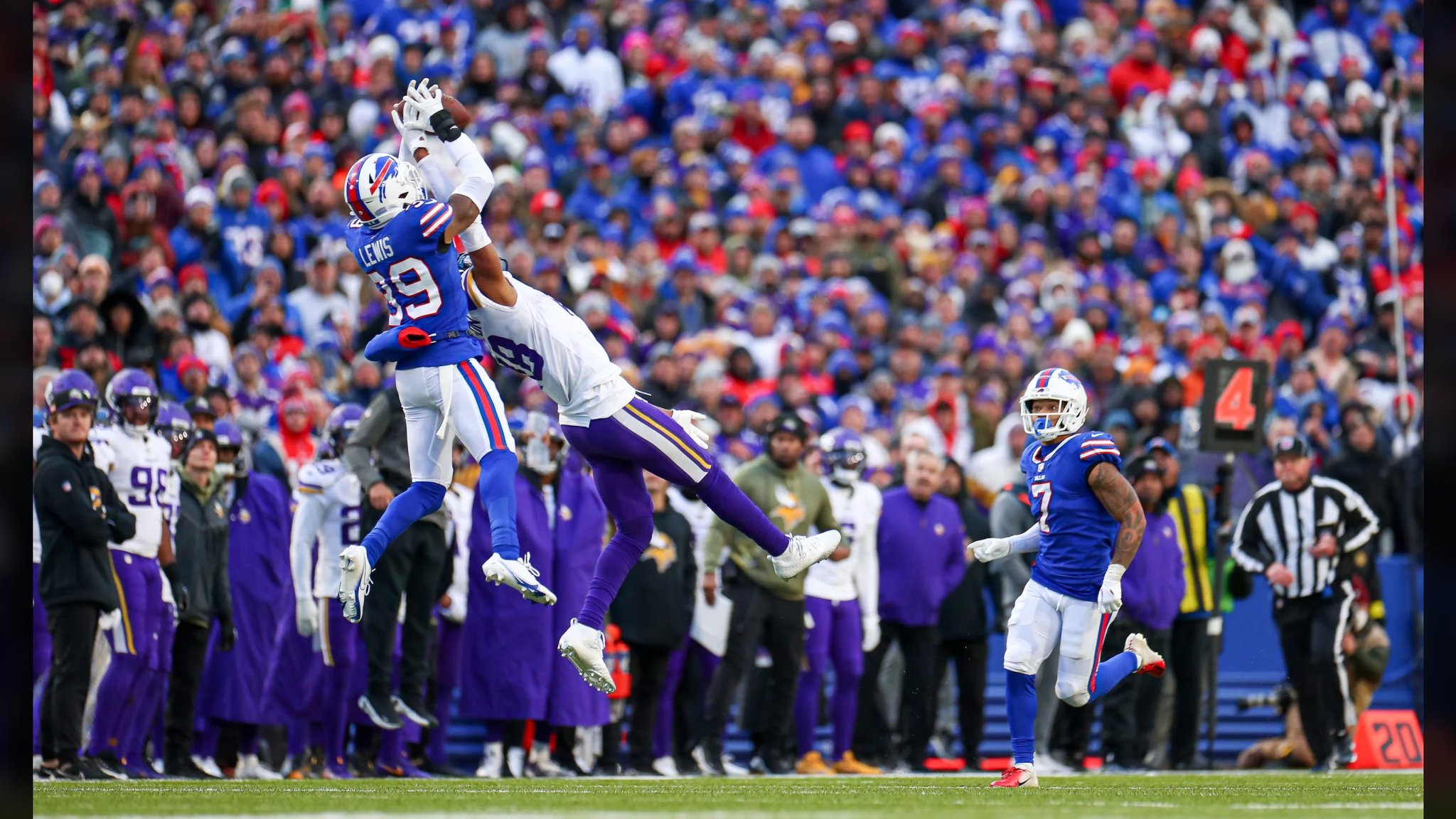 Most of us are about three weeks away from playoff fantasy football. Some of us are sitting in do-or-die positions. Now more than ever is the time for your playmakers to step up, and I'll help you decide which guys will. We had some big performances last week from guys like Justin Jefferson, Ceedee Lamb, Pat Mahomes, Justin Fields, Jonathan Taylor, and Stefon Diggs. There were losses like Zach Ertz and Dallas Goedert though. And with no Tua, Tyreek, Waddle, Walker III, Etienne, Evans, Godwin, or Geno this week; you may have to rely on guys you didn't think you would.
QBs
Start
Start your studs (Mahomes, Allen, Lamar, Hurts)
Justin Fields vs ATL
I've been a believer in Fields, and am glad that he's now becoming a consensus start at the QB spot. He's sitting at the QB4 after four 20+ point performances. A great matchup against the Falcons should help continue the trend.
Joe Burrow vs PIT
Burrow played terribly in the first game of the season against Pittsburgh, and he seems like one of those guys that remember performances like that.
Justin Herbert vs KC
Herbert hasn't been living up to expectations lately, but with his receivers hopefully coming back, we could get J Herbo just in time for the fantasy playoffs.
Dak Prescott vs MIN
There's been a lot of talk about Dak this past week, and this is a great chance for him to make a statement against a team with just one loss on the season.
Sit
Russell Wilson vs LV
The Raiders' defense sucks, but honestly, so did the Broncos' offense.
Matt Stafford vs NO
Stafford hasn't been good this season, and without Kupp, there's no reason at all to start him. Maybe not even roster.
Derek Carr vs DEN
Care hasn't been electric this season, with just 13 touchdowns through 10 games. He struggled against Denver early in the season, too.
Zach Wilson vs NE
The last time we saw Wilson against New England, he threw three interceptions, however, he did throw for 355 yards and three touchdowns.
Jared Goff vs NYG
The Giants have a talented secondary, and Goff has only had one productive game, in terms of fantasy, since week five.
RBs
Start
Dalvin Cook vs DAL
The Cowboys rushing defense has been much maligned, and the Vikings are more than aware of that. Cook ran for 119 yards last week against Buffalo, expect even more this week.
David Montgomery vs ATL
With no Khalil Herbert, it's Montgomery's chance to dominate the game in a run-heavy offense.
Saquon Barkley vs DET
Saquon has been fantastic, and the Lions' defense is not, it's pretty simple.
Miles Sanders vs IND
The Eagles have a bad taste in their mouth after getting out-physicaled by the Commanders. The way to dominate the physicality side starts by running the football.
Josh Jacobs vs DEN
Jacobs had a great game earlier in the season, and has a great opportunity to do it again.
Brian Robinson Jr vs HOU
Robinson Jr ran all over Philadelphia last week and continues to get more confident.
Dameon Pierce vs WSH
Pierce has been Uber-productive since week three, and against a Washington run defense, that trend should continue.
Sit
Michael Carter vs NE
The Patriots' run defense is good, and there's still no clear front-runner in the Jets' backfield.
Ezekiel Elliot vs MIN
Elliot is coming off a hamstring injury, and in a game this important, they could be more cautious and ride Pollard.
Chiefs running backs vs LAC
We have no idea who the guy is, no reason to possibly lose your flex spot.
Rams running backs vs NO
Basically the same as above, but keep your eyes on Kyren Williams.
Melvin Gordon II vs LV
He's sharing the backfield duties with Latavius Murray, that's all, respectfully.
WRs
Start
Amon-Ra St. Brown vs NYG
St. Brown is where the Lions' offense begins and ends, the Giants will have a tough time shutting him down.
Terry McLaurin vs HOU
Scary Terry has been exactly that since Taylor Heinicke entered the lineup. Keep on rolling with Terry.
Kadarius Toney vs LAC
Toney scored last week, and with injuries all over the wide receiver room, he could have a true breakout game.
Deebo Samuel vs AZ
Deebo hasn't been what everyone was hoping for, but I trust his play and the offense to continue to open up.
Chris Olave vs LAR
He had a down week, but he is the clear number-one receiver in the offense and the Ram's secondary hasn't been great.
Sit
Brandin Cooks vs WSH
They took his captaincy away last week before kickoff, so I'm not sure what exactly is going on, but I don't trust it.
Adam Thielen vs DAL
Jefferson and Hockenson have been fantastic the last two weeks, which leaves Thielen as the odd man out.
Allen Robinson II vs NO
I still don't think Stafford and Robinson have the chemistry to make an impact.
Amari Cooper vs BUF
Cooper wasn't targeted a bunch last week, and with this secondary coming off a game where Jefferson cooked them, they should be hungry to shut the offense down.
Jakobi Meyers vs NYJ
The Jets' secondary has been one of the best this season, and the Patriots passing game doesn't scare them at all.
TEs
TJ Hockenson vs DAL
Hock and Cousins have a good rapport already. He'll find his way open, and end up with his six-catch, 70-yard performance.
Tyler Higbee vs NO
With no Kupp, he could get even more targets.
Dalton Schultz vs MIN
Dak has chemistry with him, and he's continuing to get healthier as the weeks go by.
George Kittle vs AZ
There are a lot of mouths to feed in the SF offense, but Kittle can find a way into the endzone pretty easily.
Kyle Pitts vs CHI
Unfortunately. I don't trust Mariota to get him the ball, but you can't sit and risk him having a big game.
Cole Kmet vs ATL
Kmet has been the biggest beneficiary of Fields's breakout.
Pat Friermuth vs CIN
Friermuth is steady and consistent; exactly what a young quarterback needs from a tight end.
Sit
Foster Moreau vs DEN
Waller struggled to get targets, no reason to believe he'll get them instead.
Greg Dulcich vs LV
He had a lot of hype around him, and it led to nothing. Much like the rest of the Denver offense.
Tyler Conklin vs NE
I don't trust him being a big part of the offense at this moment.
Juwan Johnson vs LAR
He's had some big games this year, but it hasn't been consistent.
DEF
Start
Jets vs NE
The Jet's secondary should continue their dominance against an offense with not many weapons.
Bills vs CLE
The Bills have lost two straight, an all-around dominant performance should be on tap.
Commanders vs HOU
After the performance they had last week against Philly, you would think they could follow that up against Houston. Again, you would think.
Eagles vs IND
The Eagles are looking for blood after losing their first game.
Ravens vs CAR
The Raven's defense has improved, and Baker Mayfield likely has not.
Bengals vs PIT
The Bengals' veteran defense should create some havoc for the young quarterback for Pittsburgh.
Sit
Chargers vs KC
This defense is struggling with injuries and hasn't been close to expectations.
Colts vs PHI
Jalen Hurts and the offense will look to bounce back from their struggles Monday night.
Raiders vs DEN
While the Broncos' offense isn't good, neither is the Raiders' defense. They struggle to create turnovers and sack the quarterback.